Reese's Peanut Butter Cup Muddy Buddies
The perfect Holiday treat!  These Reese's Peanut Butter Cup Muddy Buddies are so easy to make.  I'm always on the look out for fun party favor or something easy to add to my dessert table that the kids will love.  I think I found it!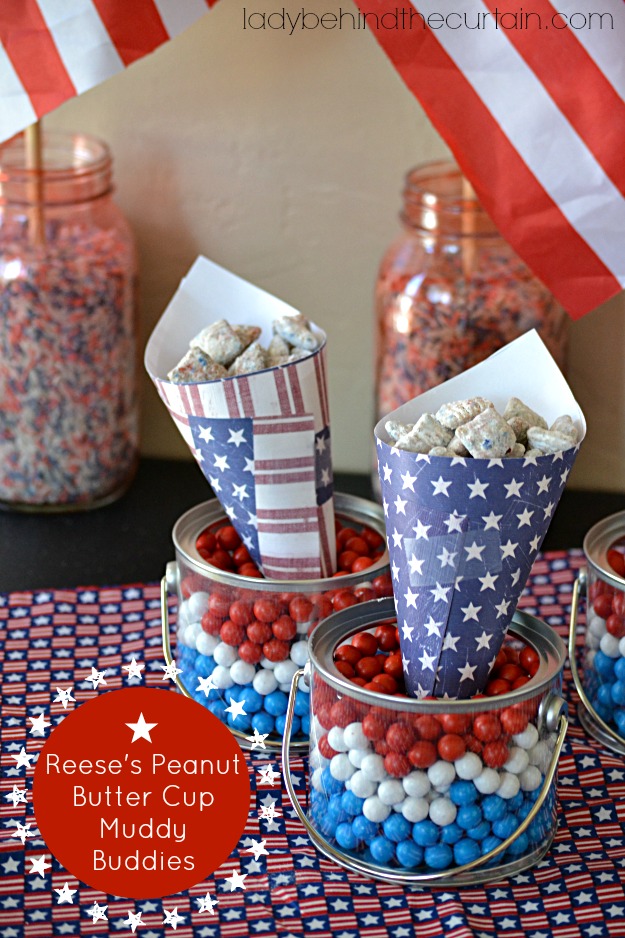 I decided to us peanut butter cups but it would be perfectly fine to replace them with Milky Way or Three Musketeers bars.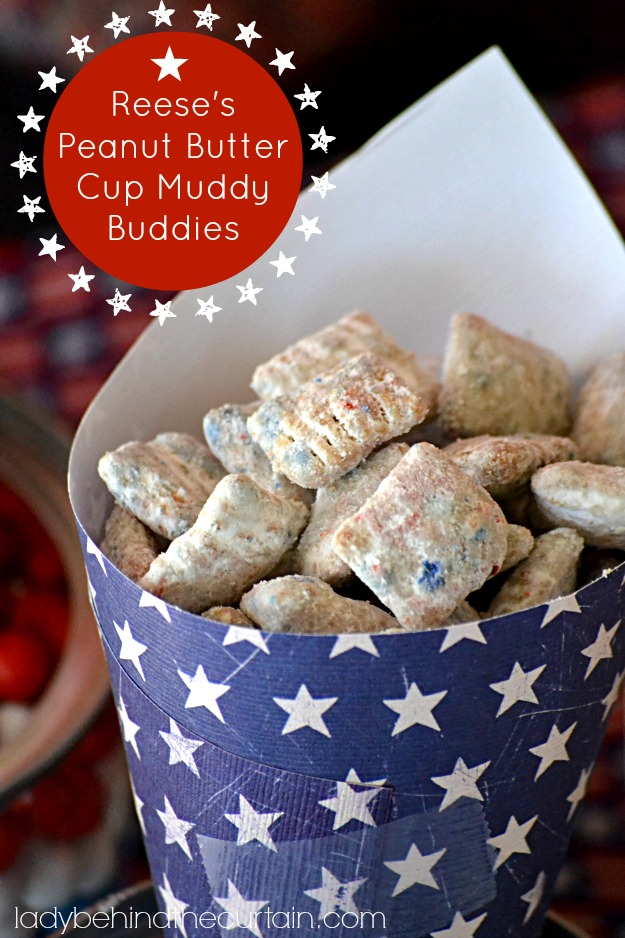 I love the layers of red, white and blue Sixlets in the clear paint can containers.    Serving the Reese's Peanut Butter Cup Muddy Buddies in paper cones really adds to the cuteness factor.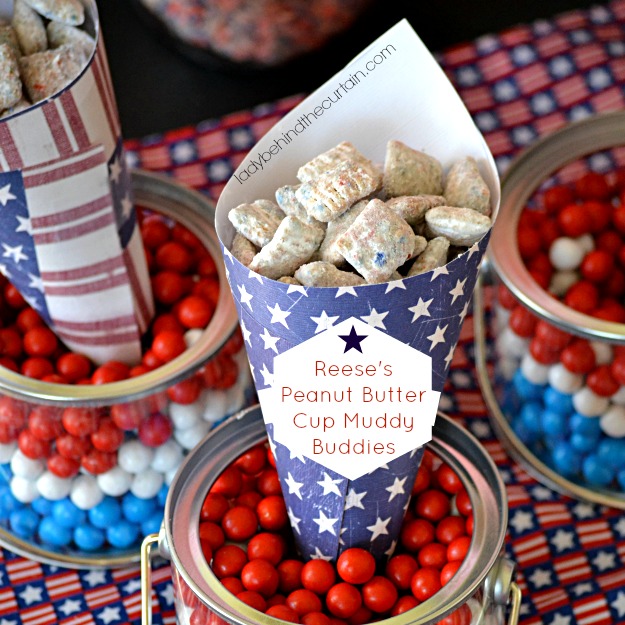 Follow me on my PARTY MIXES/ POPCORN Pinterest board for more recipes like this.
Create your own Recipe Box and save your favorite Lady Behind The Curtain recipes.  Make a Meal Plan with your favorite recipes and ZipList will automatically add the ingredients to a Shopping List.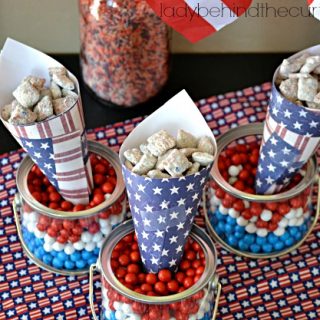 Reese's Peanut Butter Cup Muddy Buddies
Ingredients
8 cups rice pockets cereal
3 cups confectioners' sugar
6 regular size Reese's Peanut Butter Cups (2 each package)
7 tablespoons butter
6 tablespoons sprinkles
Instructions
Measure out the cereal and pour into a large bowl; set aside.
Measure the sugar into a large paper sack; set aside.
In a small saucepan, melt butter and candy over low heat.
NOTE: I have an electric stove (I know let's not go there, someday I'll get a gas stove) I had the setting on level 2. The key to success is low and slow. Continuously stirring until completely melted.
Pour melted candy mixture over cereal and gently stir to completely coat cereal.
Pour half the sprinkles over coated cereal.
Stir to evenly disburse.
Pour the remaining sprinkles over cereal and stir to evenly disburse.
Dump the chocolate coated cereal mixture into the bag with the confectioners' sugar.
Shake to coat the cereal.
NOTE: Check to see if the cereal is evenly coated with the sugar. If not keep shaking.
When completely coated pour on a cookie sheet to cool and harden.