Semi Homemade Chocolate Dipped Shortbread Cookies
These Semi Homemade Chocolate Dipped Shortbread Cookies look like they were made at a professional bakery. That's what's awesome about them! Putting together a dessert buffet is stressful enough. I ALWAYS go by the rule that not ALL items I serve at a party have to be COMPLETELY homemade.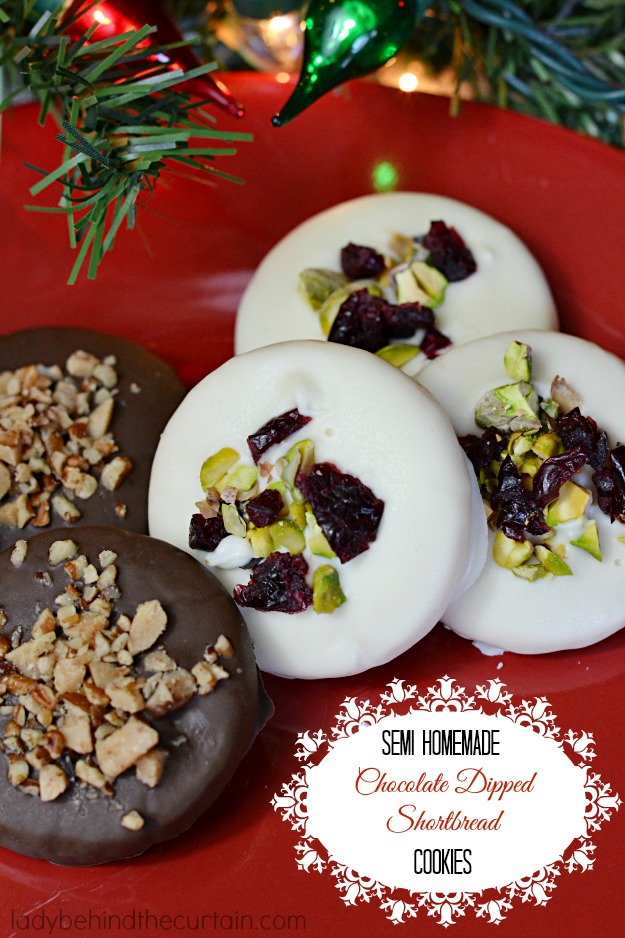 For these beautiful cookies I started with store bought shortbread cookies (I used Keebler). Then I dipped them in my favorite chocolate from CHOCOLEY CHOCOLATE and sprinkled them with assorted toppings.
FOR DETAILED PICTURES WATCH THE SLIDE SHOW BELOW.
Melt chocolate (I chose to do both white and dark chocolate ONE AT A TIME) in a microwave safe bowl and drizzle over cookies. NOTE: DO NOT DIP THEM…TRY TO LEAVE THE BOTTOM CHOCOLATE FREE (I used a chocolate dipping tool I purchased at Michael's). Tap off any excess chocolate use a butter knife to lift the cookie off of the dipping tool and place on a wax paper lined cookie sheet. Sprinkle topping on immediately after covering each cookie with chocolate.
MORE EASY COOKIE RECIPES
1. SAMOAS COOKIES 2. ELEPHANT EAR COOKIES 3. NO BAKE DISAPPEAR COOKIES