Semi Homemade Triple Vanilla Cupcakes
Semi Homemade Triple Vanilla Cupcakes |  Vanilla…vanilla…vanilla!  When it comes to cupcakes vanilla cupcakes are at the top of the list.  These fun summer themed cupcakes can be made for any occasion by just changing the style and flavor of the frosting.
As the temperatures rise and the school year comes to an end….it can only mean one thing.  Summer is HERE!  Splish Splash into fun with these Semi Homemade Triple Vanilla Cupcakes complete with a printable fun beach ball topper.  Click here for your printable—>>>BEACH BALL CUPCAKE TOPPER
Want to know how to make the cute pool noodle cupcake stand?  Click here —>>>POOL NOODLE CUPCAKE STAND for all the details.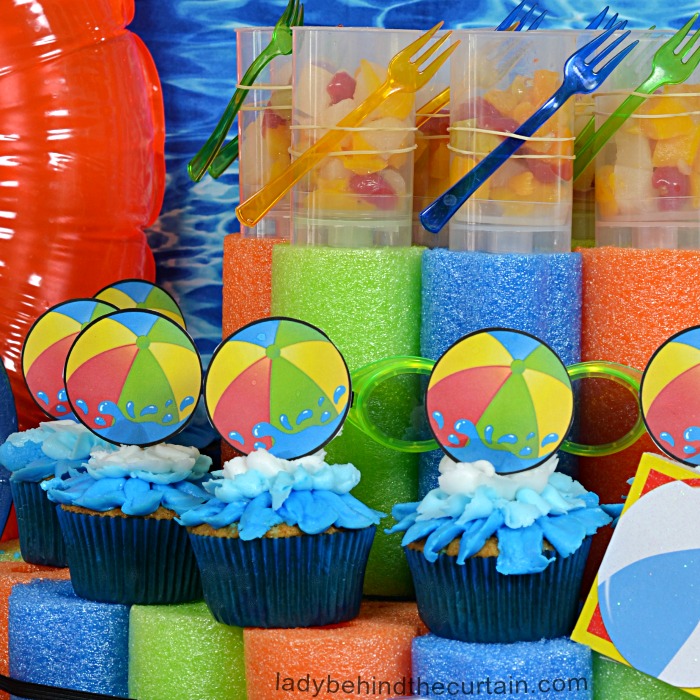 Here's the key to making the BEST Semi Homemade Triple Vanilla Cupcakes.  Vanilla pudding!  Adding vanilla pudding to a cake mix create a nice rich thick batter.  Add cream soda and now you have not only a rich batter but a light and airy one too.  I wanted to add a pop of color to the cupcakes (this is where my third vanilla flavor comes in) so I decided to chop up blue colored vanilla flavored candy melts.  By adding them it not only added color but sweet pops of vanilla flavor too!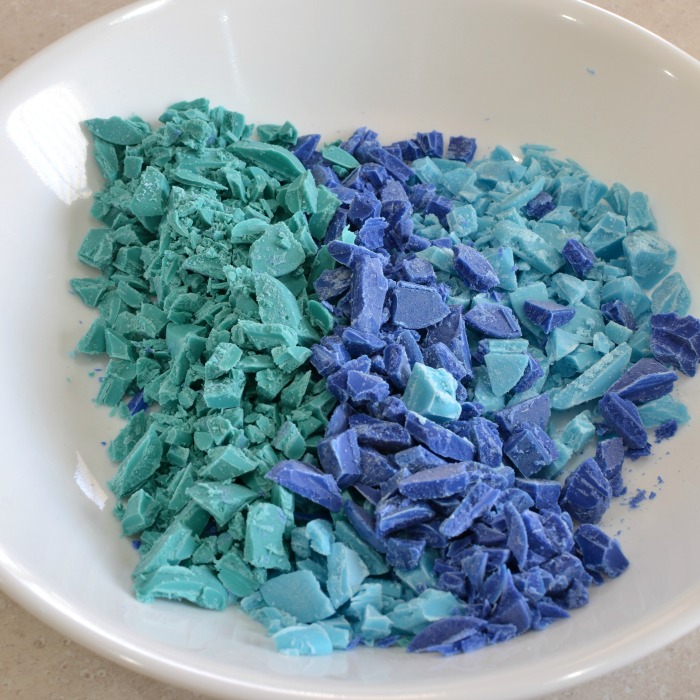 Visit FINDING DORY OCEAN WATER CUPCAKES(link) for instructions on how to create the fun water frosting.
Semi Homemade Triple Vanilla Cupcakes
Ingredients
For the Cupcakes
1 (15.25 ounce) vanilla cake mix
1 (3.4 ounce) vanilla pudding mix
3/4 cup vegetable oil
3 large eggs
1 cup cream soda
1 teaspoon vanilla extract
1 cup blue candy melts, chopped
For the Frosting
1 cup shortening
1 1/2 teaspoons clear vanilla extract
1/2 teaspoon almond extract
4 cups confectioners' sugar
3 to 4 tablespoons milk
blue gel food coloring
Instructions
For the Triple Vanilla Cupcakes:
Preheat oven to 350°.  Line cupcake tins with 24 liners.  Coarsely chop the candy melts.  In a medium mixing bowl add the cake mix, pudding mix, oil, eggs, cream soda and vanilla.  Mix until combined and there are no lumps.  Slowly mix in the chopped candy.  Use an ice cream scoop to equally divide batter and scoop into lined cupcake tins.  Bake 17 to 20 minutes or until a wooden toothpick inserted into the center comes out clean.  Cool completely before frosting.
For the Frosting:
Add shortening to a medium mixing bowl.  Beat until shortening is light and fluffy.  Add extracts and beat until incorporated into the shortening.  Add sugar 1 cup at a time; beat until smooth between each addition.  Add milk on if frosting is too thick.  Drizzle in 1 tablespoon at a time until the frosting reaches spreading or piping consistency.
For the Water Splash Frosting:
You'll need TWO #104 tips for the splash and a #12 for the center. To color the frosting divide into 2 bowls. One for the center (white), the least amount. Add blue food coloring to the second bowl. WATCH OUT not too much! This will be the lighter blue (the second splash layer). Remove half of the frosting from the second bowl into another bowl and add more blue food coloring. This will be the bottom layer of the darker blue. Start with the bottom layer (dark blue frosting) with one hand turn the cupcake and with the other one hold the piping bag and go in and out from the inside to the outside making sure the skinny part of the tip is facing the inside of the cupcake.
MORE PARTY CUPCAKE IDEAS
PIRATE TREASURE CHEST CUPCAKES  2. MARIO KART CUPCAKE PULL APART 3. FINDING DORY OCEAN WATER CUPCAKES

NEVER MISS A POST!
Sign up for my newsletter (two per month) and receive my recipes in your inbox. Easy to see anytime and saved for safe keeping. Click Here and sign up today! —->>>>CURTAIN CALL NEWSLETTER