Slow Cooker Moroccan Ribs
Slow Cooker Moroccan Ribs | Let your slow cooker do all the work!  Create a delicious meal with a Moroccan flair. With wonderful ingredients like turmeric, garbanzo beans and an added touch of sweetness from dried apricots!  Serve your ribs on a bed of couscous to really drive the flavors home.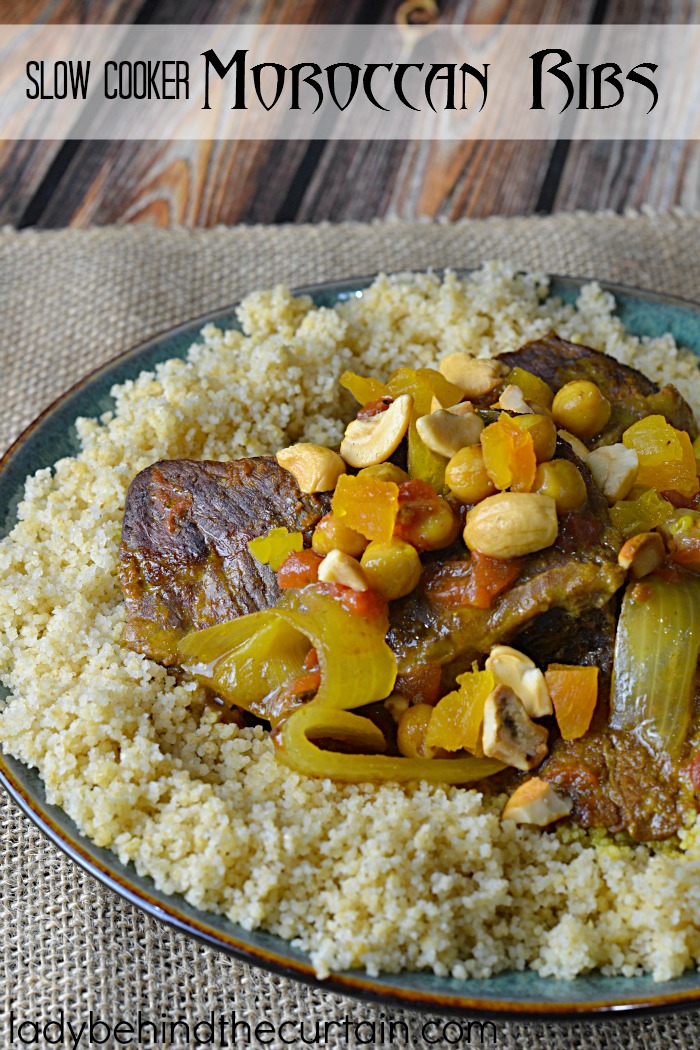 Don't you just love dump and leave meals?  I know I do!  Especially on a busy work day.  All I have to do is assemble the dish and leave.  It's totally awesome!  Plus, I love coming home to the smell of dinner!
Slow Cooker Moroccan Ribs
Ingredients
2 teaspoons ground cumin
1 1/2 teaspoons garlic salt
1 1/2 teaspoons ground turmeric
1/2 teaspoon ground coriander
1/4 teaspoon black pepper
2 large onions, cut into thin wedges
1 (15 ounce) can garbanzo (chickpeas) beans, rinsed and drained
2 tablespoons quick cooking tapioca
3 1/2 pounds boneless beef ribs
1 (14.5 ounce) can diced tomatoes, undrained
1/4 cup water
1/3 cup cashews, coarsely chopped
1/4 cup dried apricots, chopped
Instructions
In a small bowl stir together the cumin, salt, turmeric, coriander and pepper; set aside.
In a 5 to 6 quart slow cooker add the onions and garbanzo beans; sprinkle tapioca on top of vegetables.
Place ribs on top of vegetables; sprinkle on spice mixture.
Pour tomatoes and water over the ribs.
Cover and cook on low 10 to 11 hours or on high for 5 to 5 1/2 hours.
Serve on top of cooked couscous.
Sprinkle cashews and dried apricots over top of the ribs.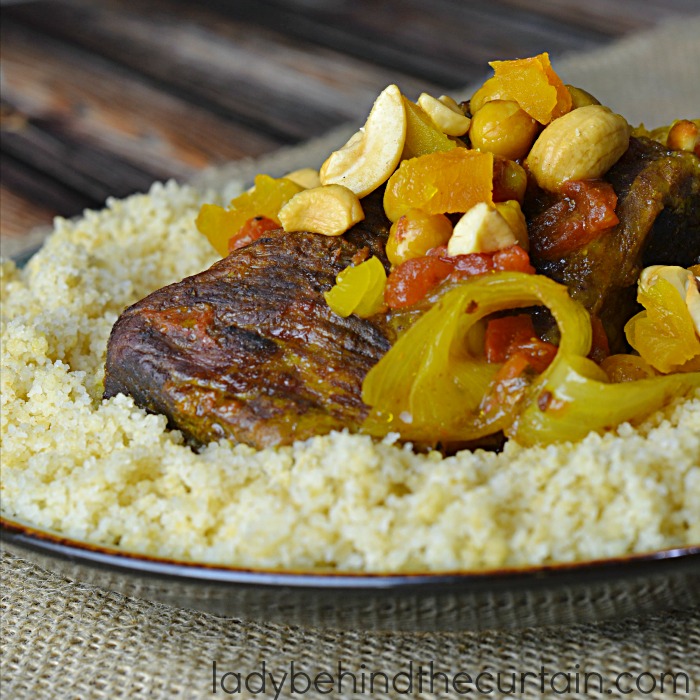 MORE SLOW COOKER DISHES WITH AN INTERNATIONAL FLAIR

SLOW COOKER CUBAN CHICKEN  2.  SLOW COOKER MEDITERRANEAN CHICKEN  3.  SLOW COOKER SOUTH OF THE BORDER ROAST