Slow Cooker – Cuban Chicken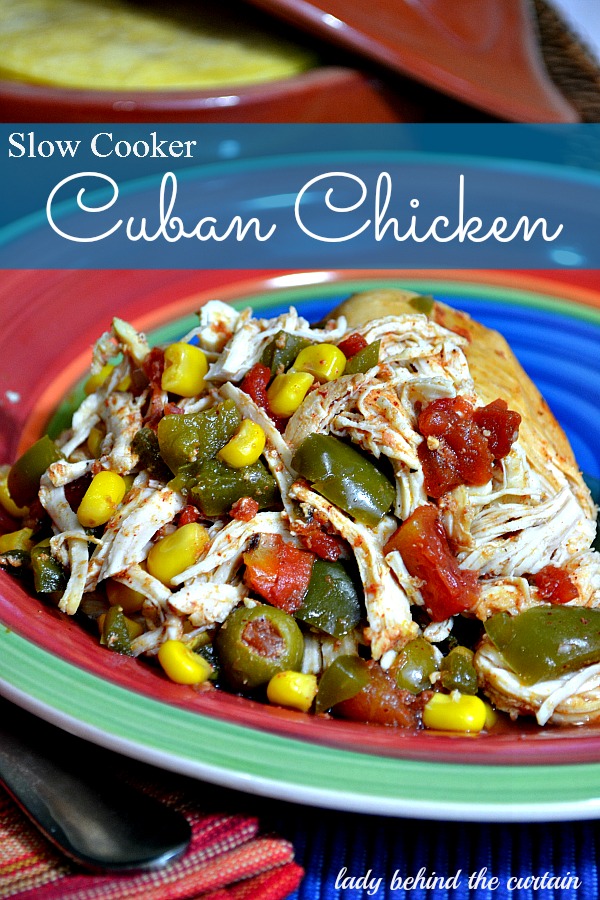 Enough to feed a crowd or freeze for later.  This recipe offers many layers of flavor.  Serve along side corn tortillas, brown rice and pinto beans.  I served this dish like a burrito bowl.  Starting with a layer of rice then beans and chicken.  So delicious!
Cuban Chicken Recipe (serves 10)
Ingredients
1 medium green bell pepper, chopped
1 small onion, chopped
1 jalapeno pepper, seeded and chopped
2-1/2 pounds bone-in chicken breast halves, skinned
14.5 ounce diced tomatoes
1 cup frozen corn
1/2 cup chicken broth
1/4 cup pitted green olives, sliced
2 teaspoon chili powder
2 cloves garlic, minced
1/2 teaspoon salt
1/2 teaspoon cumin
1/2 teaspoon black pepper
Directions
In a 3-1/2 or 4 quart slow cooker combine bell pepper, onion, and jalapeno pepper.  Ad chicken. In a bowl stir together tomatoes, corn, broth, olives, chili powder, garlic, salt, cumin and black pepper.  Pour over chicken in cooker.  Cover and cook on low-heat setting for 5 to 6 hours.  Transfer chicken to cutting board.  Remove meat from bones.  Using forks, pull chicken apart into shreds.  Return chicken to cooker, stirring to combine with sauce.  This recipe is adapted from the BHG Skinny Slow Cooker 2013 magazine.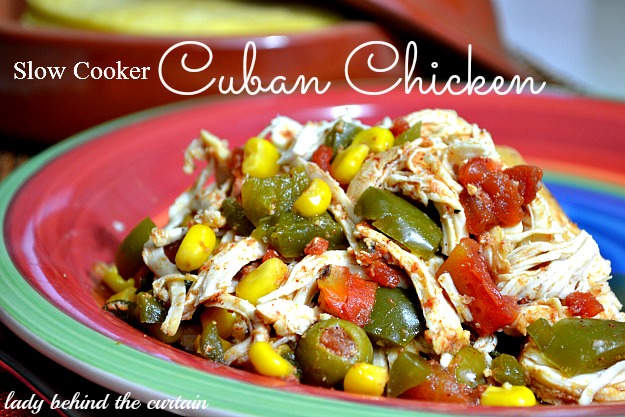 I SHARED THIS IDEA/RECIPE AT THESE PARTIES