How to Make Coconut Cheesecake Pops
How to Make Coconut Cheesecake Pops | Made with an almond coconut cheesecake filling, encased with store bought pie dough and dipped in dark chocolate.  How about that for a dessert!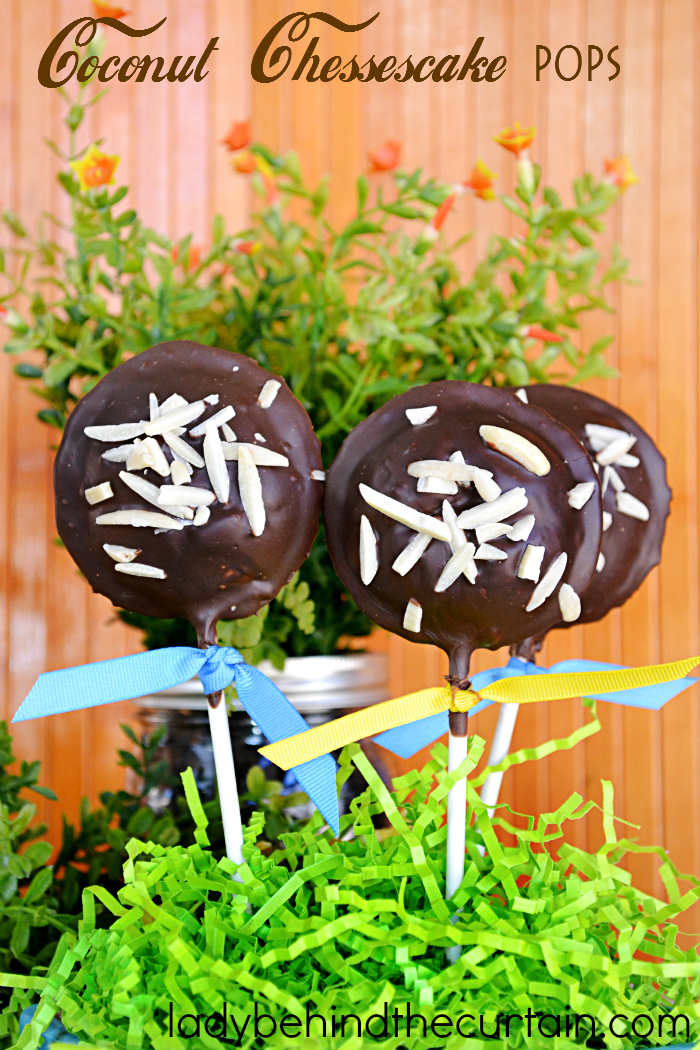 These pops are so easy to put together.  Make them the day before your party; wait and bake them the day of your party.  Even better you can make the filling 3 days before you want to bake them.  I love the layers of textures and flavors.  First you get the flavor of dark chocolate then the crunch from the pie crust and lastly the creamy cheesecake center.  This dessert should satisfy ALL your cravings!
Roll out store bought pie crust dough; use a biscuit cutter to cut out circles.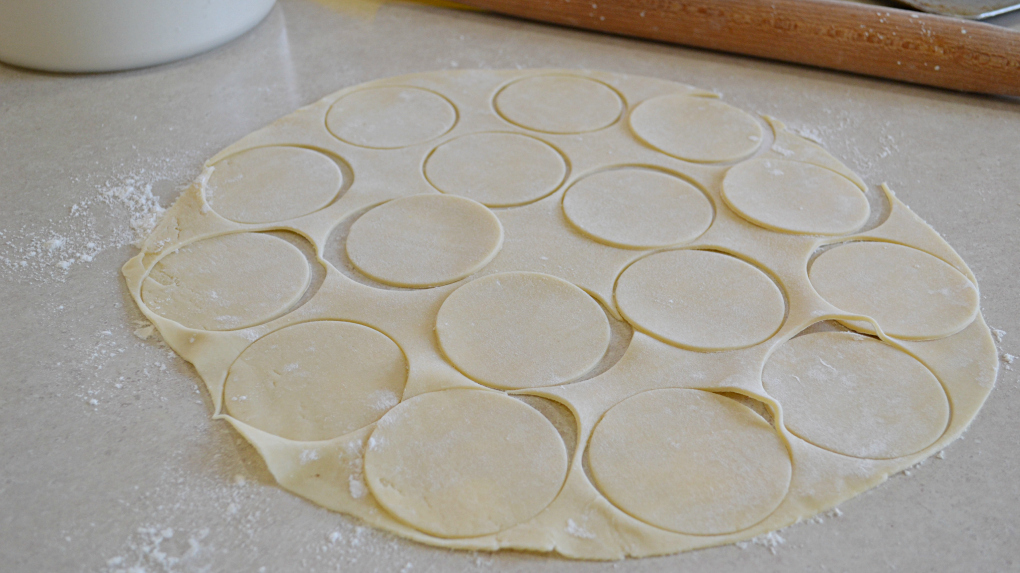 Add lollipop stick.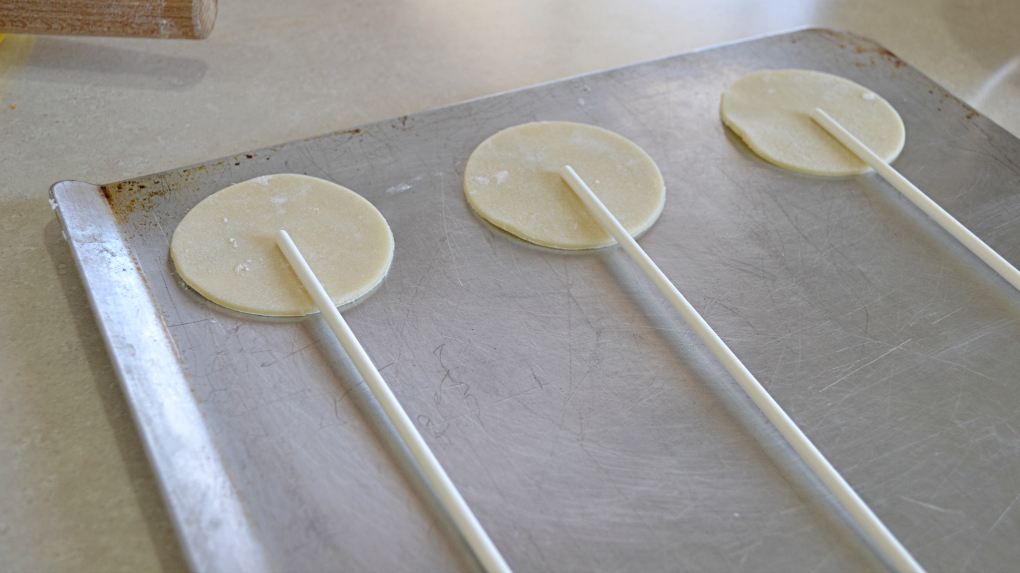 Add a tablespoon of filling.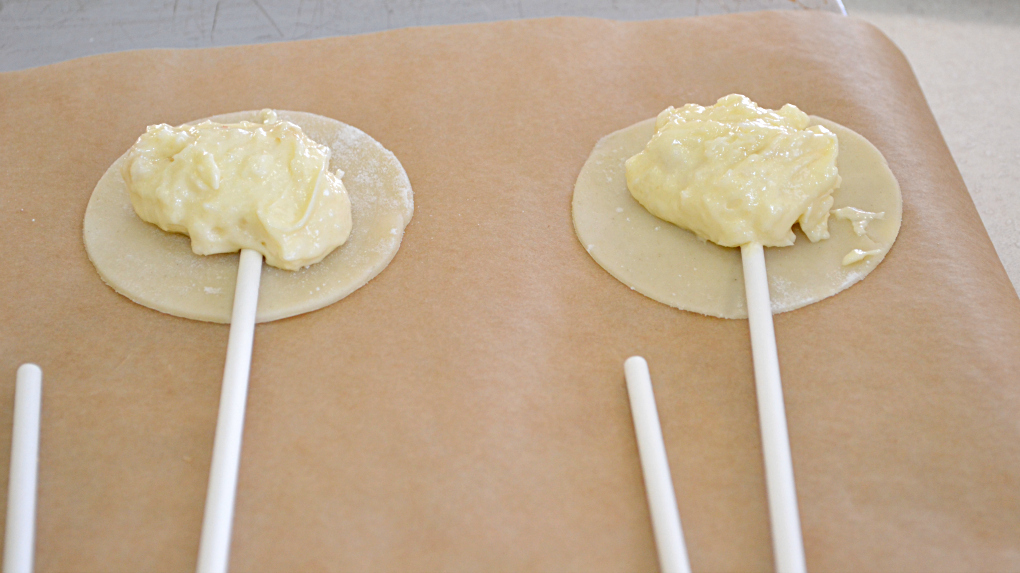 Top with another dough circle; use egg wash and press top to bottom.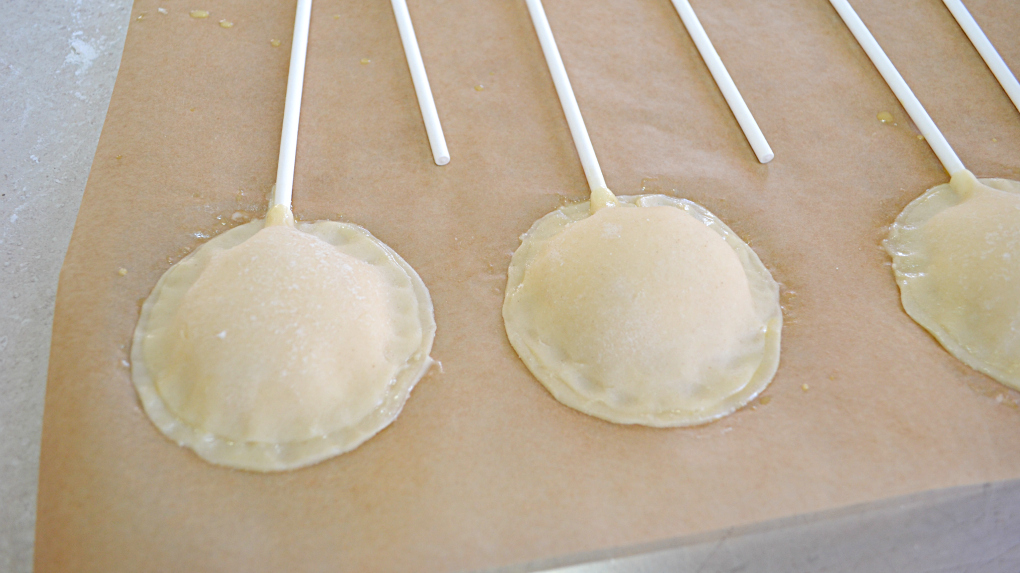 Use another lollipop stick to make a design.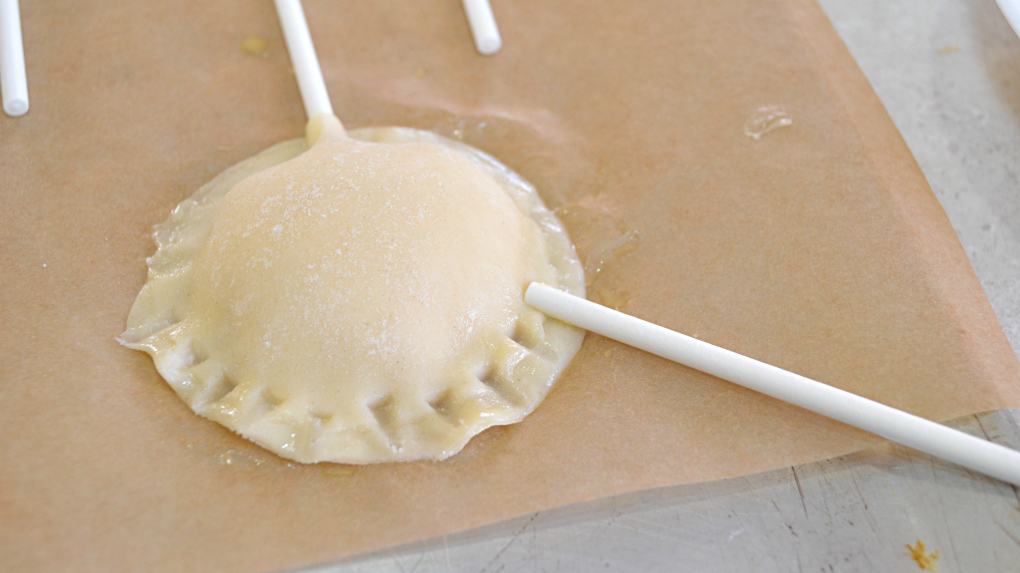 Cut in some air vents and Bake.
Yield: Makes 20 Pops
How to Make Coconut Cheesecake Pops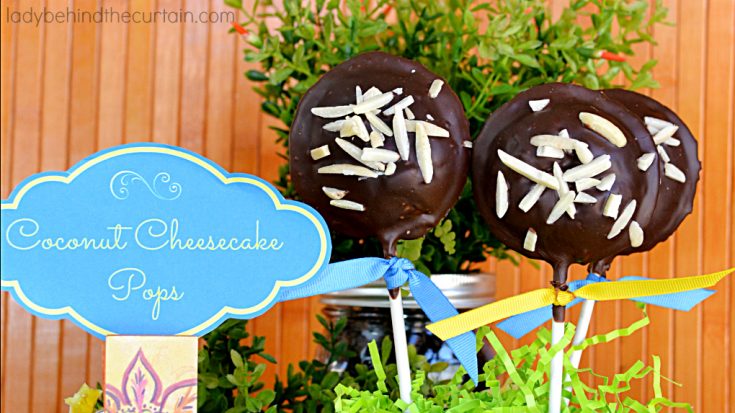 Total Time
1 hour
3 minutes
Ingredients
For the Filling:
1 (8 ounce) package cream cheese, softened
3 ounces almond paste
1 large egg
1/2 teaspoon vanilla extract
1/3 cup granulated sugar
2/3 cup shredded coconut
1/4 cup slivered almonds plus some for garnish
For the Pops:
1 box of store bought pie crust dough (contains 2 pie crusts)
1 large egg for wash
20 lollipop sticks
2-3/4-inch to 3-inch biscuit cutter
For the Dipped Chocolate Layer:
24 ounces dark cocoa candy melts
8 tablespoons shortening
Instructions
Preheat oven to 375°.
Line 2 cookie sheets with parchment paper and set aside.
For the Filling:
Beat together the cream cheese, almond paste, egg, vanilla, and sugar until creamy.
Add the coconut and almonds.
For the Pops:
On a lightly floured surface roll out the pie crust to a 13-inch circle.
Using a 2-3/4-inch to 3-inch circle biscuit cutter cut out as many circles as you can ( I got 8). Roll the remaining dough again to get the final 4 circles.
Makes 10 pops per dough sheet.
Place 6 circles on prepared cookie sheet.
Place lollipop stick in the center of the circle with the tip in the middle.
Mix together the egg and 1 tablespoon of water.
Continue with the rest of the dough.
In the center of each circle place 1 tablespoon of filling.
Using your finger dab the egg wash around the outside of the circle.
TIP: I also put the egg wash on the lollipop stick. Place another circle on top and press closed.
Using another lollipop stick press down the edges.
With a pastry brush, brush on the egg wash; using a sharp knife, cut air vents.
Bake 23 minutes.
Cool completely on wire cooking rack.
For the Dipped Chocolate Layer:
In a deep bowl melt candy melts and shortening.
NOTE: ONLY MELT ONE 12 OUNCE BAG OF CANDY MELTS AND 4 TABLESPOONS OF SHORTENING AT A TIME ( it took 1 minute on high in my microwave).
Dip cheesecake pops in melted chocolate. Place on a cookie sheet lined with wax paper.
Optional-sprinkle slivered almonds on top.
To help with the hardening process you may want to place the cheesecake pops in the refrigerator.
Store in an airtight container in the refrigerator.
MORE FUN DESSERT IDEAS/RECIPES

A DAY AT THE BEACH PUDDING DESSERT  2. BABY FOOD JAR S'MORES 3. TROPICAL MANGO CUPCAKES