Puff Pastry Pizza |  Light, crispy and full of flavor that's how I would describe these little pillows of cheesy goodness.  Perfect as a Game Day or after school snack.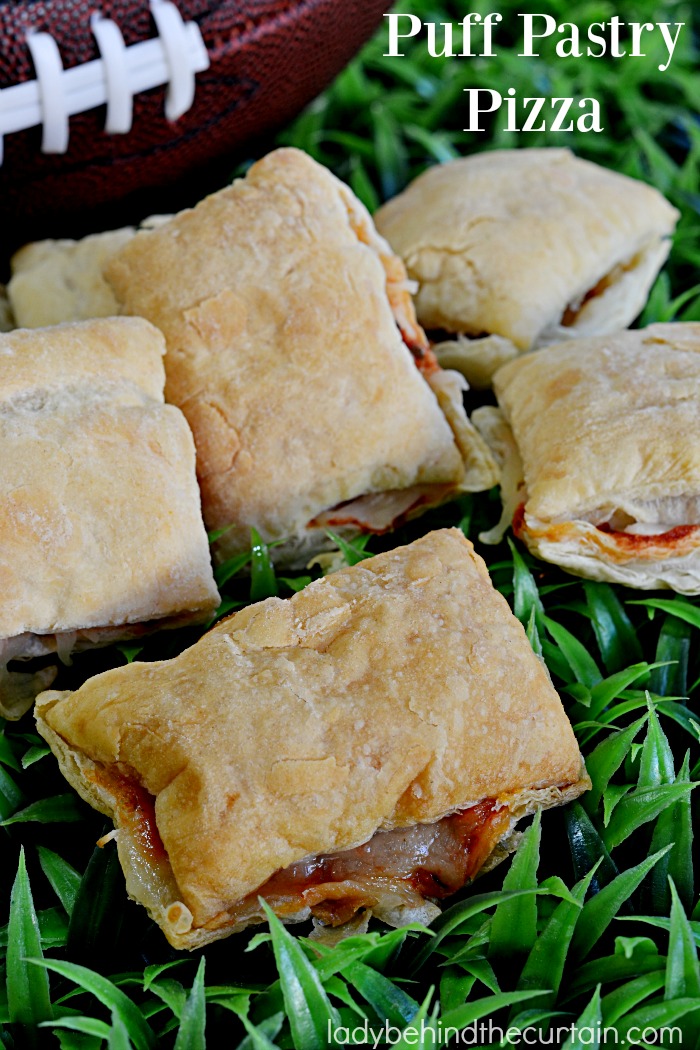 Got a sheet of puff pastry left over?  Most recipes only call for one sheet so I always have one hanging around in my freezer.  I decided it was time to figure out something to do with that lonely sheet of puff pastry.  This is the perfect way!  Make it into small pizzas and feed it to your hungry game watchers kids after school!
Watch the short video below on how to make these light and crispy pizzas!
Puff Pastry Pizza
Yield:
Makes 16 Puff Pastry Pizzas
Ingredients
1 sheet puff pastry (half of a 17.3 ounce box)
4 ounce smoked sausage, sliced
10 Minute Pizza Sauce or store bought
shredded mozzarella cheese
Instructions
Preheat oven to 400°.
Unfold 1 thawed frozen puff pastry sheet.
Roll into a 10-inch square; cut into sixteen 2 1/2-inch squares.
Arrange squares on a baking sheet.
Bake 12 to 15 minutes or until golden and puffed.
Remove and cool; use a fork to open them up.
In a medium skillet, brown the sliced sausage.
On half of the puffed pastry square add 1 teaspoon pizza sauce, one sausage slice and 1 tablespoon cheese.
Replace tops and bake an additional 5 minutes or until cheese is melted.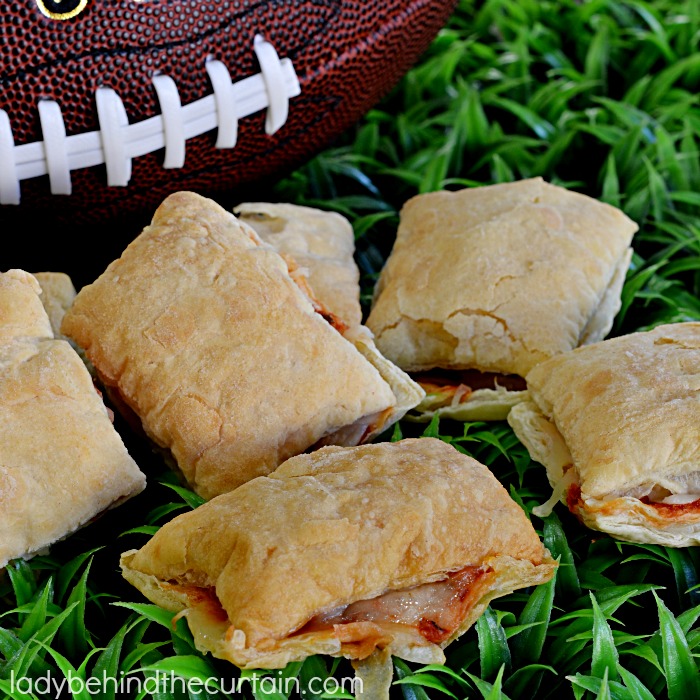 MORE GAME DAY OR AFTER SCHOOL RECIPES

KOREAN BEEF POCKETS  2. CHICKEN JALAPENO BOMB BITES  3. SPICY CHICKEN HOT POCKETS