Witches Eyeglass Halloween Chocolate Pumpkin Cupcakes
These full of fun Witches Eyeglass Halloween Chocolate Pumpkin Cupcakes have only TWO ingredients (for the cupcakes)!  The Puffy Green Hand Pick is pushed into a delicious spice pumpkin chocolate frosting, covered in chocolate sprinkles and is holding a Bloody Eyeball gumball.  How about serving this cupcake as your Halloween Party Dessert?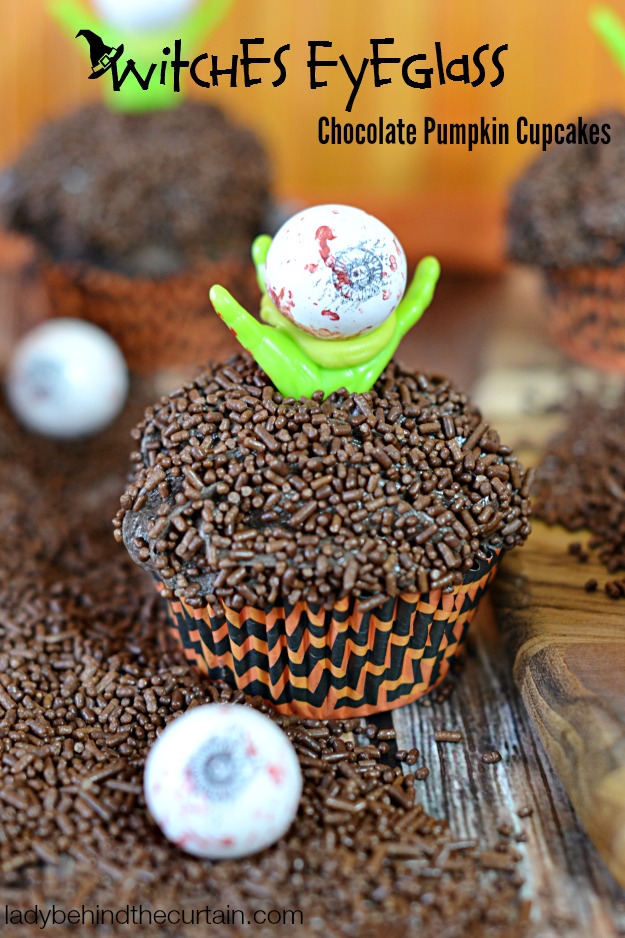 Add these Cupcakes to your Halloween Pinterest Board.  Don't have a Halloween board?  Let me help you build one. 
LOOK BELOW FOR A LIVE INTERACTIVE PEEK AT MY HALLOWEEN BOARD!  PIN FROM THE PICTURES BELOW!  TO SEE MORE CLICK ON THE SEE ON PINTEREST BUTTON.

I purchased the Puffy Green Hand Pick from ABC Cake Decorating Supplies and the Bloody Eyeball Gumballs from SweetWorks.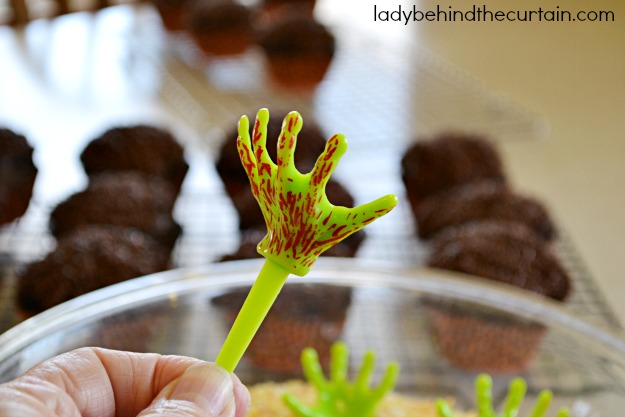 These Chocolate Pumpkin Halloween Cupcakes are moist and dense.  The perfect carnival or cake walk cupcake!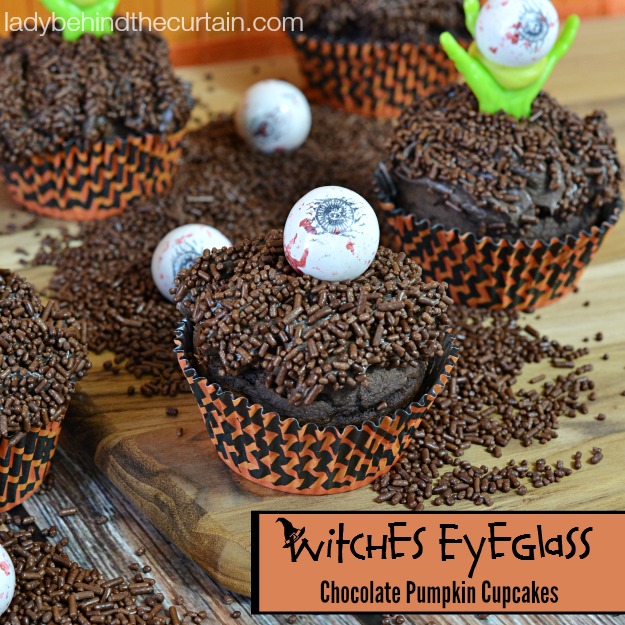 To make the frosting EXTRA special I used LorAnn Pumpkin Spice Bakery Emulsion.  If you can't find the emulsion you can substitute with 1 teaspoon of pumpkin pie spice.
To get the eyeball gum ball to stay in the hand pick I applied some melted candy (candy melts), put the picks in rice to hold them upright and placed the bowl in the refrigerator about 10 minutes or until the candy had hardened.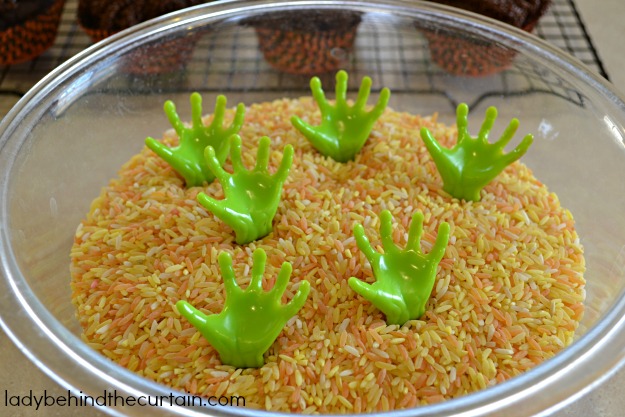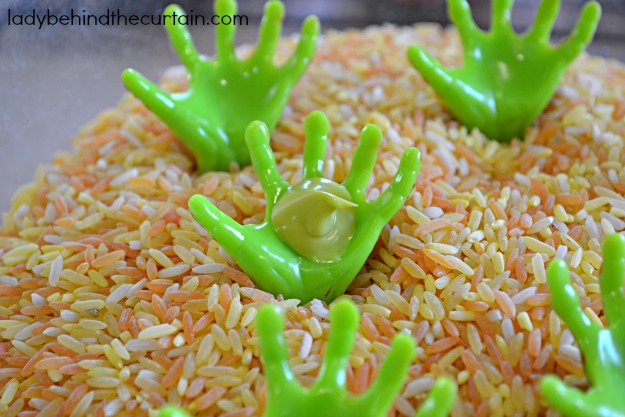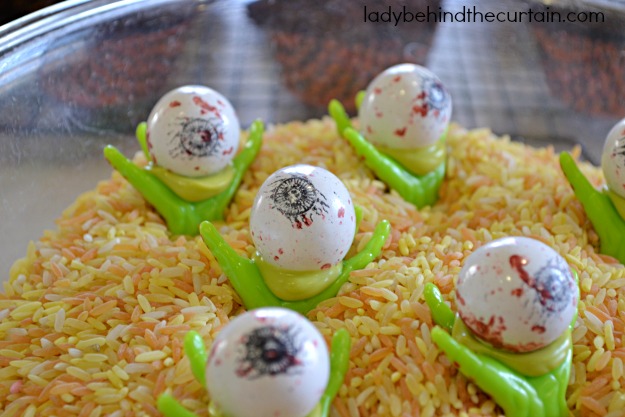 ONLY TWO INGREDIENTS!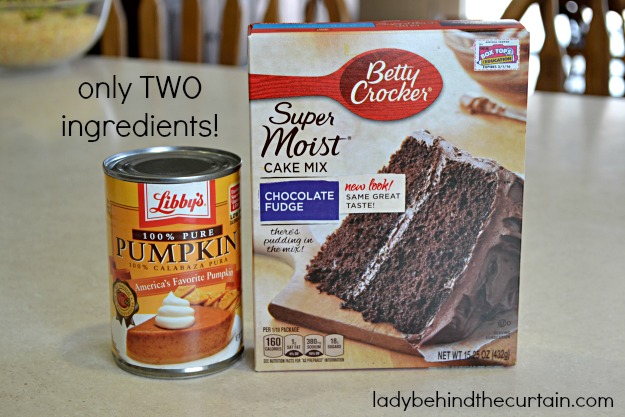 The batter is thick but bakes into rich dense chocolate cupcakes.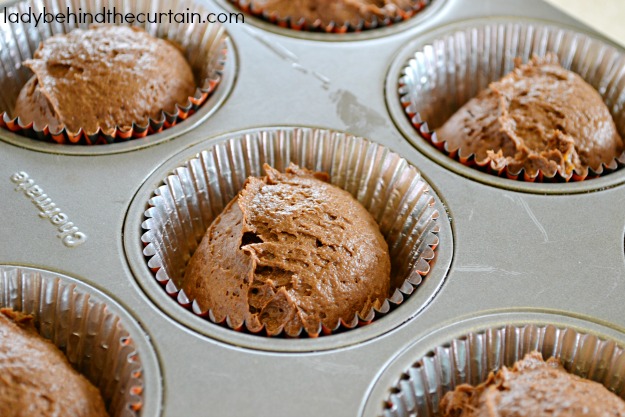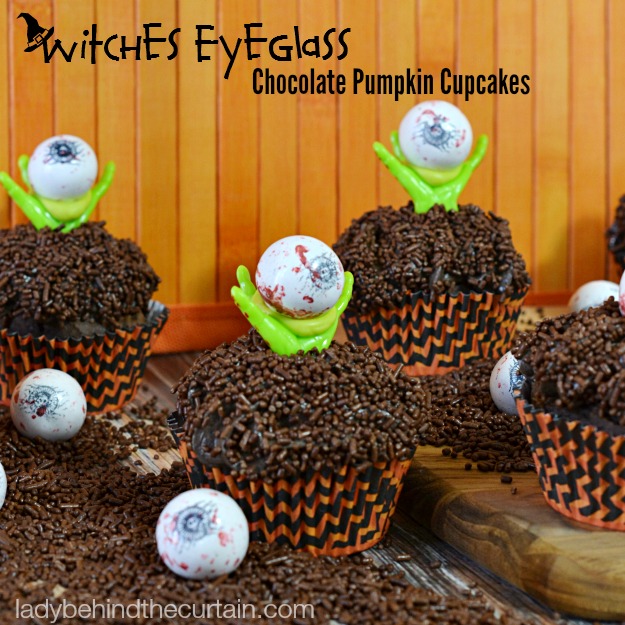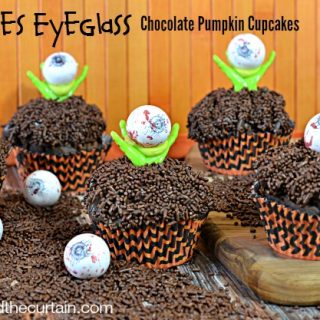 Witches Eyeglass Halloween Chocolate Pumpkin Cupcakes
Ingredients
For the Cupcakes:
1 (15.25 ounce) chocolate fudge cake mix
1 (15 ounce) solid packed pumpkin
For the Frosting:
1 (8 ounce) cream cheese, softened
1/2 cup butter, softened
1/2 cup cocoa
3/4 teaspoon Pumpkin Spice Bakery Emulsion
4 cups confectioners' sugar
1 tablespoon milk
chocolate sprinkles
1/2 cup lime green candy melts
eyeball gumballs
puffy green hand picks
Instructions
For the Cupcakes:
Preheat oven to 350 degrees.
In a medium bowl add the cake mix and pumpkin.
Mix until well combined.
Using an ice cream scoop, scoop batter into 18 lined cupcake wells.
Bake 20 to 23 minutes or until a toothpick inserted into the center comes out clean.
Cool on wire rack.
When cupcakes are completely cooled, add frosting and sprinkles.
For the Frosting:
In a medium mixing bowl cream together the cream cheese and butter.
Add the cocoa and emulsion, mix until combined.
Add sugar 1 cup at a time.
If the frosting is too thick add the milk.
For the Topper:
Melt candy melts in a microwave safe bowl.
Spoon some into the palm of the hand.
Insert into a bowl of rice and place in the refrigerator 10 minutes or until the candy has hardened.
Insert into the cupcakes.