Asparagus Risotto: A creamy side dish that pairs beautifully with anything from the grill.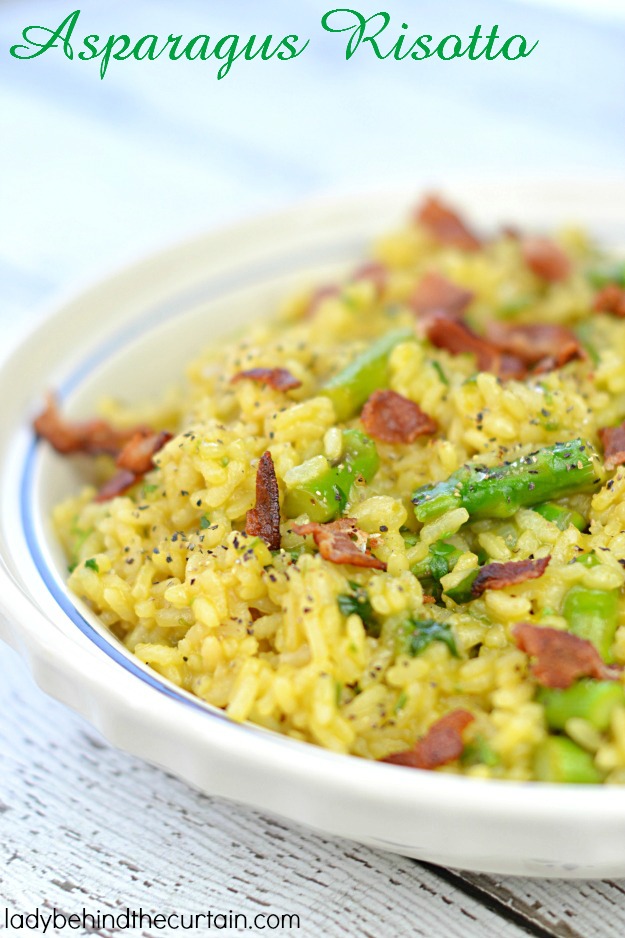 If the word risotto leaves you a little scared…don't be!  It's very easy to prepare, all it takes is a little patience.  The good news is it will make you look like an expert in the kitchen.  This Asparagus Risotto is the perfect Springtime side dish.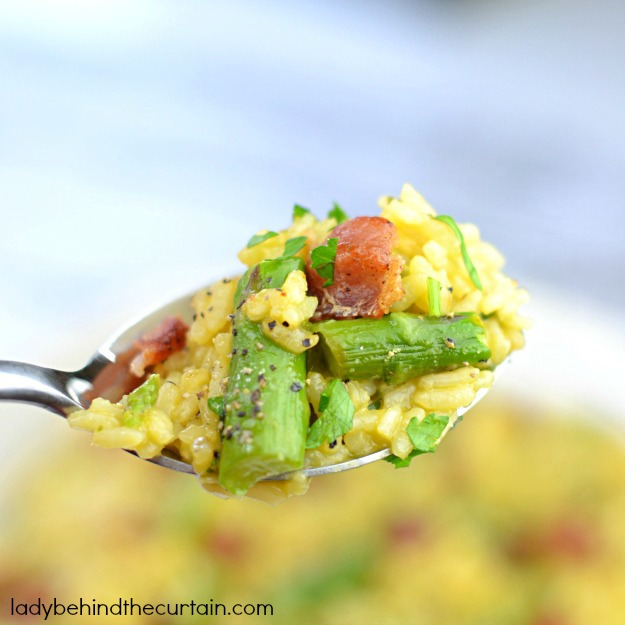 HERE is a great tip for the hostess:  Start the risotto before guests arrive.  When it's about halfway cooked, cover and remove from the heat.  About 20 minutes before dinner continue cooking and finish by adding the asparagus and bacon.  This recipe serves about 8 people so it is perfect for entertaining.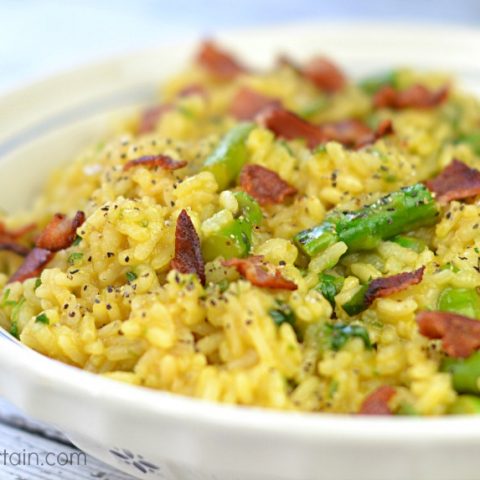 Asparagus Risotto
Ingredients
10 cups chicken broth
2 tablespoons olive oil
1/2 cup finely chopped shallots
2 1/2 cups Arborio rice
1 cup dry white wine
1 pound thin asparagus, tough ends removed and cut into 2-inch pieces
1/4 cup finely chopped fresh parsley
2 teaspoons fresh lemon juice
1 1/4 teaspoons salt
1/4 teaspoon black pepper
6 slices bacon, cooked and crumbled
Instructions
Pour chicken broth into a large pot; bring to and boil; turn down and simmer.
Heat oil to a large skillet, add shallots and cook until softened.
Add rice stirring occasionally until rice is translucent.
Stir in wine and cook until absorbed.
Add 1/2 cup of broth stirring until nearly absorbed.
Continue adding broth 1/2 cup at a time, stirring until absorbed after each addition; until rice is creamy and slightly tender (about 25 minutes).
Stir in asparagus, parsley, lemon juice, salt, pepper, bacon and any remaining broth.
MORE SIDE DISH RECIPES
1. LIGHT ITALIAN ORZO  2. CORN AND PEPPER COUSCOUS  3. POTATO CASSEROLE