Biscuit Beignets filled with Lemon Cream and Blueberries
All over your face, better be leaning over something kind of goodness.  These Biscuit Beignets filled with Lemon Cream and Blueberries are to die for!  So easy to make you can be eating them in no time.
I know that TRUE Beignets are fried pillows of yeast dough drenched in confectioners' sugar.  This is my easy version with a little filled twist.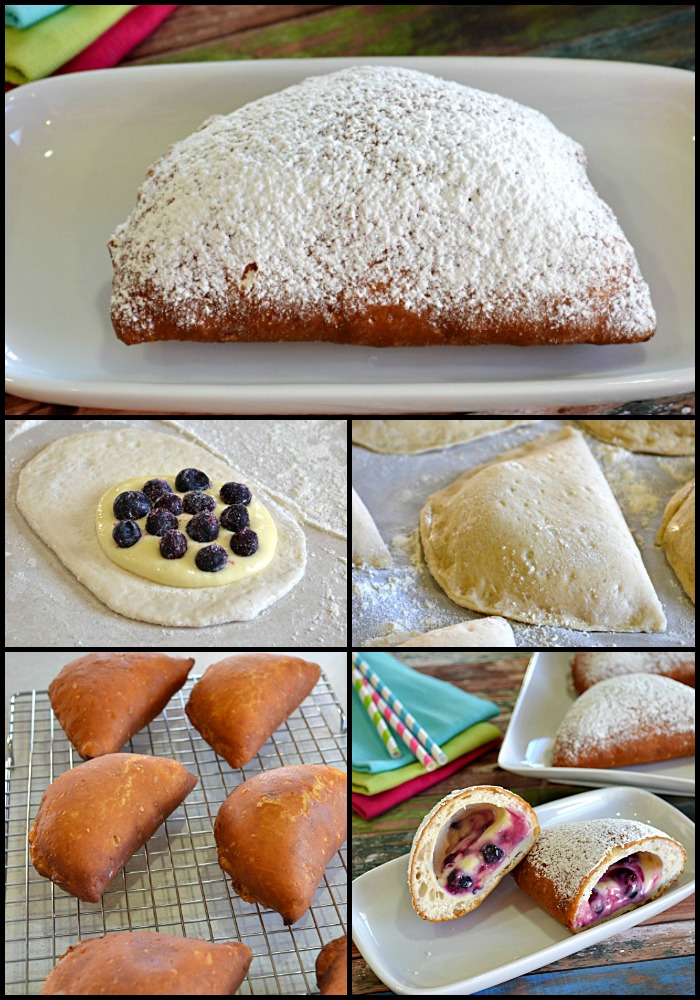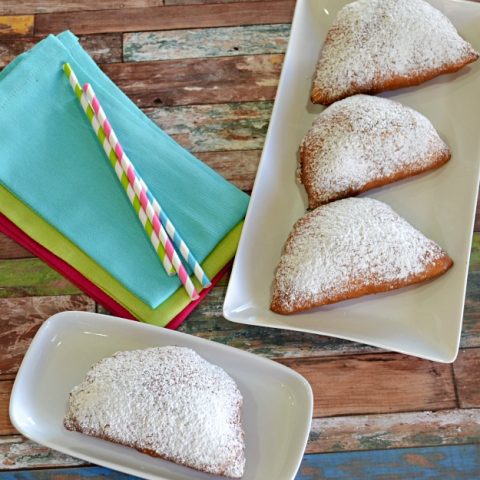 Biscuit Beignets filled with Lemon Cream and Blueberries
Total Time:
1 hour
20 minutes
Ingredients
2 (16.3 ounce) Pillsbury Grands Home Style Biscuits
8 ounce cream cheese, softened
1 cup store bought lemon curd or use my recipe for homemade Lemon Curd
1 cup confectioners' sugar plus some for sprinkling
2 cups fresh or frozen blueberries
small ramekin of warm water
vegetable oil enough for 3-inches of oil in a Dutch oven
Instructions
Line two cookie sheets with parchment paper and sprinkle with flour.
In a medium mixing bowl beat the cream cheese until creamy.
Add the lemon curd and beat until well combined.
Slowly add the confectioners' sugar until light and fluffy.
On a lightly floured surface roll a biscuit into a 5x7-inch rectangle.
Spoon 2 level tablespoons of the lemon curd mixture into the center of the rectangle.
Scatter 12 blueberries on top of the lemon mixture.
Dip your finger in the warm water and moisten all the way around the outer edges of the biscuit rectangle.
Fold in half, crimp to seal.
Place on prepared cookie sheet.
Continue with remaining biscuits.
Once biscuits have been shaped they are ready to be fried.
Pour oil in a Dutch oven.
Heat to 350 degrees.
TIP - Don't have a thermometer? Dip the end of a wooden spoon into the hot oil and if it bubbles then the oil is ready.
Once oil is up to temperature, carefully place 2 beignets one at a time in the hot oil.
Turn when the beignet is a dark tan color.
TIP - My tool of choice for turning hot pastries is chop sticks.
When both sides are a dark tan color carefully take out of the oil using a large slotted spoon or spatula, place on a wire rack lined underneath with paper towels.
NOTE - the paper towels are on the counter under the rack not on the rack. If you put the paper towels on the rack the moisture will soften the beignets and not allow them to stay crisp.
Cool completely before sprinkling with confectioners' sugar.
RECIPES YOU MIGHT ALSO LIKE:
1.  STRAWBERRY SHORTCAKE APPETIZER  2.  ORANGE CREAM CHEESE BREAKFAST ROLLS  3.  CHOCOLATE CARAMEL SWEET ROLLS  4.  CINNAMON TOAST WAFFLE PULL APARTS