Bewitching Halloween Pumpkin Mousse Parfaits
Bewitching Halloween Pumpkin Mousse Parfaits |  This light and fluffy dessert is a nice change from a heavy piece of pumpkin pie.  With layers of crushed graham crackers, fluffy pumpkin mousse, cheesecake mousse and a fun layer of sprinkles.  TWICE!  Serve this delicious Fall dessert in a half pint mason jar and top with a witch's hat hanging off the edge of the spoon!  The perfect dessert to serve at an adult HALLOWEEN PARTY with just the right amount of fun!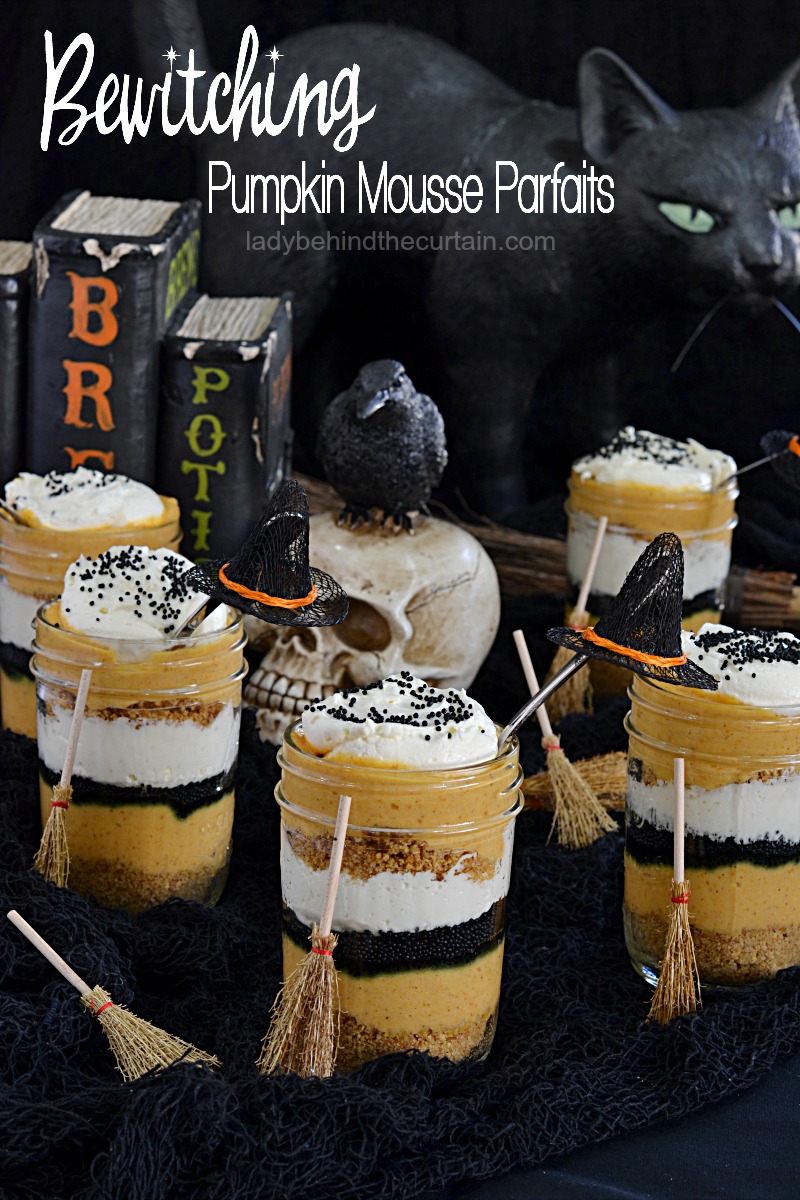 Even if you're not a fan of pumpkin (like me) you'll like this dessert.  The combination of flavors goes perfectly with the season.

Everyone loves pumpkin and chocolate together.  Swap out the graham cracker crumbs for chocolate cookie crumbs and use chocolate sprinkles.  Also add an optional black hat.  Click here for a link to a hat —->>>>MINIATURE BLACK FELT TOP HAT.  All that is needed is a buckle made of paper and you have a Pilgrim hat.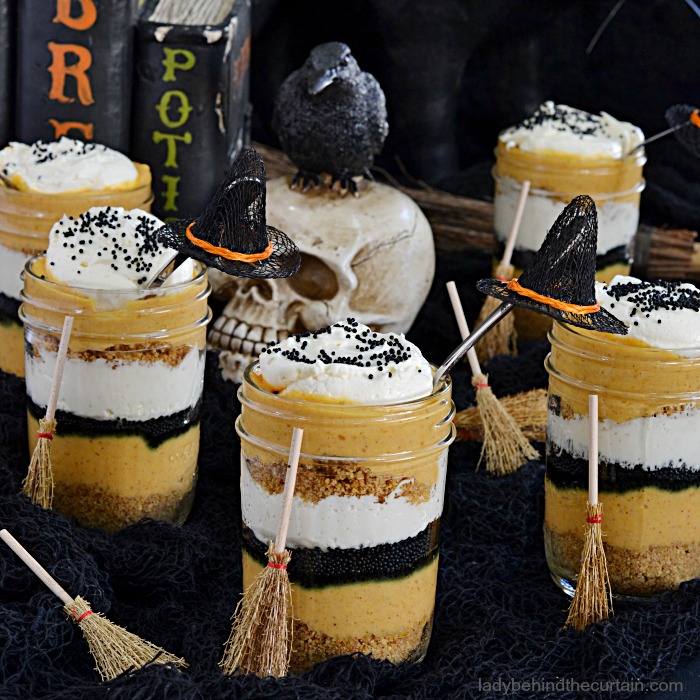 I love the addition of a witch hat hanging from the spoon.  Click here to order —->>>>MINIATURE BLACK SINAMAY WITCH HATS.  Click here for the brooms—->>>>MINIATURE NATURAL BRISTLED BROOM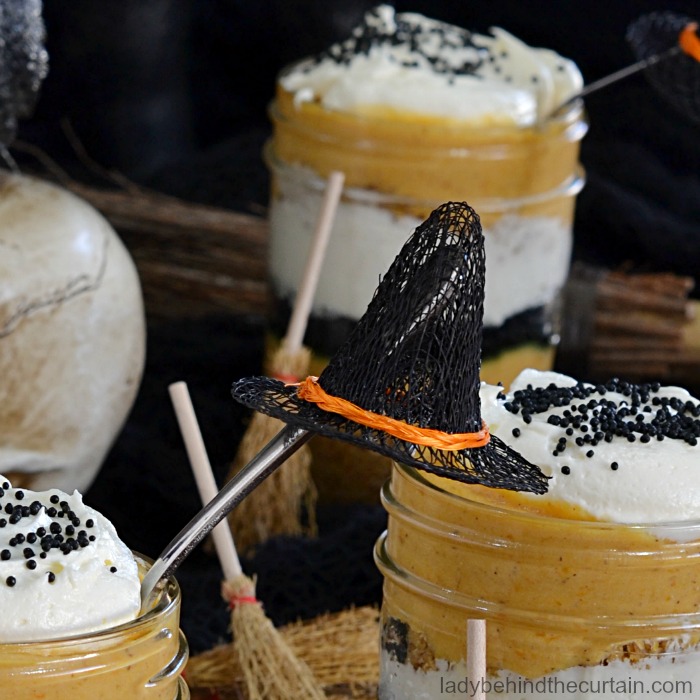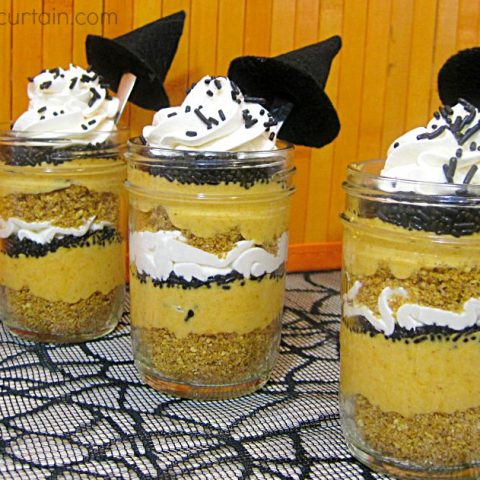 Bewitching Pumpkin Mousse Parfaits
Ingredients
For the Pumpkin Mousse:
1-1/2 cups milk
1 box vanilla instant pudding
1/2 - 15 ounce can pumpkin
1/2 teaspoon pumpkin pie spice
1/2 cup cool whip
For the Vanilla Cheesecake Mousse:
8 ounce cream cheese
1 cup sugar
1 teaspoon vanilla extract
8 ounce cool whip
For the Graham Cracker Crust:
1 cup graham cracker crumbs
2 tablespoons sugar
1 teaspoon cinnamon
1/4 cup butter, melted
Optional black sprinkles
Instructions
For the Pumpkin Mousse:
Beat milk and pudding with a whisk 2 minutes.
Blend pumpkin and spice.
Stir in Cool Whip.
Pour pumpkin mixture into a large zip top bag . TIP: The easiest way to fill a bag is by inserting it into a tall glass, open up the top and lay over the top of the glass to ensure the bag is as open as it can get.
Set aside for assembly.
For the Vanilla Cheesecake Mousse:
Beat cream cheese, sugar and vanilla until creamy.
Fold in cool whip.
Place cheesecake mixture into a pipping bag fitted with a large decorative tip.
Set aside for assembly.
For the Graham Cracker Crust:
In a medium bowl combine graham cracker crumbs, sugar and cinnamon.
Stir in melted butter.
How to Assemble the Parfaits:
Place 2 heaping tablespoons of graham cracker crust in the bottom of each mason jar. Using fingers lightly press the crumb mixture.
Cut the corner of the zip top bag with the pumpkin mixture and pipe some of it into each jar.
Top with black sprinkles then pipe some of the cheesecake mixture on top.
Repeat this process twice EXCEPT only add 1 HEAPING TABLESPOON of the graham cracker mixture then end with a decorative top of vanilla cheesecake mousse and sprinkles. HERE are the directions on how to make the FELT WITCH HAT.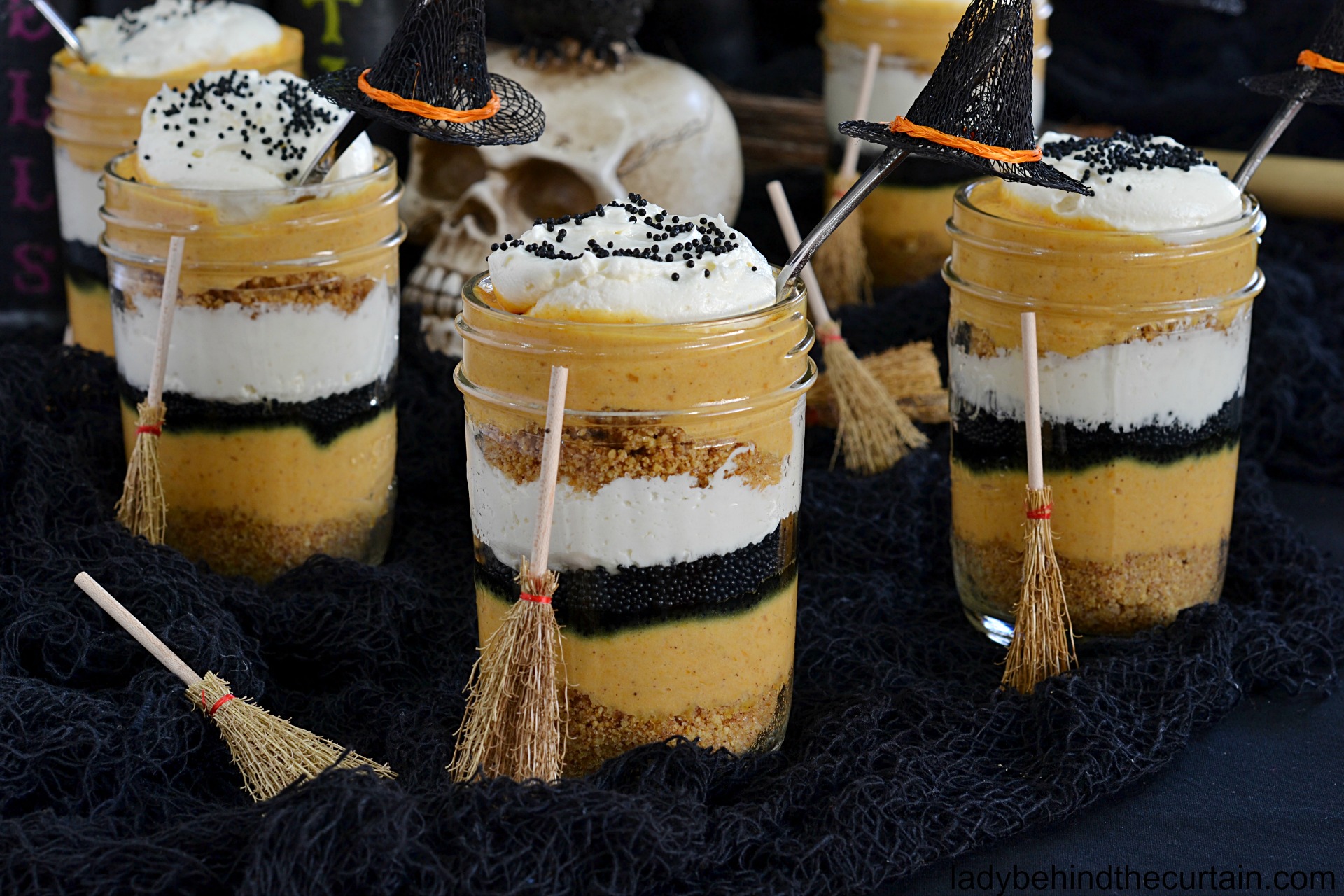 MORE WITCH THEMED HALLOWEEN RECIPES
INSTANT WITCH HALLOWEEN PARTY FAVOR  2. WICKED WITCH FINGER HALLOWEEN PRETZELS  3. HALLOWEEN WITCHY PUSH UP POPS
NEVER MISS A POST!
Sign up for my newsletter (two per month) and receive my recipes in your inbox. Easy to see anytime and saved for safe keeping. Click Here and sign up today! —->>>>CURTAIN CALL NEWSLETTER