Halloween Haunted House Dark Chocolate Cake
Halloween Haunted House Dark Chocolate Cake: A spooky Halloween Party Cake with decedent chocolate cake layers, a raspberry center all covered in a light and fluffy dark chocolate cream cheese frosting. With out a doubt the perfect Halloween Party Cake. I'll show you how easy it is to create your own haunted Halloween cake with easy instructions for the Graham Cracker House, Haunted Candy Trees and Dirty Pumpkins not to mention this delicious dark chocolate cake.
How to Make Melted Candy Halloween Haunted Trees
SUPPLIES (printable list and directions below)

tree templates (download below)
parchment or wax paper
melting candy ( I used black candy melts from Wilton)
squeeze bottle
candy eyes
tweezers
3 (7½ inch) skewers

DIRECTIONS

Tape one print out to a hard transferable surface ( I used a cookie sheet)
Tape a piece of parchment or wax paper on top of the print out.
Pour 1 bag of candy melts and 1 tablespoon of vegetable shortening into a microwavable safe bowl, heat on high 1 minute, stir until melted and creamy. NOTE: If the candy is not melted continue heating in 30 second increments at 60% power.
Pour melted candy into a squeeze bottle ( I use the ones from Wilton).
Start by outlining the tree and then filling in. Use a heavy hand you want the candy to be thick.
Once you have the tree outlined and filled use tweezers to place the eyes.
Place the cookie sheets in the refrigerator to harden ( at least 30 minutes).
Save the melted candy that is leftover in the bottle.
ADDING STABILITY: If necessary reheat the candy (still in the bottle) 30 seconds on high.
Carefully turn the trees over, add a strip of melted candy to the center of the trunk and up as far as you can to the top.
Place skewer in the melted candy and lightly press in place.
Once all the trees have skewers, refrigerate until ready to decorate your cake.
Melted Candy Haunted Tree Templates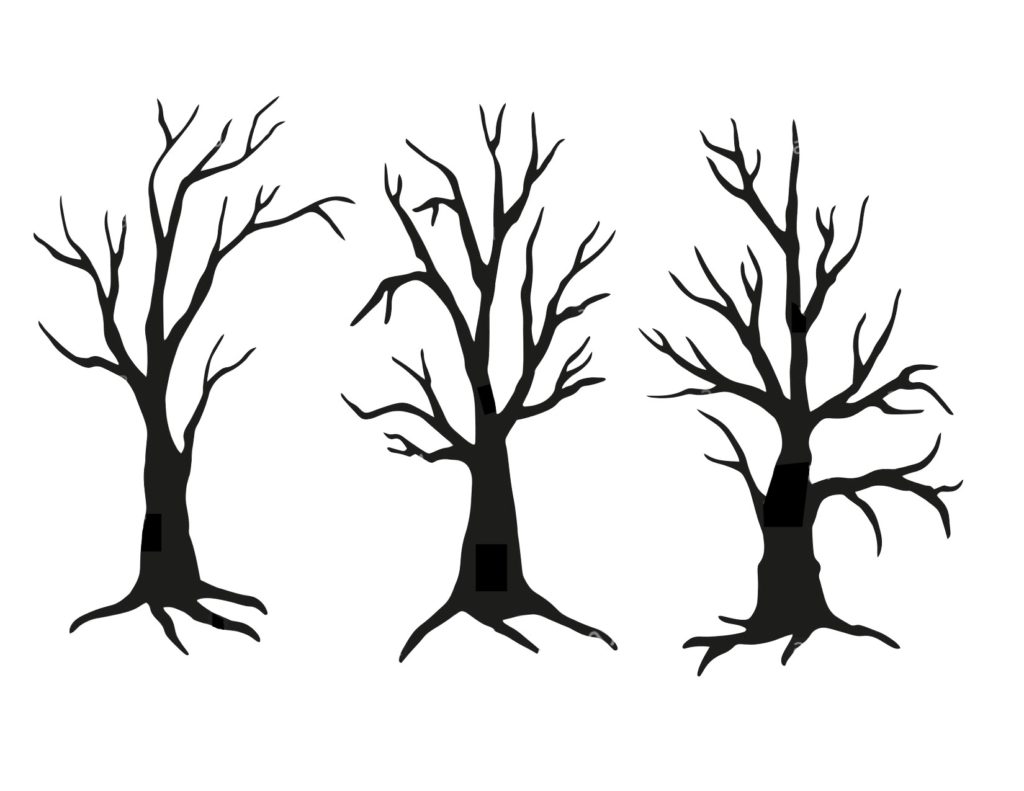 How to Make New Candy Pumpkins Look Old and Dirty
Favorite Tool When Baking Layered Cakes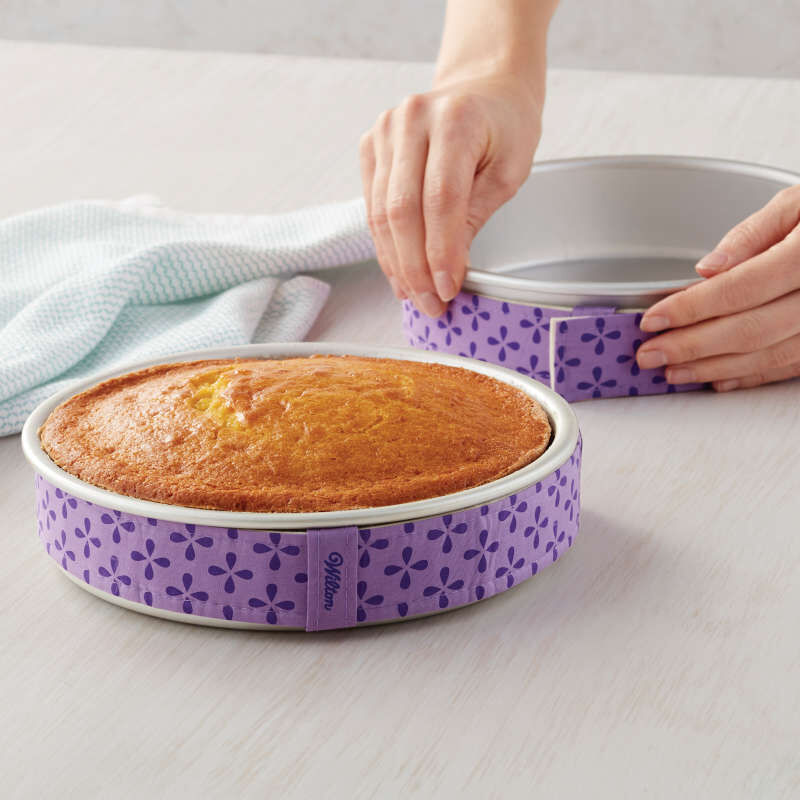 HOW TO MAKE HALLOWEEN HAUNTED HOUSE DARK CHOCOLATE CAKE
Don't forget about the chocolate rocks!
HALLOWEEN GRAHAM CRACKER HOUSE CAKE TOPPER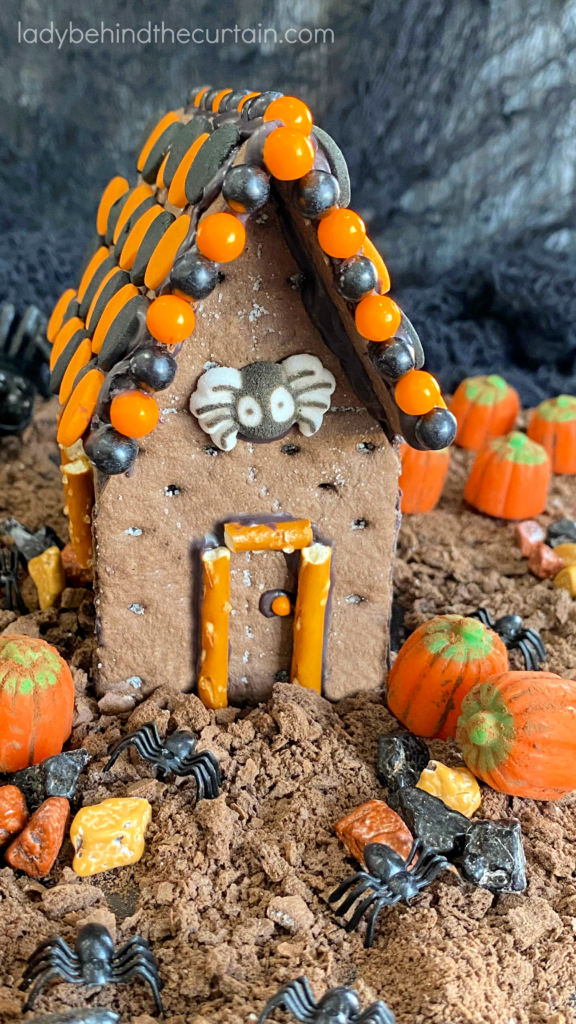 CAN THIS HALLOWEEN PARTY DARK CHOCOLATE CAKE BE MADE AHEAD OF TIME?
DARK CHOCOLATE CAKE: Prepare cake as the recipe directs. Once the cake is completely cooled, wrap each layer individually in plastic wrap and then in foil. Can be frozen up to 3 months. When ready to use, unwrap and frost frozen.
DARK CHOCOLATE CREAM CHEESE FROSTING: Frostings that are made with shortening can be stored at room temperature in an air tight container on the counter up to 2 weeks. Frostings with butter and milk should be stored in the refrigerator with an air tight lid up to 2 weeks or freezer up to 3 months. REVIVE: For frostings that are frozen or refrigerated. Set them on the counter and wait for them to come to room temperature. Spoon into a large mixing bowl. Fit the mixer with a paddle attachment, beat on medium high until light and fluffy (about 3 minutes.
DECORATIONS: House—The house can be made a week before needed. Store in a cool spot. Trees—Keep refrigerated up to a week until ready to use.
BLACK COCOA POWDER instead of BLACK FOOD COLORING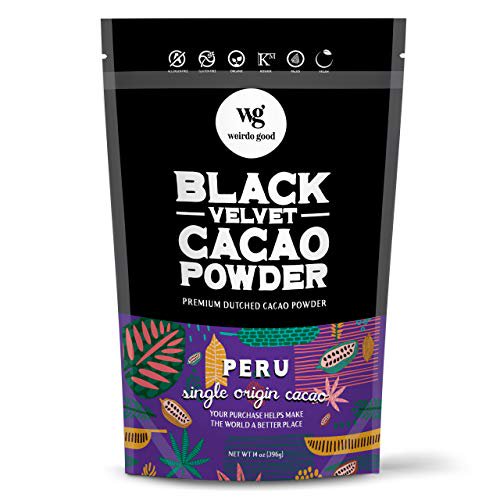 MORE HALLOWEEN PARTY TREATS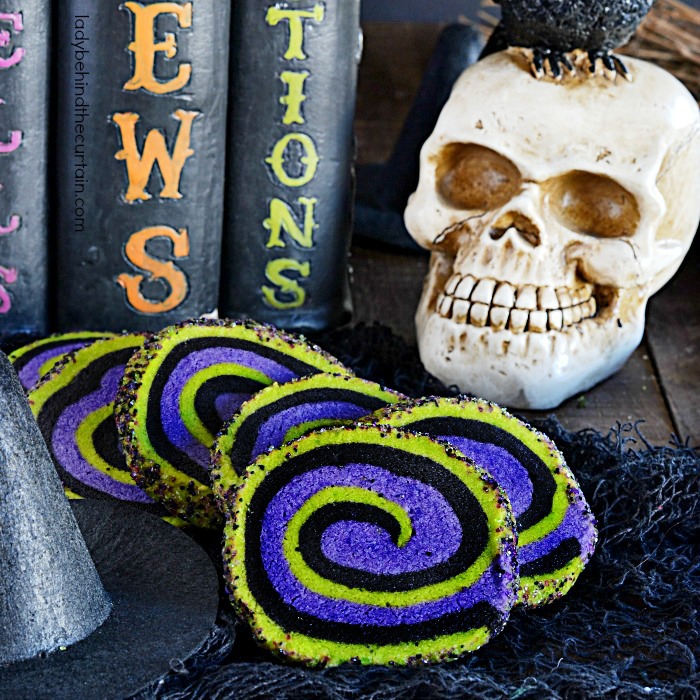 NEVER MISS A POST