Peanut Butter Toffee Candy Bark
Peanut Butter Toffee Candy Bark | Layers of chopped Butterfinger bars, Heath bars, peanut butter cups, M&M's and peanuts all embedded in chocolate!  Bag this homemade candy treat and hand out to the neighborhood kids or as a party favor. Make this candy bark using your leftover Halloween candy and serve it to your hungry game watchers!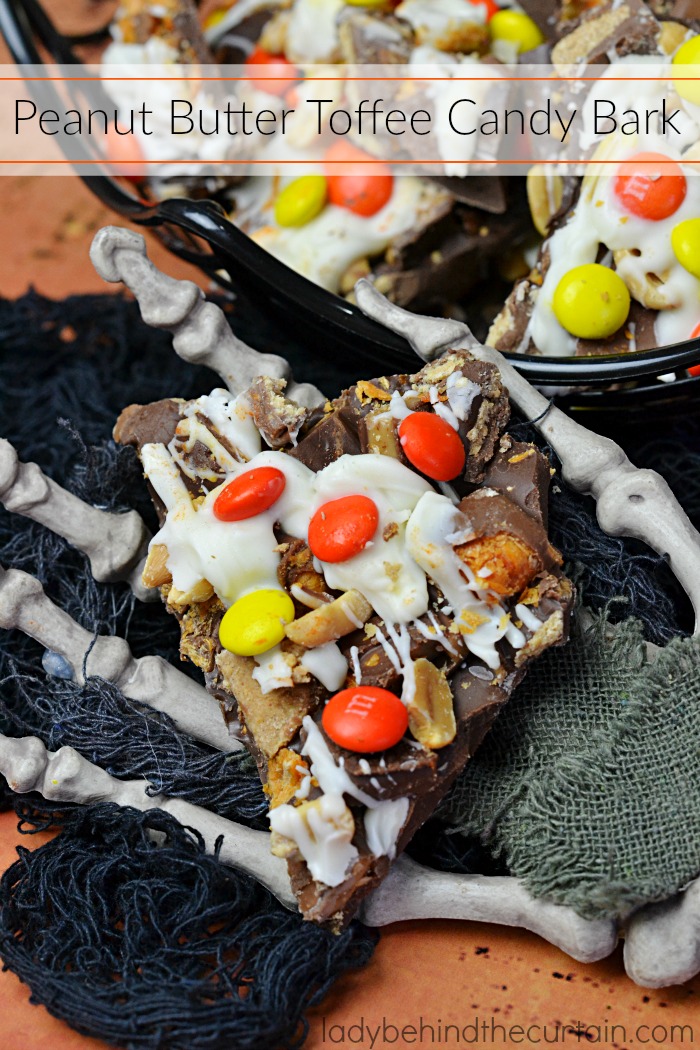 The key to successful candy bark making is having all your other candy ready to go before you melt the chocolate base.  Be Creative!  You don't have to use the candy that is listed.  I'm sure you have your favorites that the kids don't like.  Collect your favorites and use those candy bars instead of the suggested ones.
Add this PEANUT BUTTER TOFFEE CANDY BARK to your Halloween Boards.  Don't have a Halloween board?  Le me help you build one.
LOOK BELOW FOR A LIVE INTERACTIVE PEEK AT MY SEMI HOMEMADE BOARD!  PIN FROM THE PICTURES BELOW!  TO SEE MORE»»»CLICK ON THE "SEE ON PINTEREST" BUTTON BELOW.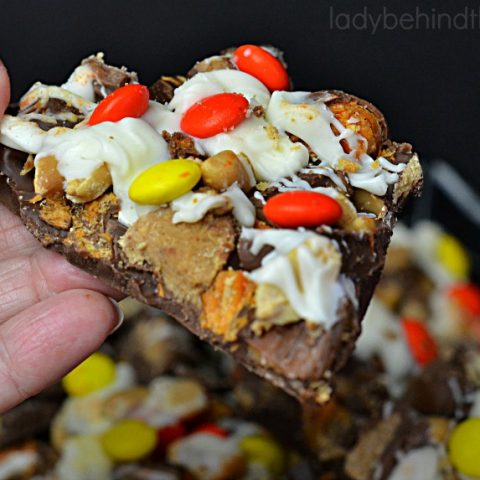 Peanut Butter Toffee Candy Bark
Yield:
Makes approx. 2 pounds
Ingredients
1 pound semi sweet chocolate chips
2 (2.1 ounce) Butterfinger candy bars, cut into 1-inch pieces
3 (1.4 ounce) Heath toffee candy bars, cut into 3/4-inch pieces
8 (.55 ounce) peanut butter cups, each cut into 8 wedges
1/4 cup cocktail peanuts
6 ounces white/vanilla candy melts
yellow and orange M&M's or Reese's Pieces
Instructions
Make sure all your candy that needs to be chopped is chopped and ready to go.
Line a baking sheet with parchment paper and set aside.
Microwave chocolate chip until melted.
Pour chocolate onto parchment paper; spread to 1/4-inch thickness (about 12x10-inches).
Sprinkle on the Butterfinger, toffee, peanut butter cups, nuts making sure all the candy touches the melted chocolate to adhere.
Melt white chocolate in microwave.
Dip spoon into chocolate; wave from side to side over bark, creating zigzag lines.
Scatter Reese's Pieces and/or M&M's over, making sure candy touches melted chocolate.
Chill bark until firm (about 30 minutes).
Slide parchment with candy onto a work surface; peel off the paper.
Cut bark into irregular pieces.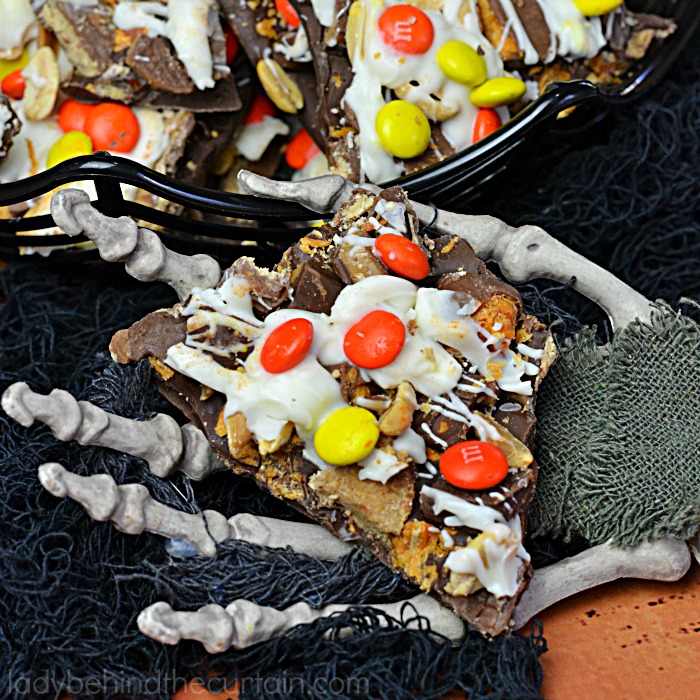 MORE LEFTOVER HALLOWEEN CANDY RECIPES