Black Forest Cake Mix Cookie Recipe
Black Forest Cake Mix Cookie Recipe | Chocolate covered cherries!  These cookies taste like you're eating a chocolate covered cherry.  The chocolate adds a decadence while the cherry pie filling adds a touch of sweetness.  It's like eating a piece of your favorite cake!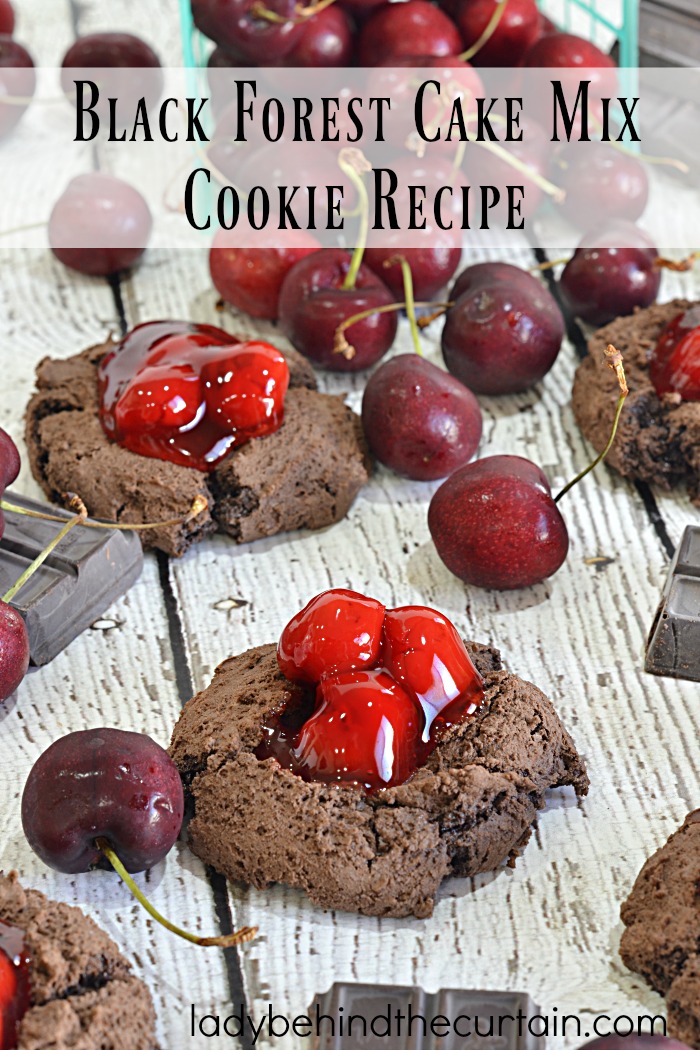 I love how easy these cookies are to make but they would fit right in with a nice dinner.  If you plan ahead and have a batch of batter in the freezer waiting for a last minute dessert.  Whenever I'm hosting a bridal shower I usually serve these cookies as one of my desserts.
Black Forest Cake Mix Cookie Recipe
Yield:
Makes 19 Medium Cookies
Ingredients
1 cup chocolate chips
3 tablespoons heavy cream
1 (15.25 ounce) butter golden cake mix or yellow cake mix
2 large eggs
1/4 cup unsweetened cocoa
1/2 cup mini chocolate chips
1 (21 ounce) can cherry pie filling
Instructions
In a small microwave safe bowl heat 1 cup chocolate chips and heavy cream until melted (about 1 minute).
Stir until creamy; set aside to cool (about 5 minutes).
Preheat oven to 375°.
Line two cookie sheets with parchment paper.
In a medium mixing bowl; add the cake mix, eggs, melted chocolate, cocoa and chocolate chips.
Mix until combined.
Use a 2 ounce cookie scoop; add mounds of cookie dough to the prepared cookie sheets (9 to a sheet).
Bake 10 to 12 minutes or until done.
Use a tablespoon measuring spoon and make an indention in the center of each HOT cookie.
Spoon THREE cherries into the center of each completely cooled cookie.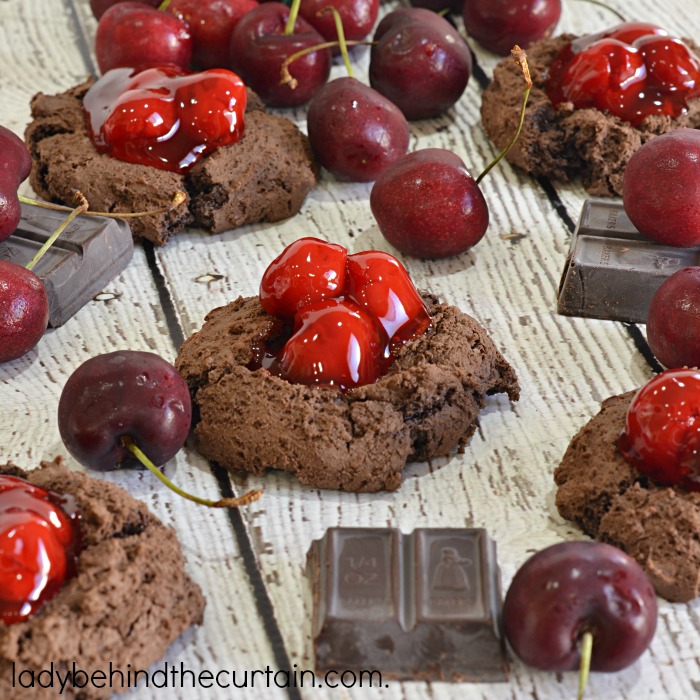 MORE CAKE MIX COOKIE RECIPES

CHOCOLATE PECAN THUMBPRINT CAKE MIX COOKIES  2. PEANUT BUTTER AND JELLY CAKE MIX COOKIES  3. PEANUT BUTTER CUP CAKE MIX COOKIES