Blueberry Cheesecake Bars
Okay so I have a little cheesecake problem and these Blueberry Cheesecake Bars are just what I needed.  First, I started with my awesome PECAN LEMON SHORTBREAD COOKIE recipe for the crust.  Because blueberry and lemon go together like peanut butter and jelly.  PERFECT!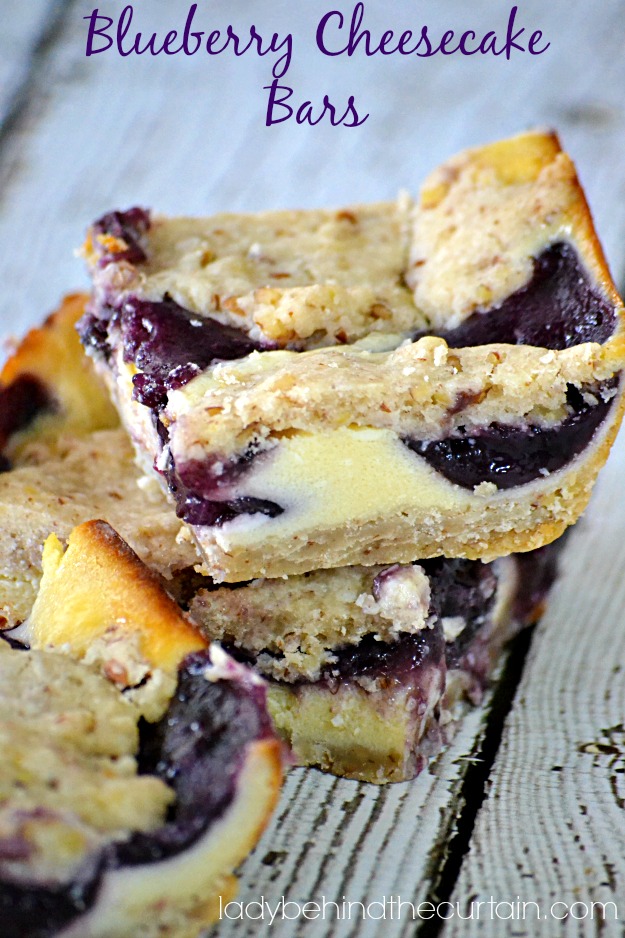 I was in a time crunch and needed something quick.  Then I remembered I had some pecan lemon shortbread cookie dough in the freezer leftover from the LEMON PECAN SANDWICH COOKIE BITES I made for a ladies luncheon.
PRESTO!  The best Blueberry Cheesecake Bars EVER!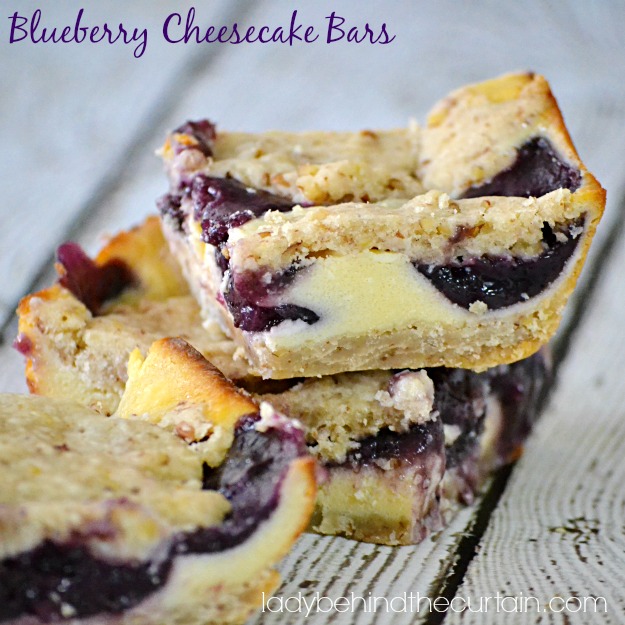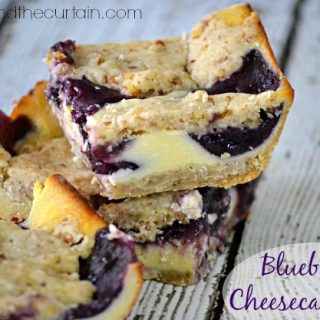 Blueberry Cheesecake Bars
Total Time:
1 hour
17 minutes
Lemon shortbread, layers of blueberries all encased with cheesecake. That's a bar deserving of a party!
Ingredients
For the Crust:
For the Filling:
8 ounce cream cheese, softened
1 (14 ounce) sweetened condensed milk
3 eggs
1 teaspoon vanilla
2 tablespoons all purpose flour
1 can blueberry pie filling
2 tablespoons cornstarch
Instructions
For the Crust:
Preheat oven to 350 degrees.
Press 1 1/2 cups of lemon pecan shortbread cookie dough into a 9x13-inch baking dish.
Bake 12 minutes.
For the Filling:
In a medium mixing bowl beat cream cheese until smooth.
Add the milk, eggs, vanilla and flour until creamy.
Spoon over crust and evenly spread.
Combine blueberry pie filling and cornstarch, spoon over cream cheese mixture.
Sprinkle on remaining cookie dough.
Bake 30 to 35 minutes or until bubbling and browned.