Pecan Pie Cheesecake | The crust to this Cheesecake is vanilla wafers, followed by a layer of pecan pie filling with a creamy cheesecake and if that isn't enough a can of dulce de leche topped with candied pecans. So, if you have cheesecake lovers in your family I would HIGHLY recommend making this cheesecake for Thanksgiving, Christmas or any celebration!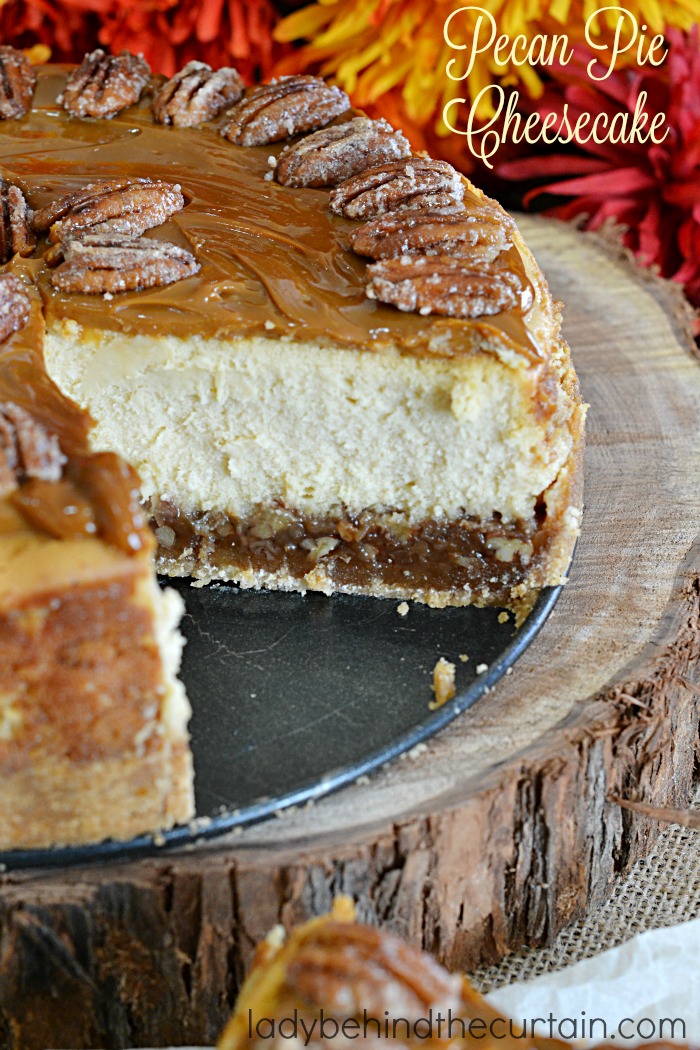 Okay, so I LOVE CHEESECAKE! I even have a category in my recipe section dedicated to cheesecake. There, you will find over 30 recipes. But I have to confess that this Pecan Pie Cheesecake is by far the BEST cheesecake I have EVER tasted. It even beats the Dulce De Leche Cheesecake from Cheesecake Factory. I mean really? Cheesecake and pecan pie in one? Okay, I was sold just at the idea.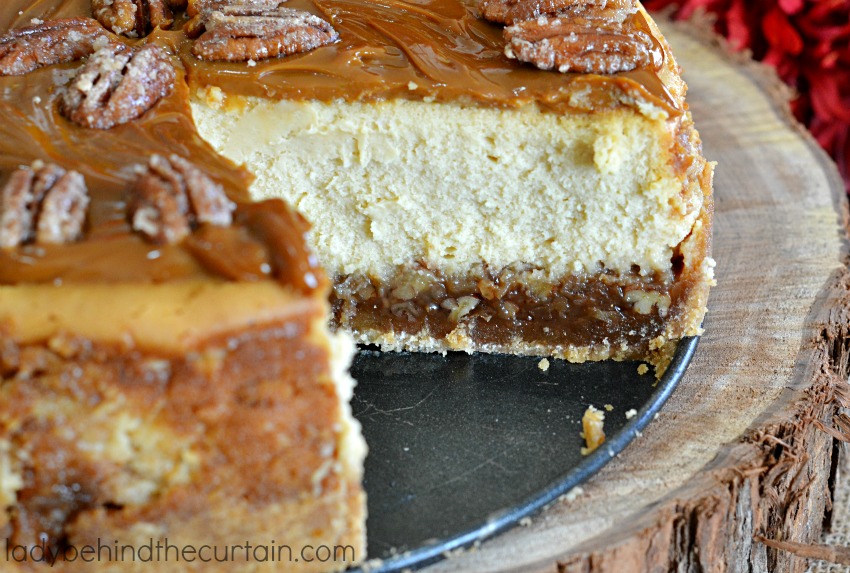 TIP: Make sure to take the cheesecake out of the refrigerator 30 minutes before slicing. Also, a hot knife helps with slicing too.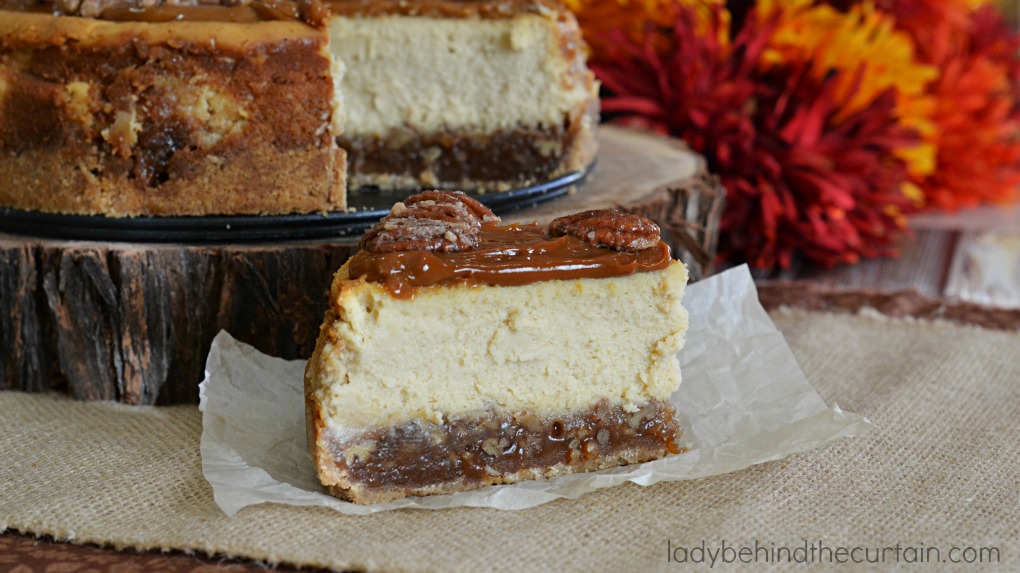 Also try my newest creation…Pecan Pie Pumpkin Cheesecake | Create the best of both worlds! When everyone's holiday favorite desserts come together what do you get? THE BEST CHEESECAKE YOU'LL EVER HAVE! With step by step instructions you to can make an eye catching holiday dessert that will leave everyone skipping the turkey and going straight for the dessert table. Click here for the recipe—->>>>PECAN PIE PUMPKIN CHEESECAKE
Yield: Serves 8
Pecan Pie Cheesecake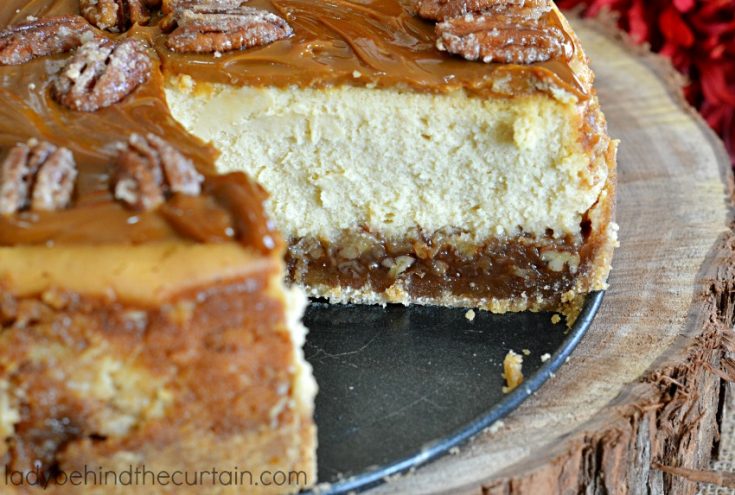 Total Time
2 hours
40 minutes
Ingredients
For the Crust:
1-3/4 cups vanilla wafer crumbs (made from vanilla wafers)
1/4 cup light brown sugar, packed
1/3 cup unsalted butter, melted
For the Pecan Filling:
1 cup granulated sugar
2/3 cup dark corn syrup
1/3 cup unsalted butter
2 large eggs, lightly beaten
1-1/2 cups pecans, chopped
1 teaspoon vanilla extract
For the Cheesecake Filling:
3 - 8 ounce packages of cream cheese, softened
1-1/4 cups light brown sugar, packed
2 tablespoons all-purpose flour
4 large eggs
2/3 cup heavy whipping cream
1 teaspoon vanilla extract
For the Garnish:
1 can of Dulce De Leche
2/3 cup pecan halves
2 tablespoons granulated sugar
2 tablespoons water
Instructions
For the Crust:
Preheat oven to 350 degrees.
Combine the vanilla wafer crumbs and brown sugar.
Add the melted butter, stirring to combine.
Press evenly into bottom and up the side (about 1-inch or half way up) of a 9-inch springform pan.
Bake for 6 minutes.
Let Cool.
For the Pecan Filling:
In a medium saucepan, stir together (*COLD*) the sugar, corn syrup, butter, eggs, pecans and vanilla; bring to a boil over medium-high heat, stirring well.
TIP: Make sure the eggs are thoroughly mixed in before adding heat.
Reduce heat to low, and simmer stirring when needed (about once ever minute) 6 minutes.
Pour into prepared crust. Set aside.
For the Cheesecake Filing:
NOTE: This cheesecake was baked in an electric stove. If you have a gas stove you may have to change the baking time.
Reduce oven temperature to 325 degrees.
Beat the cream cheese until creamy.
Add the brown sugar and flour beating until fluffy.
Add eggs, one at a time beating just until combined after each addition.
Stir in cream and vanilla.
Pour cheesecake mixture over pecan filling.
TIP: For protection - I always place my cheesecake on a cookie sheet.
Bake for 1 hour.
Turn oven off and leave cheesecake in oven with oven door closed for 1 hour.
Run a knife around edges of cheesecake to release sides. DO NOT TAKE OUT OF PAN.
Let cool 30 minutes on wire rack and place in refrigerator to cool completely (ideally overnight).
Release the sides of the springform pan and place the cheesecake on a platter or cake plate.
For the Garnish:
Empty the can of Dulce De Leche into a microwave safe bowl and heat on high for 30 seconds or until the caramel is easy to spread.
Spread on the top of the cheesecake to the sides but not over the edge.
Spread pecans on a sheet pan.
Preheat oven to 350 degrees.
Place pecans in oven and toast.
In a small saucepan add toasted pecans, sugar and water.
Over medium high heat, bring sugar mixture to a boil, reduce heat and cook until the syrup thickens, the pecans are fully coated and most of the moisture is absorbed.
Pour pecans onto a piece of parchment paper to cool.
When cooled, decorate the top of the cheesecake.
Store in refrigerator.
NOTE: TAKE THE CHEESECAKE OUT OF THE REFRIGERATOR 30 MINUTES BEFORE SLICING!
FUN SLICING GUIDE!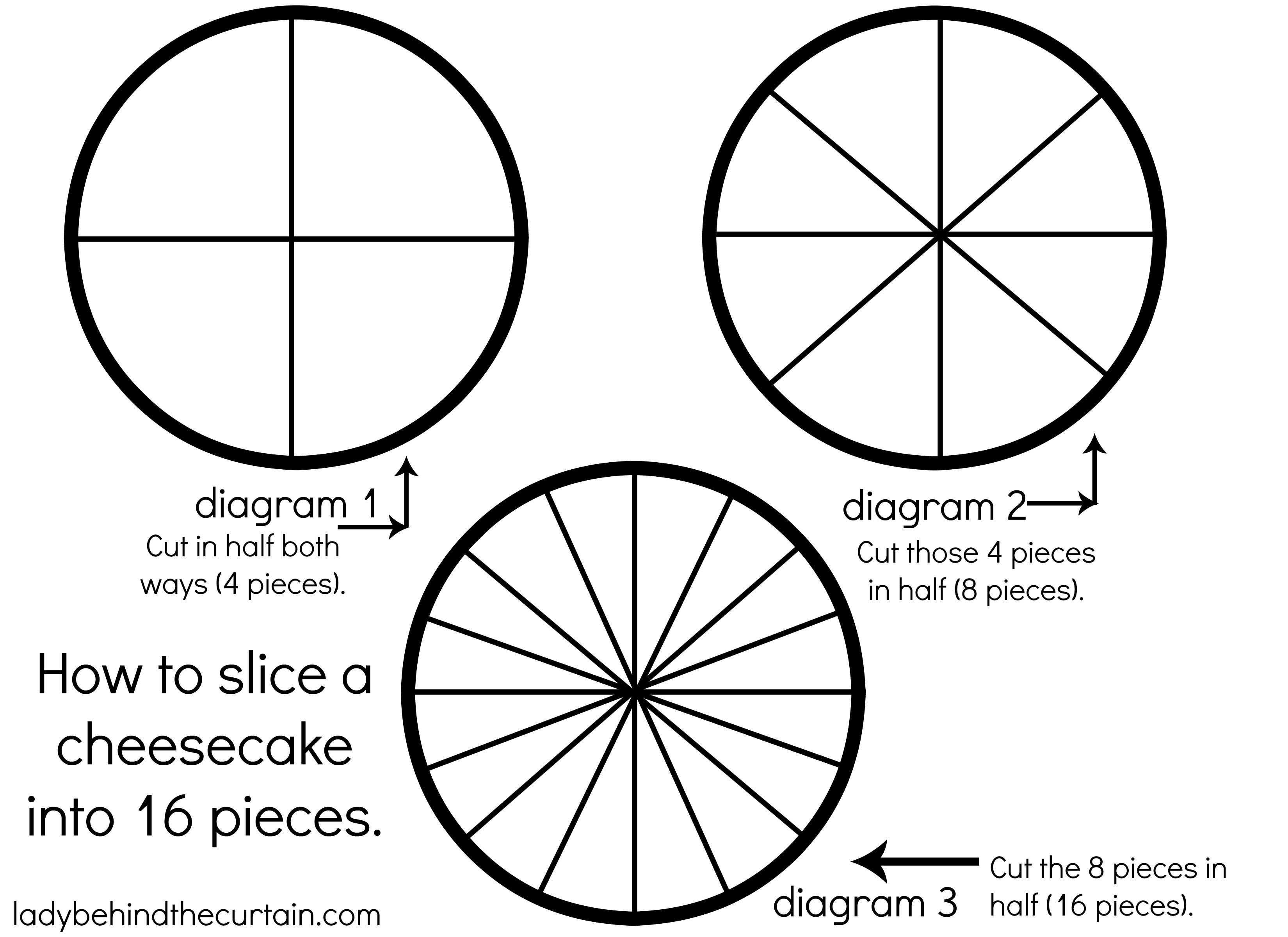 If you like this recipe, make sure you try the PECAN PIE CHEESECAKE FUDGE! Pecan Pie, Cheesecake and Fudge! Unlike cheesecake which needs to be refrigerated, this fudge can be stored at room temperature. Which makes this the PERFECT travel safe treat! Off to Grandmas house you go! Armed with the BEST fudge EVER! Click here for the recipe—->>>>PECAN PIE CHEESECAKE FUDGE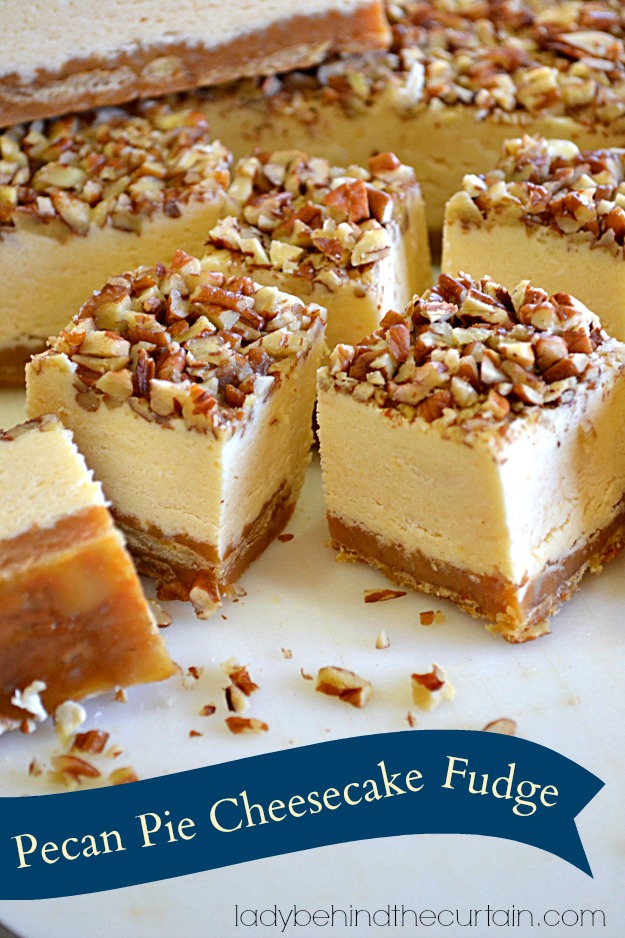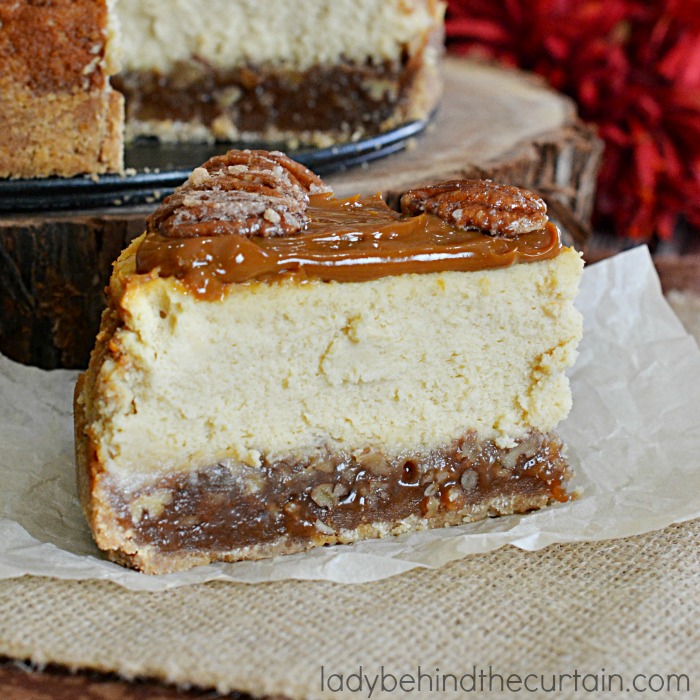 MORE CHEESECAKE RECIPES
1. CHAI SPICE CHEESECAKE 2. PUMPKIN PIE CHEESECAKE 3. BANANA CHEESECAKE
NEVER MISS A POST!
Sign up for my newsletter and receive my recipes in your inbox. Easy to see anytime and saved for safe keeping. Click Here and sign up today! —->>>>CURTAIN CALL NEWSLETTER
More delicious cheesecake recipes you might like. TURTLE CHEESECAKE and THE PERFECT LEMON CHEESECAKE.