Blueberry Wheat Cinnamon Rolls
Lady Behind the Curtain
Posted on
by
Sheryl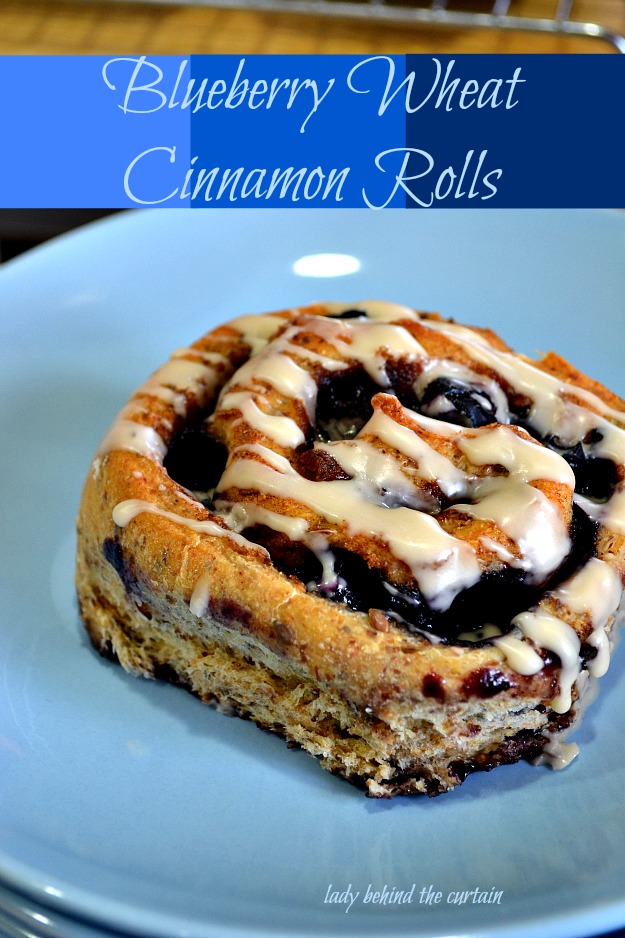 These blueberry wheat cinnamon rolls are a little bit healthier than your typical cinnamon roll.  With the addition of wheat flour, chia seeds, flaxseeds whole and ground plus the fresh taste of blueberries.
WHAT ARE YOU WAITING FOR?  MAKE SOME BLUEBERRY WHEAT CINNAMON ROLLS!  🙂
For detailed pictures watch the slide show below.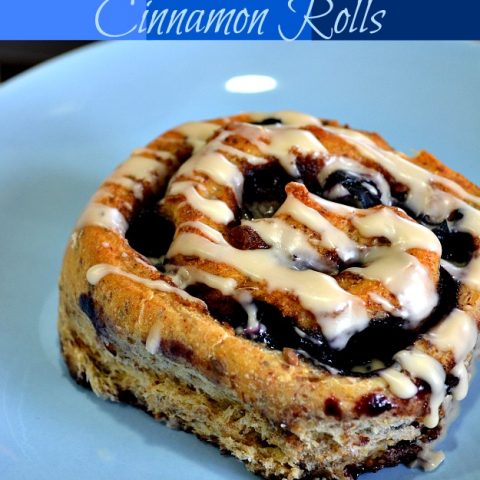 Blueberry Wheat Cinnamon Rolls
Prep Time:
1 hour
30 minutes
Total Time:
1 hour
55 minutes
For once a cinnamon rolls that's on the healthy side.
Ingredients
For the dough:
2 cups plus 1/4 cup and 2 tablespoons all-purpose flour, divided
1 cup whole wheat flour
1/4 cup ground flaxseed
1 package (8g) or 2-1/4 teaspoons quick rising yeast
1 teaspoon salt
1 tablespoon chia seeds
1 tablespoon whole flaxseeds
1 cup 1% milk
1/4 cup brown sugar
2 tablespoons butter
1 teaspoon vanilla extract
1 egg, lightly beaten
For the Filling:
2/3 cup brown sugar
1 tablespoon cinnamon
2 tablespoons butter, room temperature
1-1/2 cups fresh blueberries
For the Glaze:
2 tablespoons light cream cheese, at room temperature
1 tablespoon butter, at room temperature
1/2 cup confectioners' sugar
1/2 teaspoon vanilla extract
1 tablespoon milk
Instructions
For the Dough:
Preheat oven to 350 degrees (if using the heat to help your rolls rise)
Combine 2 cups of the all purpose flour, 1 cup of the whole wheat flour, ground flaxseeds, yeast, salt, chia seeds, and whole flaxseeds in a medium mixing bowl.
Fit the mixer with the hook attachment and mix the dry ingredients.
Add milk, sugar, butter and vanilla to a small saucepan.
Heat over medium heat, stirring often, just until milk is warmed, butter is melted and sugar is dissolved. Do not simmer or boil.
Remove from heat and carefully pour into a large measuring cup.
Add the egg to the flour mixture and blend.
Add the warm mixture and blend until a soft ball formed.
Sprinkle remaining 1/4 cup and 2 tablespoons of all-purpose flour.
Stir with the hook attachment 1 minute until smooth and elastic.
Place dough in a clean bowl that has been lightly oiled.
Cover with a tea towel and let rise in a warm place (I put mine on the preheated oven stove top) for 30 minute or until doubled in size.
For the Filling:
Mix brown sugar and cinnamon in a small bowl and set aside.
Spray a 9x13-inch baking pan with non stick cooking spray and set aside.
When dough has risen, turn out onto a lightly floured surface.
Roll out dough to a 12x14-inch rectangle.
Using a butter knife, spread 2 tablespoons butter evenly over dough.
Sprinkle with brown sugar-cinnamon mixture and spread evenly to edges.
Evenly sprinkle the blueberries onto the rectangle.
Roll up dough jelly-roll-style.
You should end up with a 12-inch long roll.
Using a very sharp knife, mark and slice roll into 12 equal pieces.
Arrange rolls in a single layer in prepared pan.
Cover with a tea towel and let rise in a warm place for 30 minutes.
If not using the heat to help your rolls rise preheat oven to 350 degrees.
Bake rolls for 25 minutes.
They should be puffed up and light golden brown.
Remove from oven and let cool slightly (10 minutes).
Remove from pan.
For the drizzle:
Cream all ingredients together until smooth.
Drizzle evenly over warm rolls.