Caramel Pecan Pumpkin Bars
Caramel Pecan Pumpkin Bars. Light and fluffy bars with a nutty caramel topping and a drizzle of brown butter frosting that deliver all the pumpkin flavors with an added crunchy surprise topping encased in caramel. These easy to make pumpkin bars are so good they don't need to be covered up with a heavy frosting….just a little drizzle will do! PUMPKIN TIME… IS THE BEST TIME OF THE YEAR!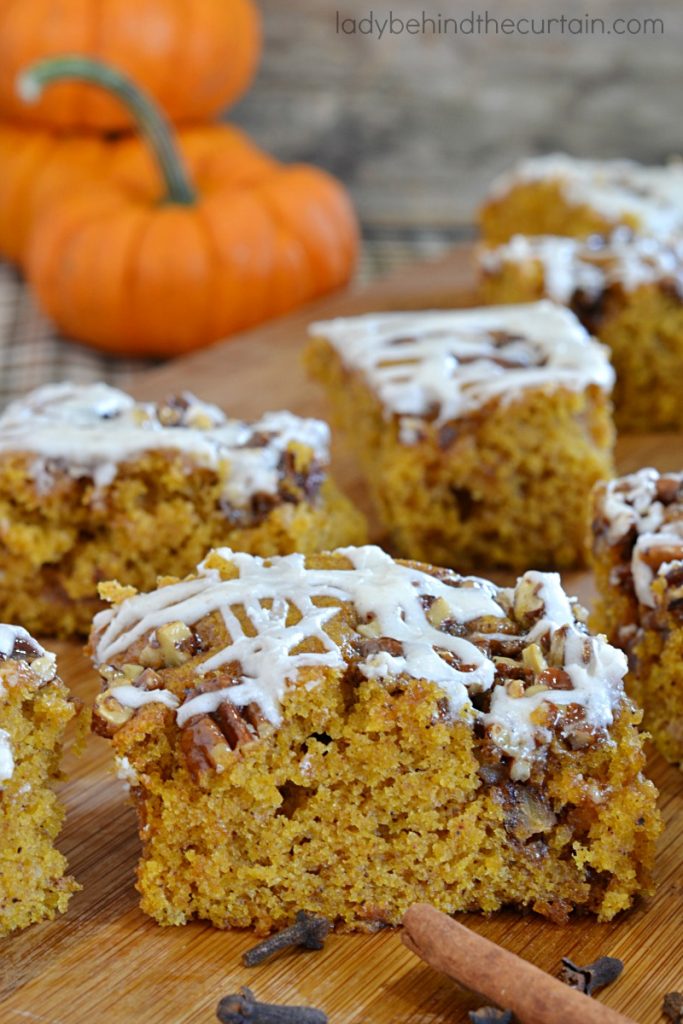 PUMPKIN BARS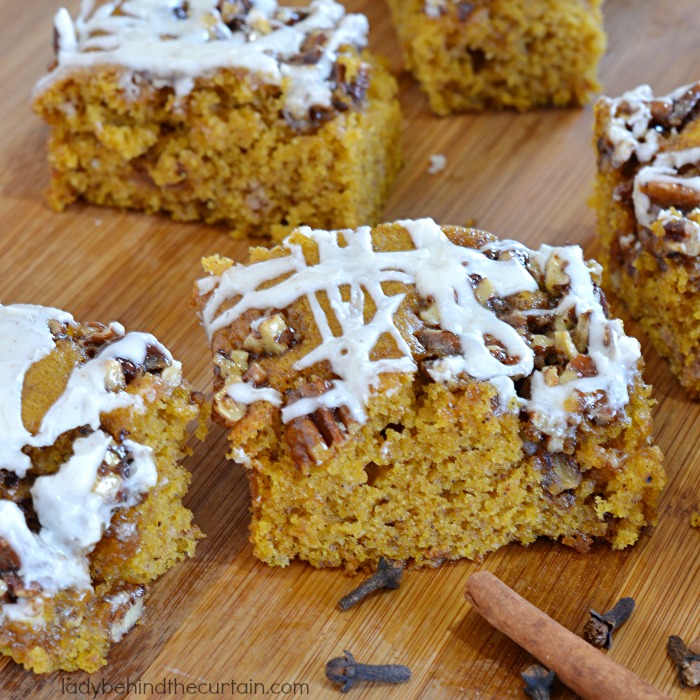 HOW TO CUT PUMPKIN BARS
For a 15 x 10 x 1 inch pan:
Use a plastic knife
Start cutting the width (10 inch side) of the pan, cut down the center
Divide those two sections in half (you should have four sections)
Divide the four sections in half (you should have eight sections)
Turn the pan so that the long side (15 inch) is facing you
Divide into three equal sections
You should have 24 bars
TOPPING TO ADD TO PUMPKIN BARS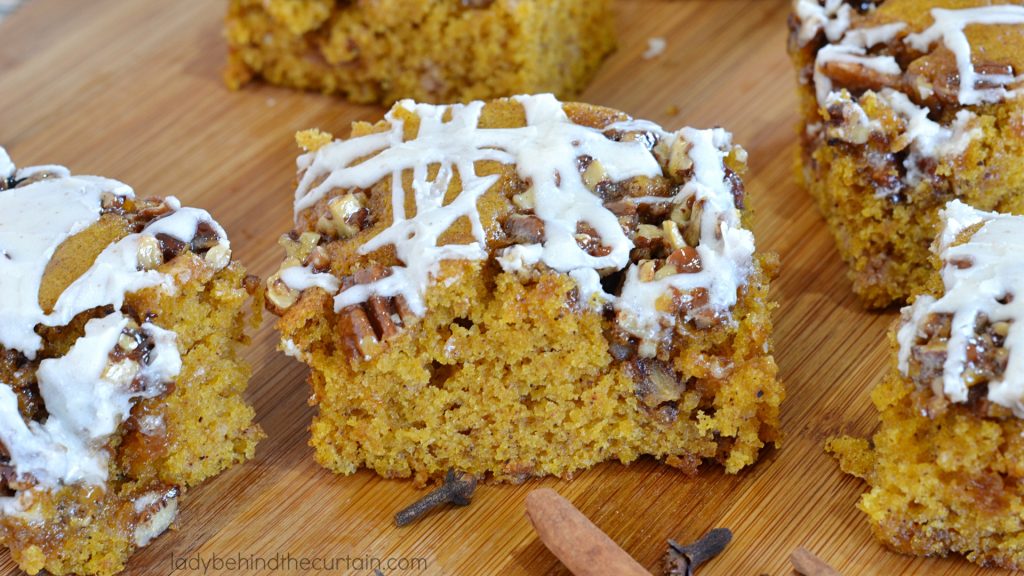 If you're making Classic Pumpkin Bars.
Candy Corn or Pumpkins
Chocolate Chips
Pumpkin Spice
Pumpkin Icing Decorations
Fall Sprinkles
Toasted Pecans or Walnuts
Cream Cheese Frosting
FRESH PUMPKIN VS CANNED PUMPKIN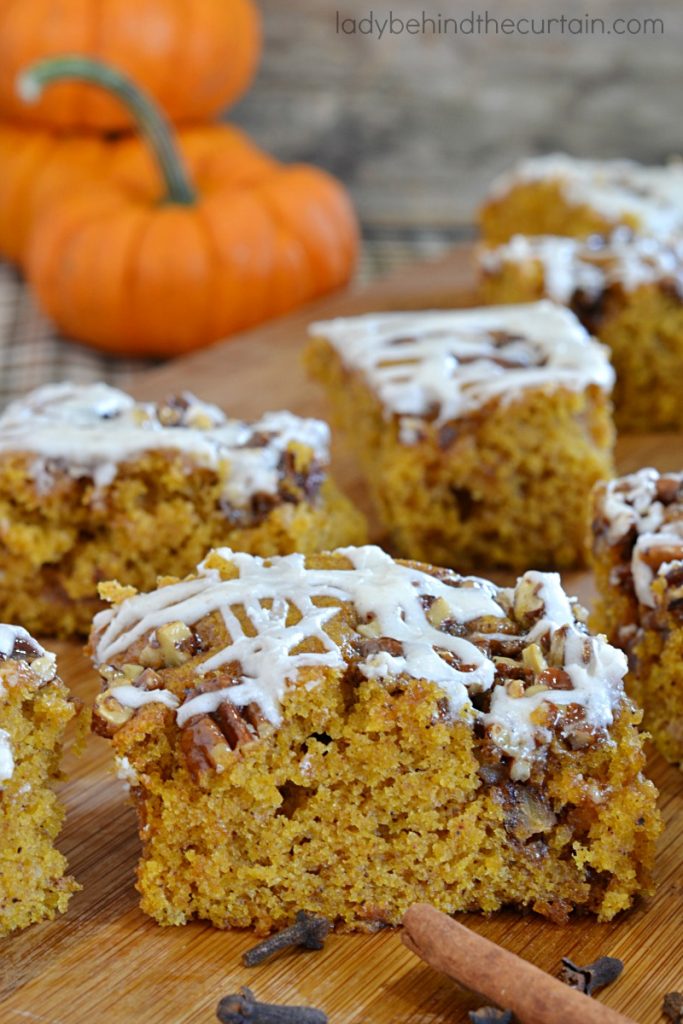 And which one I prefer:
One year I decided I was going to make my own pumpkin pie filling. First, I did some research on what pumpkin to buy. If you didn't know… you can't just cut up and bake your jack-o-lantern and expect it to become a delicious pumpkin pie filling like your beloved Libby's Pumpkin. So, I found what type of pumpkin to use, cut it into large pieces, baked it and processed it. To my disappointment it wasn't any better then my trusty canned pumpkin. So, lesson learned…just buy canned. HERE'S WHY…..Libby's has its own proprietary fruit, a variant of the Dickinson pumpkin (the perfect pumpkin for making pumpkin pie), called Libby Select. In reality, this oval tan-colored squash bears much more resemblance to butternut squash than to the traditional Jack-O-Lantern Halloween pumpkin, in appearance and more significantly in taste and texture.
MORE RECIPES USING PUMPKIN
NEVER MISS A POST
More bar recipes to go with your Caramel Pecan Pumpkin Bars. BLUEBERRY CHEESECAKE BARS and APPLESAUCE BARS WITH SPICED CREAM CHEESE FROSTING.