Black Widow Venom Halloween Punch
Black Widow Venom Halloween Punch | This wickedly delicious punch will have your little witches cackling for more!  Everyone loves a good punch!  This Halloween party punch may look creepy but it doesn't disappoint in flavor.  Sure, this Halloween Punch is great for kids but how about the adults?  Don't worry I've got you party animal adults covered!  ADULT VERSION:  Add Vodka (the amount is up to you) for and let the party begin!  Celebrate the creepy crawly long legged ladies and things that go bump in the night.
To create this fun punch you will need lots of ice.  Preferably small cubed ice (I bought my bag from McDonald's).  Also, creepy spiders (I bought mine at The Spirit Store) and of course red punch….like…..blood red punch.  I added red food coloring to my punch to make it super red.  That is optional.  The punch is red but I wanted it to be a dark red color.  It just depends on how creepy you want your punch to look.  MAKE SURE EVERYONE KNOWS THAT THE SPIDERS ARE NOT EDIBLE!
For another great Halloween Punch recipe, click here —->>>> HALLOWEEN BLOOD ORANGE VAMPIRE PUNCH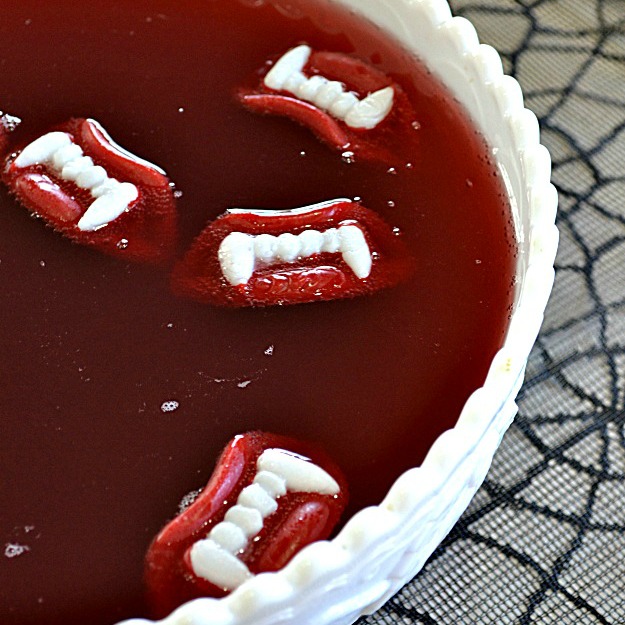 Add half the ice and slide the spiders into place.
Pack ice down, top with the rest of the ice and add more spiders.
Since Witch themed Halloween parties are so popular this Black Widow Venom Halloween Punch is not only creepy but also fits perfectly.
Black Widow Venom Halloween Punch
Ingredients
6 ounces of frozen pineapple orange blend concentrate, thawed
1 (12 ounce) can frozen berry punch concentrate, thawed
1 (2 liter) bottle ginger ale, chilled
Ice
black widow spiders
Instructions
In a large bowl mix together the pineapple orange blend and the berry punch.
If adding red food coloring: measure 2 tablespoons of the punch mixture into a small microwave safe bowl, stir in red gel food coloring, microwave 30 seconds and stir to combine the hot punch mixture with the red gel food coloring.
Pour red mixture into punch mixture; whisk together.
Slowly pour in the chilled ginger ale.
Pack ice half way up the punch bowl and insert some of the spiders.
Pack in the remaining ice; making sure to push down and add more spiders.
Slowly pour punch over the ice.
NOTE: If the ice melts add more. You want the spiders to stay in place at least until your guests have seen it.
MORE GREAT HALLOWEEN PARTY RECIPES
WITCHES BREW HALLOWEEN BUTTER COOKIES  2. BEWITCHING HALLOWEEN PARTY MARSHMALLOW POPS  3. MONSTER PARTY HALLOWEEN CUPCAKES
NEVER MISS A POST!
Sign up for my newsletter and receive my recipes in your inbox. Easy to see anytime and saved for safe keeping. Click Here and sign up today! —->>>>CURTAIN CALL NEWSLETTER
TRY THESE HALLOWEEN PUNCH RECIPES.  TRICK OR TREAT HALLOWEEN PUNCH or CREEPY HALLOWEEN PUNCH