Stuffed Pumpkin Spice Mini Cakes
Lady Behind the Curtain
Posted on
by
Sheryl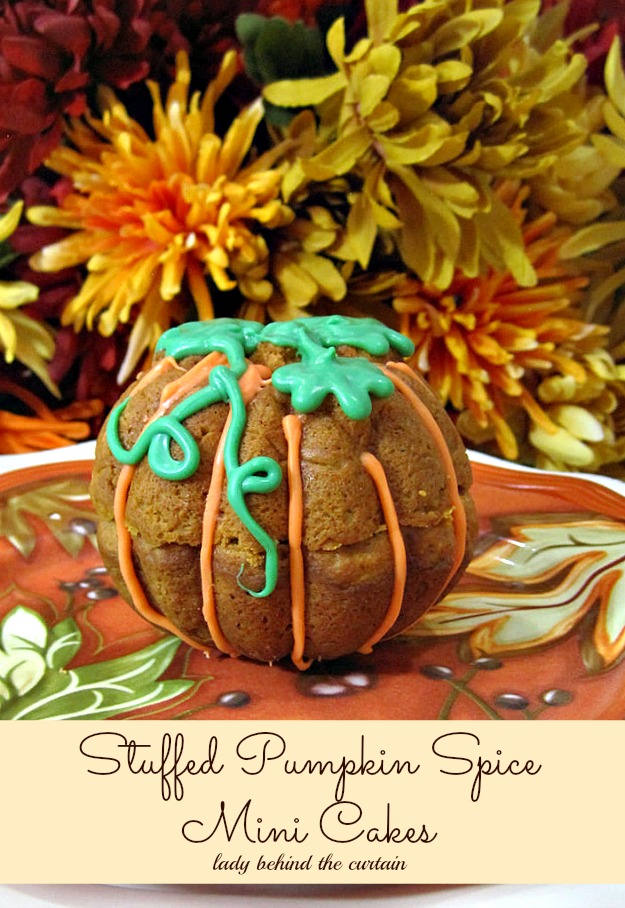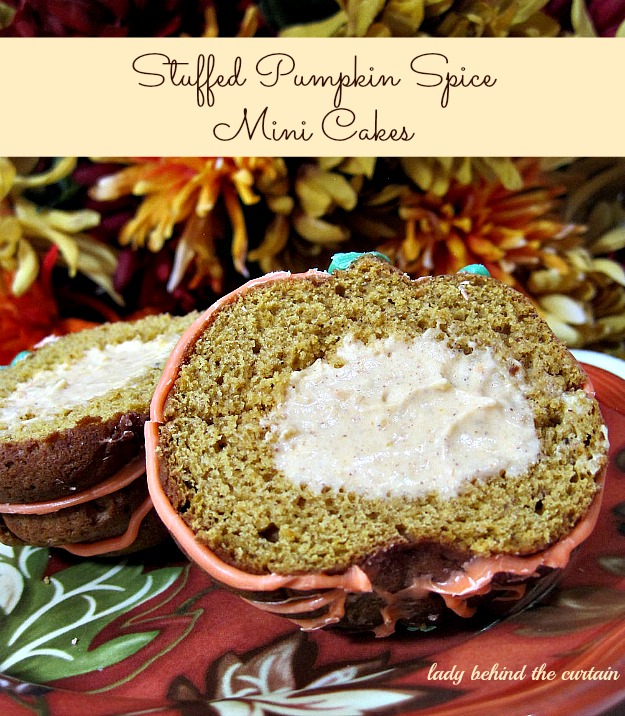 Mini pumpkin shaped bundt cakes filled with no bake pumpkin cheesecake!  Have these little stuffed pumpkin spice mini cakes on each guests plates or wrap them up as party favors!  A yummy treat that can be made weeks in advance waiting for you in the freezer.  Don't decorate until the day before you plan on serving them.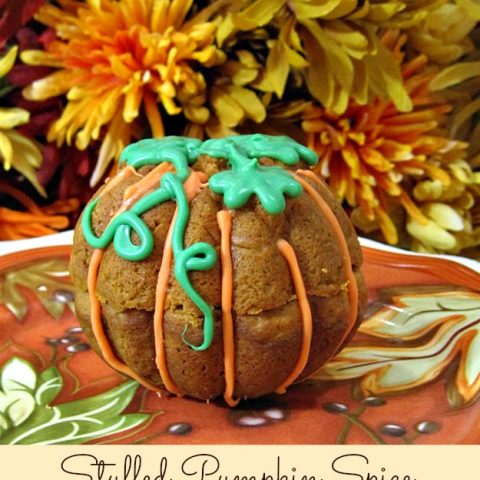 Stuffed Pumpkin Spice Mini Cakes
Yield:
8 to 10 Mini Cakes
The perfect addition to a decorated Thanksgiving table.
Ingredients
For the Cakes:
3-1/4 cups all-purpose flour
1 tablespoon baking powder
2-1/2 teaspoon cinnamon
1 teaspoon baking soda
1 teaspoon nutmeg
1/4 teaspoon salt
1-1/2 cups pumpkin
1/2 cup applesauce
1-1/2 cups sugar
1/2 cup butter, softened
3 large egg whites
2 teaspoons vanilla extract
For the No Bake Pumpkin Cheesecake Filling:
2- 8 ounce cream cheese, softened
1/2 cup sugar
1 cup pumpkin
1-1/2 cups prepared pudding (I used cream cheese flavor)
1 teaspoon vanilla
3/4 teaspoon nutmeg
2 teaspoon cinnamon
Instructions
For the Cakes:
Preheat oven to 350 degrees.
Spray bundt pan with non stick cooking spray.
Combine for 6 ingredients; set flour mixture aside.
Combine pumpkin and applesauce; set aside.
Beat sugar and butter until well blended about 5 minutes.
Add egg whites and vanilla, beating well.
Add flour mixture to sugar mixture alternately with pumpkin mixture.
Pour into each mini bundt pan.
ONLY fill 1/2 of the well.
Bake 20 minutes or until toothpick inserted in the center comes out clean.
Cool in pan 10 minutes; remove from pan and cool completely on wire cooling rack.
When completely cooled scoop out the center of the top and bottom portions.
Fill with the No Bake Pumpkin cheesecake.
Place top on and decorate.
NOTE: If the pumpkin spice cake puffs up too much trim off the top. Use the leftovers (trimmed tops and scooped out middles) to create a parfait in a jar.
For the No Bake Pumpkin Cheesecake Filling:
Mix the cream cheese and sugar together until smooth and fluffy, 6-8 minutes. Add the pumpkin, pudding, vanilla, and spices. Beat until well-mixed. Pour into a piping bag. Fill the hallowed cavity in the bottom portion of the mini cake full enough so that when you add the top it fills the hallowed cavity of the top portion too. Refrigerate until the cheesecake is set. OR place in freezer for later use.
Decorate:
I used orange and green Wilton candy melts.
Melt in the microwave and pour into a squeeze bottle. Have fun and decorate!
Notes
NOTE: No Bake Pumpkin Cheesecake Recipe makes enough filling to double the cake recipe or use for the parfaits.