You get the best of both worlds with this Carrot Cake Cheesecake!  That's right!  Swirls of carrot cake wrapped in a delicious cheesecake!  The perfect dessert.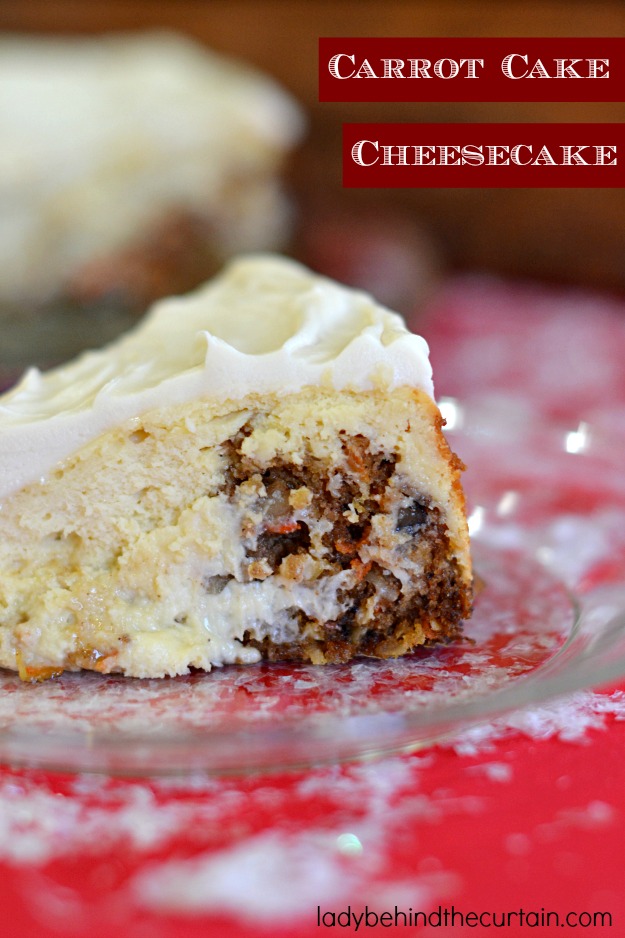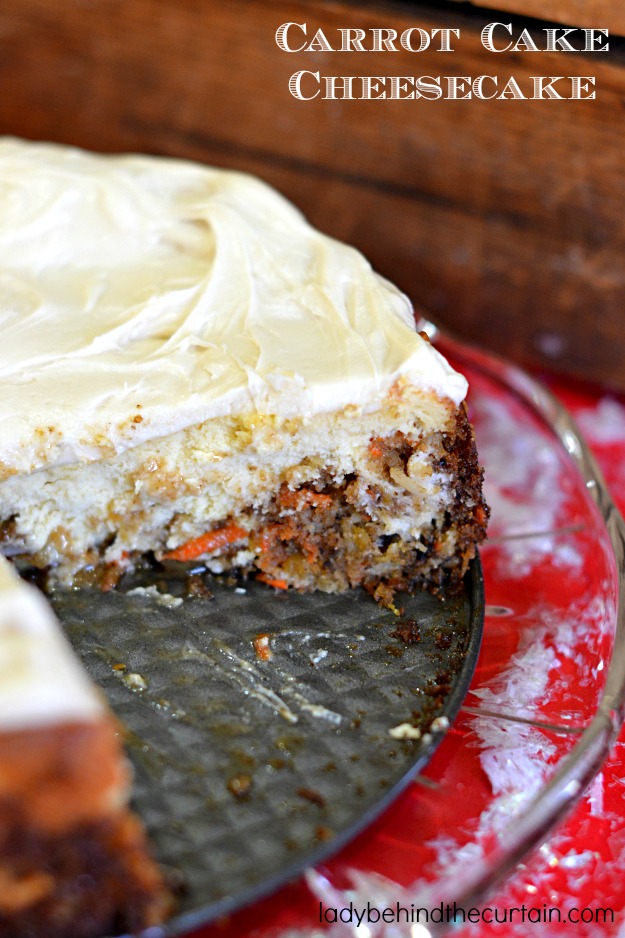 There are two reasons for this dessert, one being my family is CRAZY about cheesecake and the other is that carrot cake is my son-in-laws favorite cake.  So by combining the two I satisfy EVERYONE!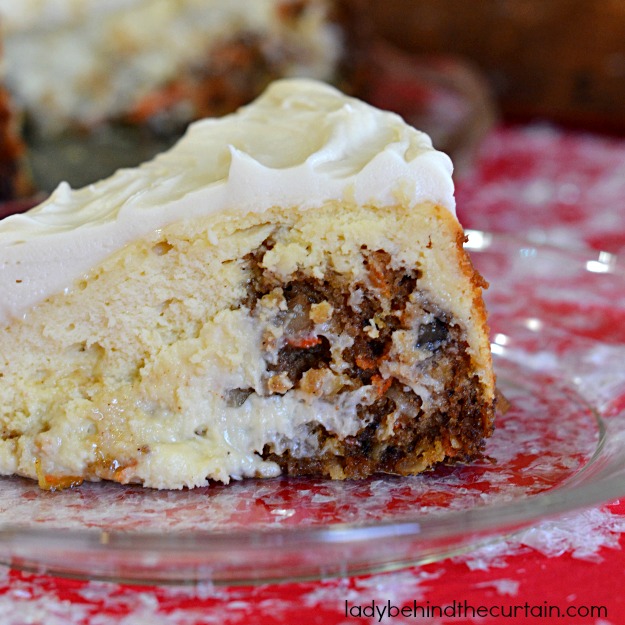 Ingredients
For the Cheesecake:

2 (8ounce) cream cheese, softened
3/4 cup granulated sugar
2 1/2 teaspoons vanilla extract
1 tablespoon all-purpose flour
3 large eggs

For the Carrot Cake:

3/4 cup vegetable oil
1 cup granulated sugar
2 large eggs
1 1/2 teaspoons vanilla extract
1 cup all-purpose flour
1 teaspoon baking soda
1 1/2 teaspoons ground cinnamon
1 teaspoon ground nutmeg
1/2 teaspoon ground ginger
1 (8ounce) can crushed pineapple, drain and reserve juice
1 cup grated carrots
1/2 cup shredded coconut
1/2 cup walnuts, chopped

For the Pineapple Frosting:

2 ounces cream cheese, softened
1 tablespoon butter, softened
1 3/4 cups confectioners' sugar
1 teaspoon vanilla extract
1 tablespoon reserved pineapple juice
Instructions
Preheat oven to 350 degrees.

For the Cheesecake:

Cream together the cream cheese and sugar until smooth.
Add the vanilla, flour, and eggs and beat until smooth and fluffy.
Set aside.

For the Carrot Cake:

In a large bowl stir together the oil, sugar, eggs and vanilla.
Stir until all the sugar has absorbed the oil.
In a medium bowl mix together the flour, baking soda, cinnamon, nutmeg and ginger.
Add to the oil mixture, stir to combine.
Fold in the pineapple, carrots, coconut and walnuts.

To Assemble:

Measure out 1 1/2 cups of cake batter and pour over the bottom of a 9-inch springform pan.
Add dollops of cheesecake batter over the cake batter.
Use up a

quarter

of the batter and reserve the rest for the top layer.

TIP: Make sure to start in the center with the cheesecake. If you put too much of the carrot cake in the center it will not bake before the cheesecake is through baking.

Top with dollops of the remaining carrot cake batter and then repeat with the rest of the cheesecake batter.
Spread evenly with a knife.
Place on a cookie sheet.
Bake 50 to 65 minutes or until the cake is set and cooked through.
Run a knife around the edge.
Cool completely, cover and refrigerate.
When the cake is completely cooled frost

THE TOP

with the pineapple frosting.
Refrigerate 3 to 4 hours.

For the Pineapple Frosting:

Cream together the cream cheese and butter until smooth.
Add the sugar, vanilla and pineapple juice and beat until creamy.

NOTE: Add additional sugar or pineapple juice if needed for spreading consistency.
Notes
https://www.ladybehindthecurtain.com/carrot-cake-cheesecake/
MORE CHEESECAKE RECIPES
1. PECAN PIE CHEESECAKE  2. PEPPERMINT PATTY MINI CHEESECAKES  3. BANANA CHEESECAKE