Chocolate Toffee Caramel Bites
These Chocolate Toffee Caramel Bites are small cookies that you can pop in your mouth!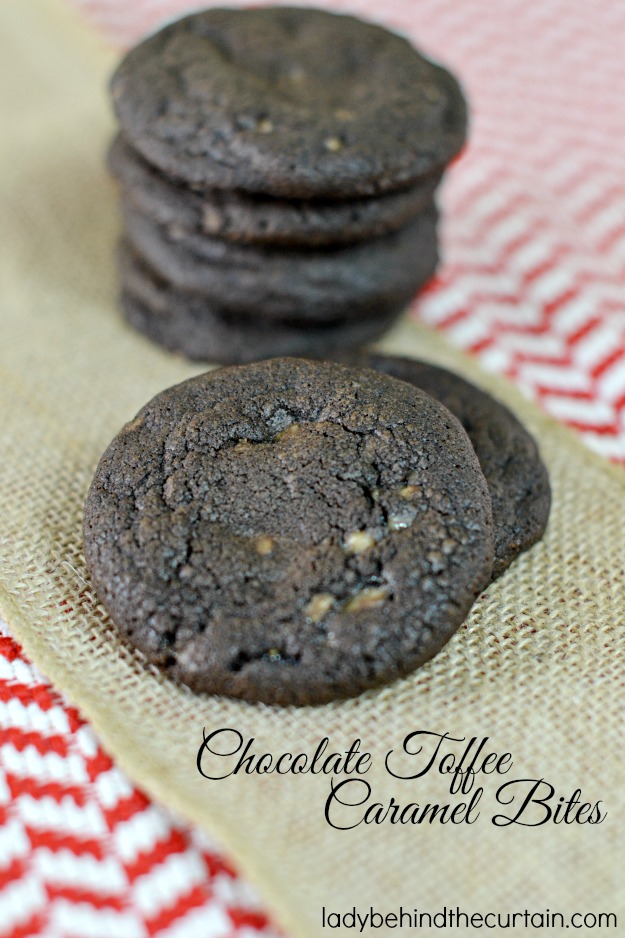 A deep chocolate cookie dough, mixed with crunchy sweet toffee bites all packaged around a wonderful gooey mini rolo.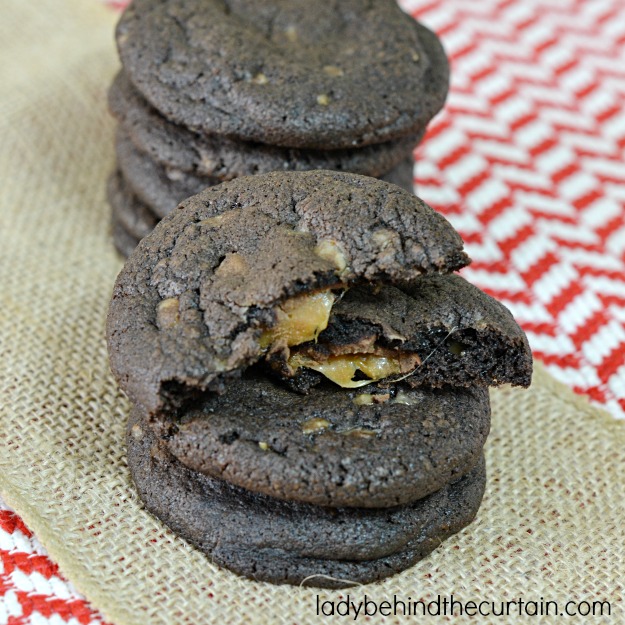 Take a small portion of the cookie dough, place a mini Rolo caramel candy in the center,wrap the dough around the caramel and you'll get the most amazing cookies packed with toffee bites.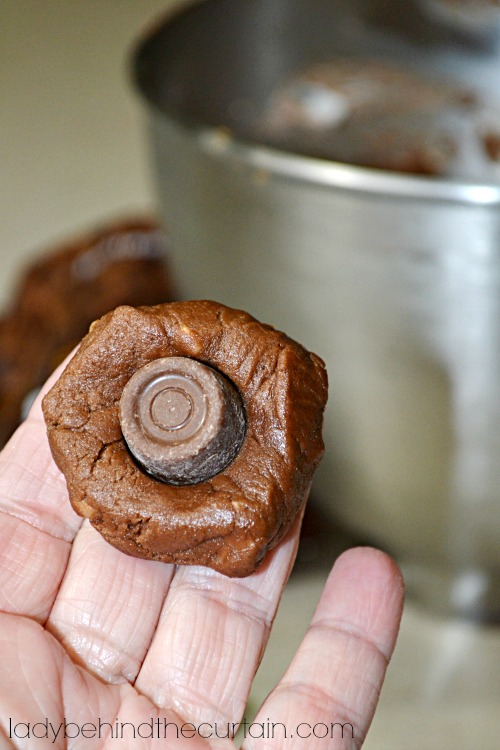 Place Chocolate Toffee Caramel Bites on a cookie sheet.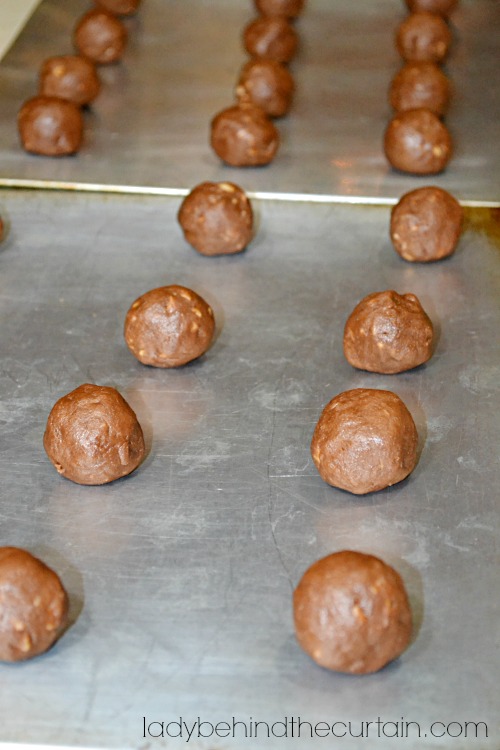 Look at all those Toffee Bites.  Can't find Toffee Bites?  I found mine at Walmart.  I have also seen them at Safeway.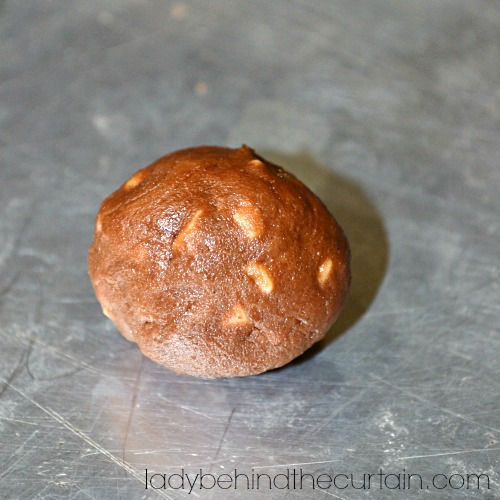 Bake 8 to 10 minutes for these delicious pop in your mouth cookie bites.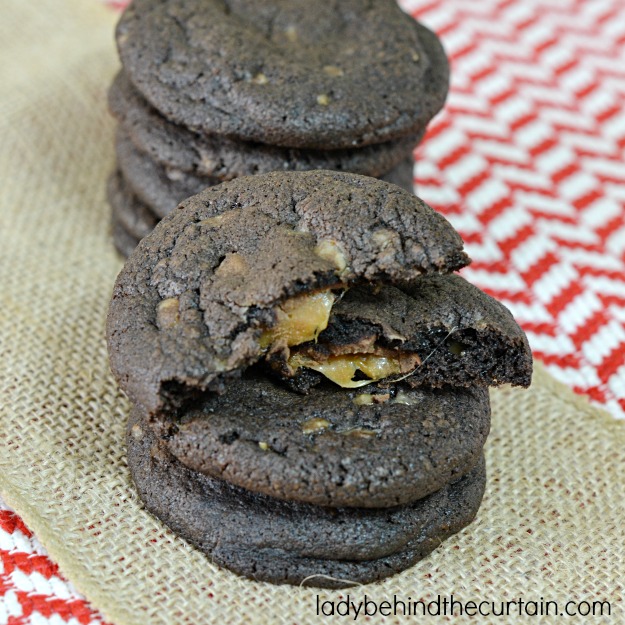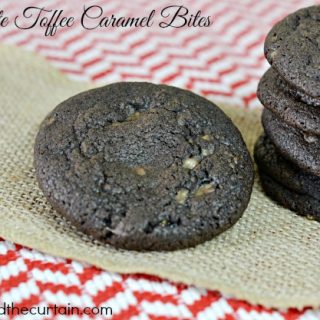 Chocolate Toffee Caramel Bites
Ingredients
1-1/4 cup brown sugar, firmly packed
1 cup shortening
1 teaspoon vanilla extract
2 eggs
2 cup all-purpose flour
6 tablespoons unsweetened cocoa powder
1/2 teaspoon salt
1/4 teaspoon baking soda
1 cup toffee chips
1 - 8 ounce bag Rolo Minis
Instructions
Preheat oven to 375 degrees.
Line cookie sheets with parchment paper.
Cream together the brown sugar, shortening and vanilla until well blended.
Add eggs; beat until fluffy.
Sift together the flour, cocoa, salt and baking soda.
Gradually add to the shortening mixture.
Stir in toffee chips.
Cover and chill 3 hours in refrigerator or 1 hour in the freezer.
To form cookies take a small portion of the dough, push a Rolo mini into the center and wrap the cookie dough around it making sure no part of the piece of candy is exposed, roll into a 1-1/4 -inch ball.
Bake 10 to 12 minutes or until cookies are set.
Slide cookies and parchment paper all in one on the counter to cool.
TIP: If you try to remove the cookies from the parchment paper before they're cool you will end up with caramel from the Rolo candies all over the place. If you wait the candy and cookies will stay intact.
 MORE COOKIE RECIPES
1. SEMI HOMEMADE CHOCOLATE DIPPED SHORTBREAD COOKIES  2. ELEPHANT EAR COOKIES  3. LOADED CHOCOLATE CHIP PRETZEL COOKIES