Banana Cheesecake | Give a classic new life and transform it into a cheesecake!  All the favorites of the classic banana pudding are in this banana cheesecake.  With almost 2 boxes of vanilla wafers and chunks of banana not to mention the creamy center.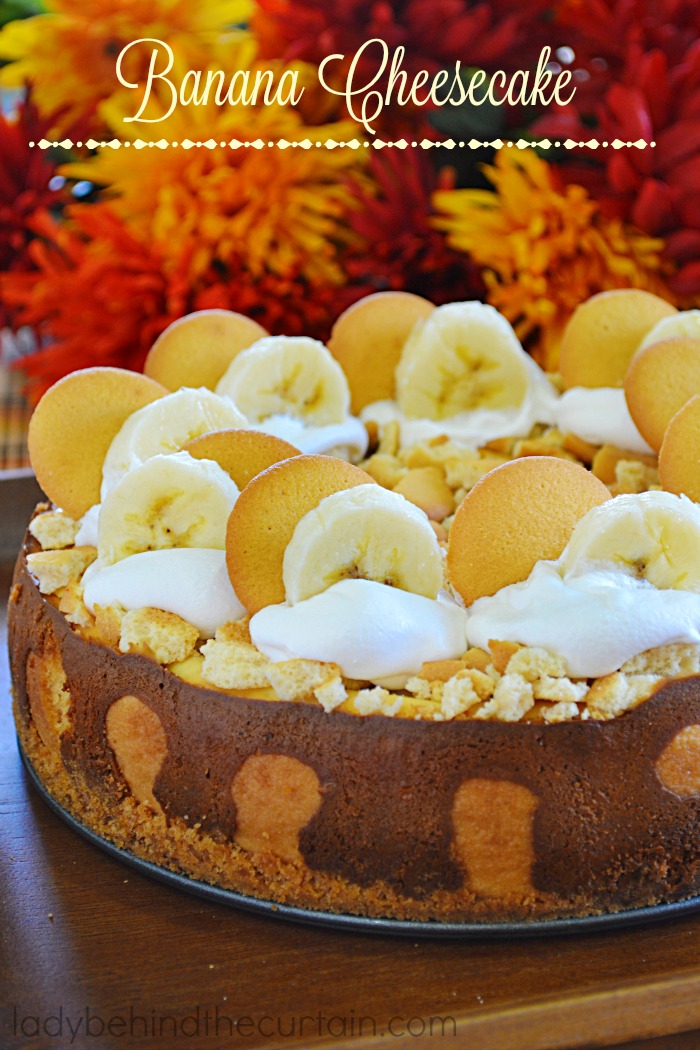 For our family celebrations usually center around a cheesecake in fact I have a whole category dedicated to just cheesecakes!  Every year for my sons birthday I create a new cheesecake.  Like Chai Spice Cheesecake and Persimmon Cheesecake (both were created for him).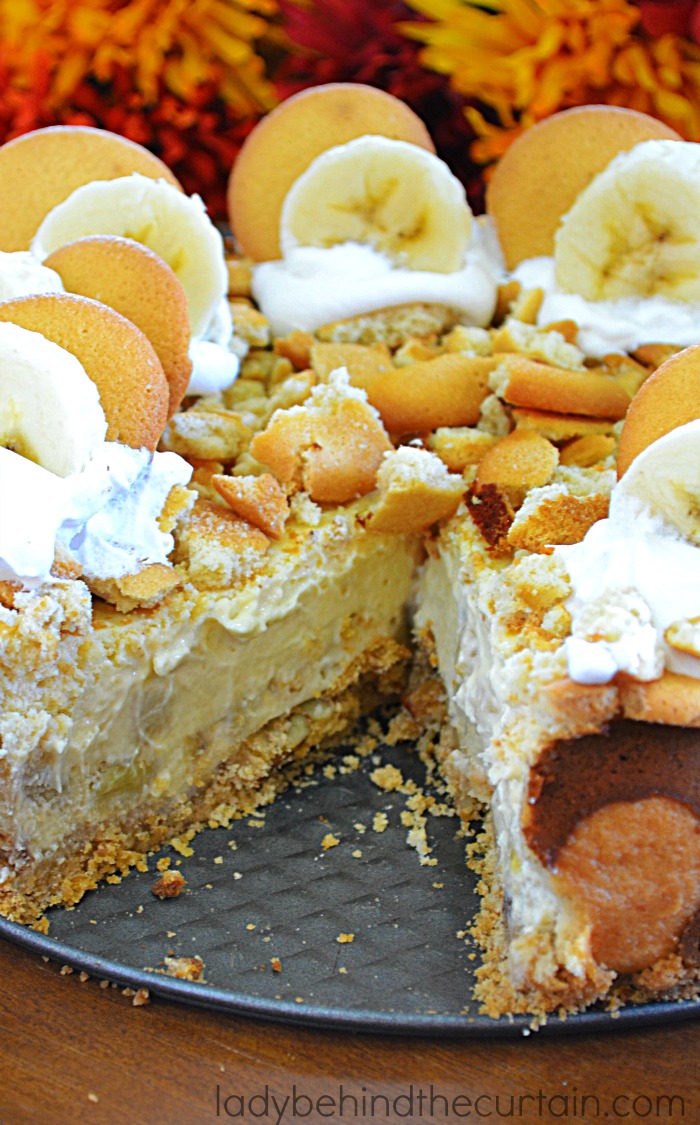 Banana Cheesecake
Total Time:
1 hour
35 minutes
Ingredients
For the Crust:
1-1/2 cups vanilla wafers, finely crushed
1/2 cup pecans, chopped
1/4 cup butter, melted
For the Filling:
17 vanilla wafers
2 large ripe bananas, diced
1 tablespoon lemon juice
2 tablespoons light brown sugar
3 - 8 ounce packages cream cheese, softened
1 cup granulated sugar
3 large eggs
2 teaspoons vanilla extract
1/2 cup vanilla wafers, coarsely crushed
For the Garnish:
sweetened whip cream
vanilla wafers
sliced bananas
Instructions
For the Crust:
Preheat oven to 350 degrees.
Stir together the 1-1/2 cups finely crushed vanilla wafers, pecans, and butter until well blended.
Press mixture onto bottom of a greased and floured 9-inch springform pan.
Stand approximately 17 vanilla wafers around edge of pan (rounded sides against pan), pressing gently into crust to secure.
Bake 10 minutes.
Place on a wire rack to cool while making the filling.
For the Filling:
Combine bananas and lemon juice in a small saucepan.
Stir in brown sugar.
Cook over medium-high heat, stirring constantly, 1 minute or just until sugar has dissolved.
Beat cream cheese until smooth.
Gradually add granulated sugar, beating until blended.
Add eggs one at a time, beating just until yellow disappears after each addition.
Beat in vanilla.
Gently stir banana mixture into cream cheese mixture.
Pour batter into prepared curst.
Bake 45 to 55 minute or until center is almost set.
Remove cheese cake from oven and run a knife around edge of cheesecake to loosen.
Sprinkle top of cheesecake with coarsely crushed waters.
Cool completely on a wire rack. (about 1 hour)
Cover and chill 8 hours.
Garnish with whip cream, banana slices and vanilla wafers.
Notes
This recipe was adapted from the Southern Living Best Fall Baking 2012 magazine.
MORE CHEESECAKE RECIPES

S'MORE CHEESECAKE 2. CARROT CAKE CHEESECAKE  3. PUMPKIN CHEESECAKE