Carrot Cake Quick Bread: Transform your favorite Holiday cake into a warm and inviting breakfast bread loaf. Cozy up to a hot cup or coffee or tea and a warm piece of carrot cake. This delicious bread has all the ingredients you love in a carrot cake. Shredded carrots, candied pecans and a touch coconut. Perfect for gift giving.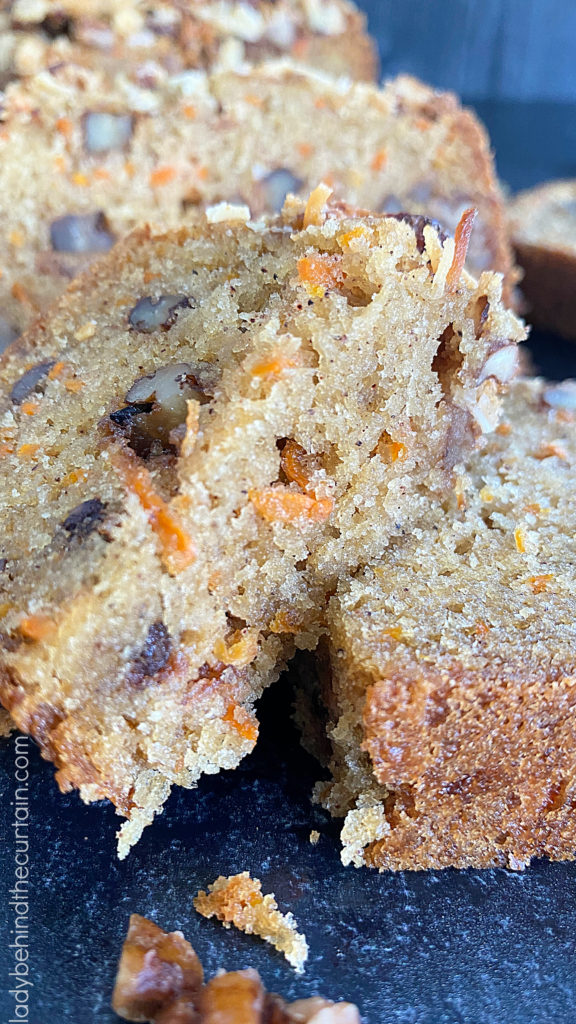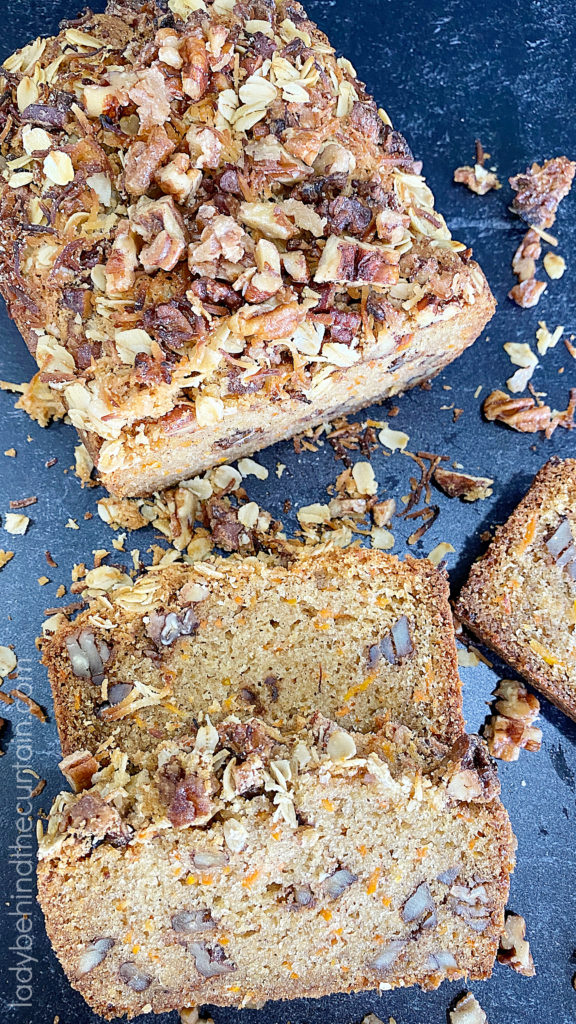 Transform Carrot Cake Quick Bread into Other Breakfast Options
Even though his carrot cake breakfast bread is perfectly delicious all on its own it's always nice to have options. Here are a couple of my favorites. TOAST: Slice the bread into thick pieces, slather on your favorite butter, pop under the broiler for a few minutes until the bread is toasted. This adds a layer of buttery flavor and crunch. FRENCH TOAST: Dip slices in a egg custard and cook as you would french toast. These two options as great for leftover stale bread. ENJOY!
How to Make Carrot Cake Quick Bread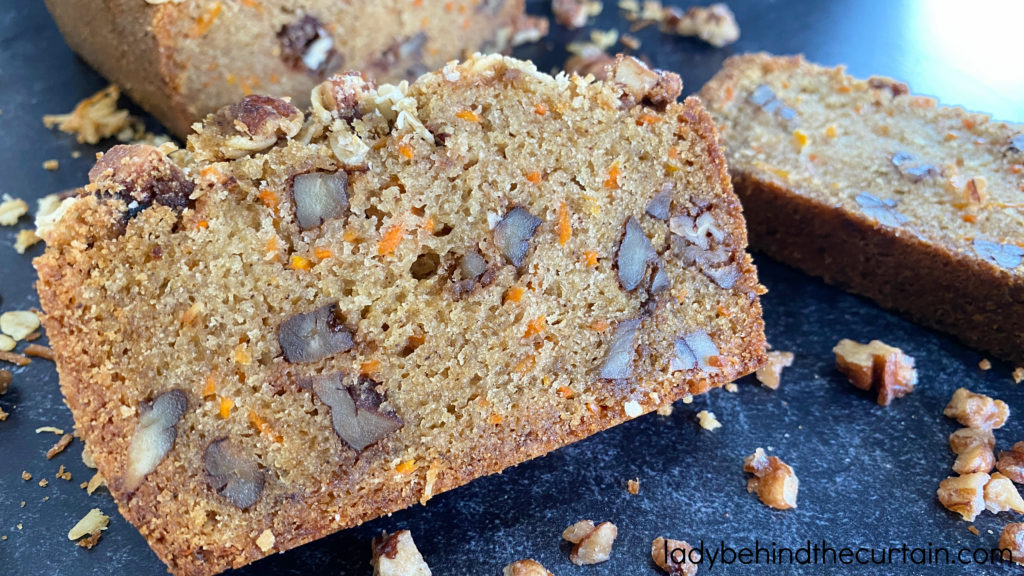 Preheat oven to 350°. Grease the bottom and ½ inch up the sides of an 8 x 4 -inch loaf pan.
In a large bowl stir together the flour, baking powder, salt, ground cinnamon and baking soda. Make a well in the center.
In a medium bowl combine the eggs, carrots, vegetable oil, sugars and vanilla. Add the carrot mixture all at once to the flour mixture.
Stir just until moistened (batter should be lumpy).
Fold in candied pecans.
Pour batter into prepared pan.
Sprinkle streusel over batter.
Bake 55 to 65 minutes or until a wooden toothpick inserted into the center comes out clean.
IMPORTANT TIP: TO PREVENT THE TOP FROM BURNING, COVER THE BREAD WITH FOIL THE LAST 15 MINUTES OF BAKING.
Cool in pan on a wire rack 10 minutes. Remove from pan, cool completely.
FOR BEST RESULTS WRAP AND LET STAND OVERNIGHT BEFORE SLICING.
What Makes this Carrot Cake a Bread?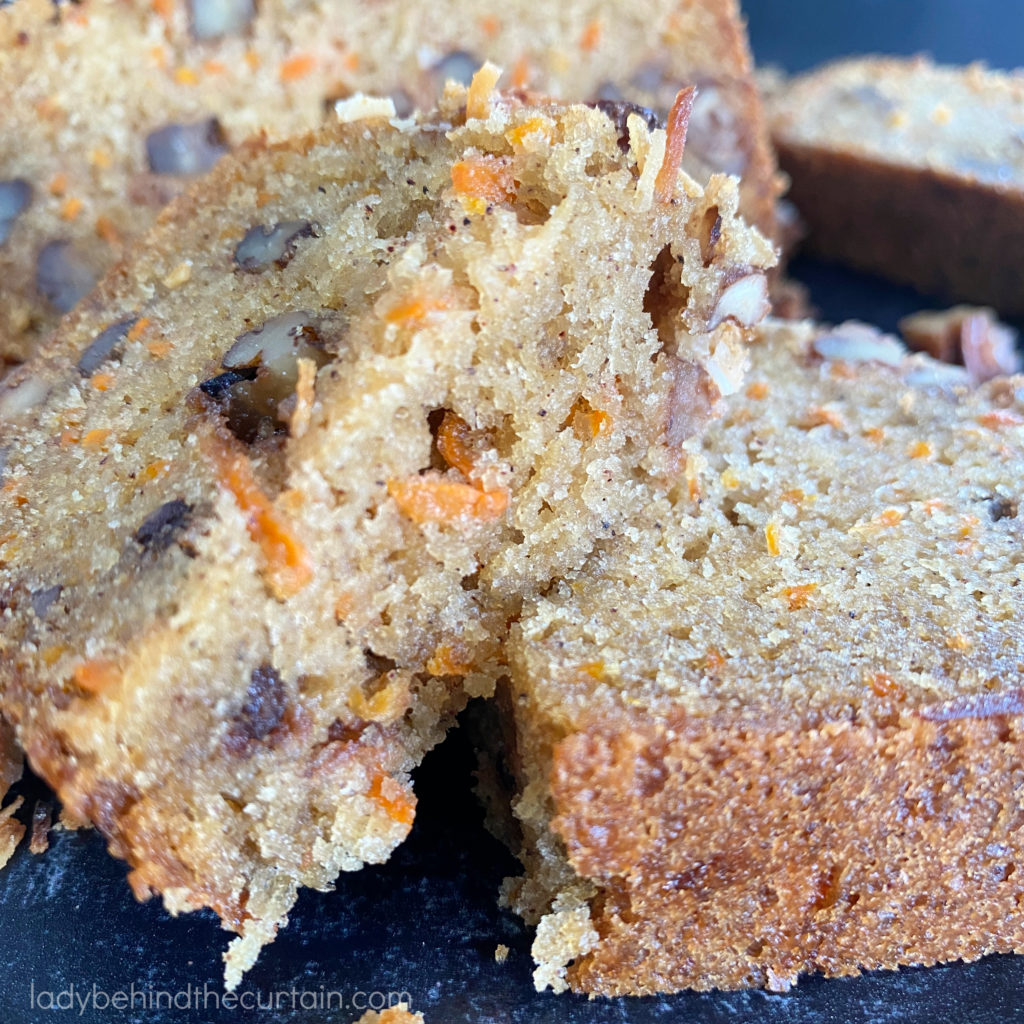 Add a Cream Cheese Drizzle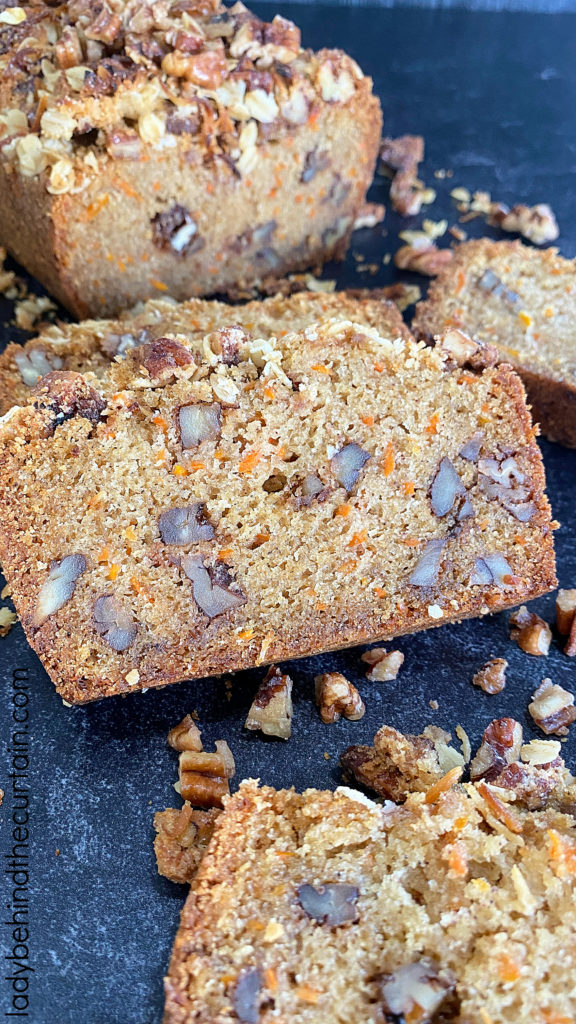 INGREDIENTS (see notes in carrot cake bread recipe for the printable version)

4 ounces cream cheese, softened
3 tablespoons unsalted butter, softened
1 teaspoon vanilla extract
2 cups powdered sugar
4 tablespoons milk or water

DIRECTIONS

Beat together the cream cheese until light and fluffy.
Add the vanilla, beat to combine.
Add powdered sugar, mix until combined.
Pour milk or water into the cream cheese mixture, whip until creamy.
Pour into a squeeze bottle or use a spoon.
In a back and forth motion top the carrot cake bread with the cream cheese drizzle.
How to Make Candied Pecans
How to Freeze Quick Bread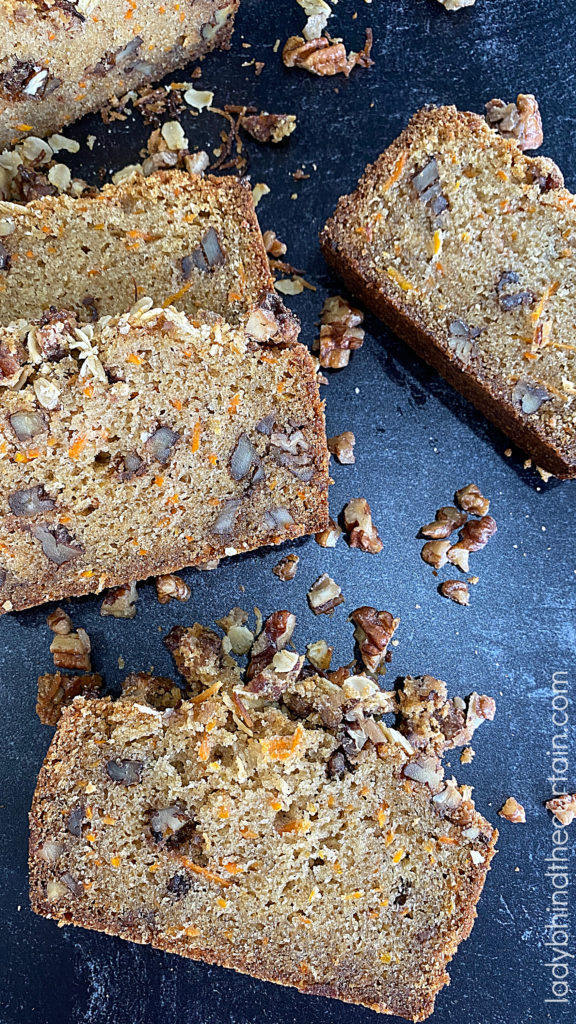 Wait until the bread is completely cooled
Wrap in plastic wrap and then in foil
Label and freeze up to 3 months
Place on the kitchen counter to thaw or in the refrigerator overnight
Carrot Tips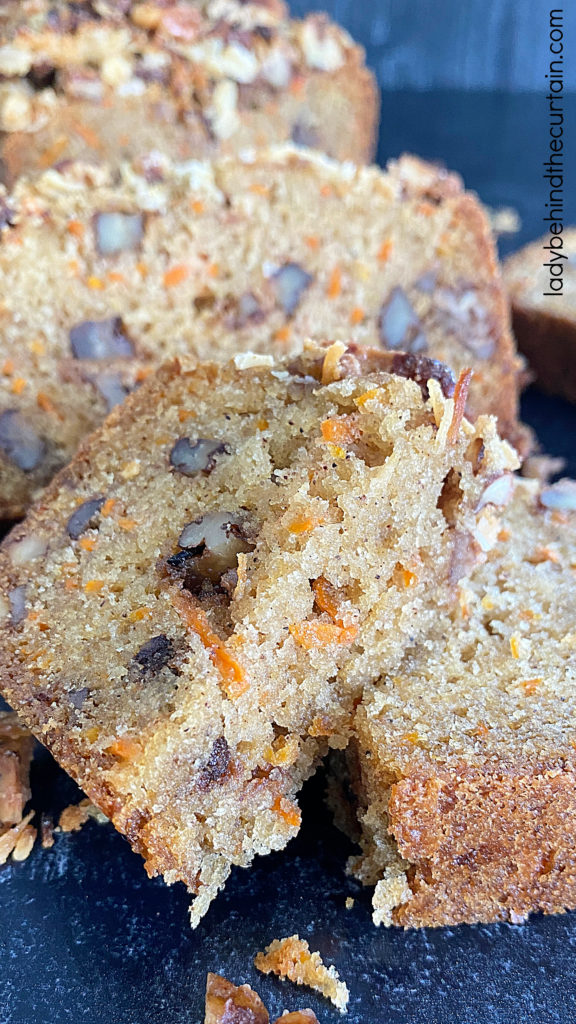 FOR FINE CARROT SHREDS: One medium carrot equals about ½ cup lightly packed, finely shredded carrot. You will need about 3 medium carrots for this recipe. Keep the texture of the bread light by shredding the carrot by hand on the fine-shredding surface of a box grater. Avoid using the food processor. This can result in a soggy dense texture.
FOR CHUNKY CARROT SHREDS: I like the crunch the chunky carrot shreds add to this breakfast bread. For this job, I use store bought shredded carrots.
MORE QUICK BREAD RECIPES
NEVER MISS A POST