Garden Macaroni Salad | DRESSED TO IMPRESS!  This eye catching Garden Macaroni Salad is made with a creamy sauce made of cream cheese, mayonnaise, Dijon mustard and relish along with crunchy fresh green pepper, radishes and cucumber all pressed into an old school jello mold.  To make this not only a tasty salad but a fun festive one too!  Perfect for Thanksgiving, Christmas, Easter or any special occasion.  Impress your guests with this Garden Macaroni Salad!
I have been making this salad for at least 20 years.  It is always a big hit!  I SHARED A RECIPE WITH YOU THAT I HAVE BEEN MAKING FOR OVER 20 YEARS.  I WOULD LOVE TO HEAR ABOUT THE RECIPES YOU MAKE OVER AND OVER AGAIN!
Another everyday salad turned "fancy" is a potato salad.  Click here for the recipe—->>>>DRESSED UP POTATO SALAD.  This Dressed Up Potato Salad is ready for any occasion.  Ladies Luncheon, Mother's Day, Easter, Baby Shower or Bridal Shower.  Fancy or casual you can take this salad anywhere!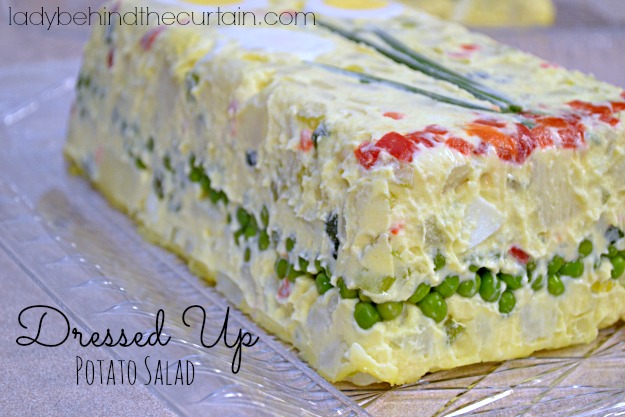 The key ingredient to making this salad into a mold (other then the mold it self) is the cream cheese.  You need something that will solidify once refrigerated.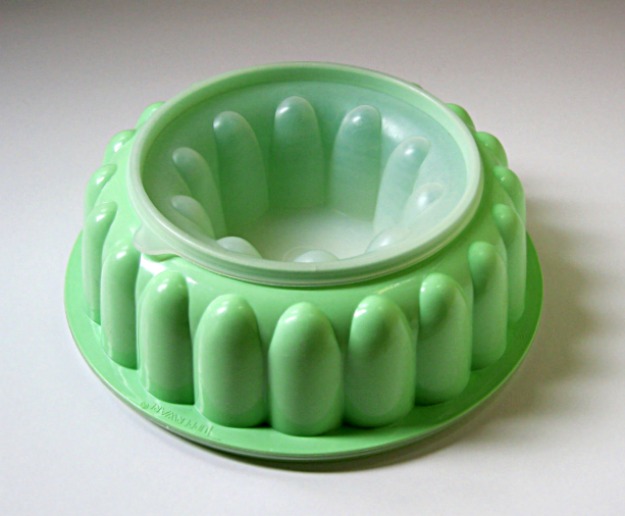 HOW TO CREATE RADISH FLOWERS
Another Retro ingredient to this salad are the radish flowers.  They are fun and super simple to make.  First, slice the ends and wash.  Then using a small paring knife cut thin slices around the edges in a down motion making sure to leave the petal attached to the base of the radish.  Place the "flower" in a bowl of ice water.  Let the radish flowers sit in the ice water until ready to use.  This will help the radish to open up and become a flower.
Garden Macaroni Salad
Dress up your salad by using a Gelatin Mold!
Ingredients
1/4 cup Mayonnaise
1 ( 8-ounce) cream cheese, room temperature
1/4 cup sweet pickle relish
1 tablespoon Dijon mustard
3 cups dry elbow macaroni, cooked, drained
1 cup chopped cucumber
1/2 cup chopped green pepper
1/2 cup radish slices
1/2 teaspoon salt
Extra cucumber and radishes for garnish (optional)
Gelatin Mold (optional)
Instructions
Spray a gelatin mold with non stick cooking spray.
Mix together the mayonnaise, cream cheese, relish and mustard.
While the macaroni is still hot add to the mayonnaise mixture and completely mix.
Add cucumber, green pepper, radishes and salt.
Mix together.
TIP: I used a gelatin mold but if you don't have one you can use a cake pan or a spring form pan and add a small bowl in the middle to make it hallow in the center.
Spoon salad into mold and press to compact.
Cover and store in the refrigerator overnight.
Take the top lid off, press a round platter to the salad and carefully turn over.
Place on counter and carefully release the middle section, slowly pull the mold off the salad.
Garnish with sliced cucumber and radishes.
To Make the Radishes:
Slice on each side and put in ice water. The ice water helps the slices to open up.
MORE SALAD RECIPES
1. GERMAN POTATO SALAD  2. WATERCRESS SALAD  3. CRANBERRY CHICKEN SALAD
NEVER MISS A POST!
Sign up for my newsletter and receive my recipes in your inbox. Easy to see anytime and saved for safe keeping. Click Here and sign up today! —->>>>CURTAIN CALL NEWSLETTER
More salad recipes you might like.  SOUTHERN MACARONI SALAD and RAINBOW MACARONI SALAD.