Fresh Strawberry Quick Bread
Serve this not too sweet Fresh Strawberry Quick Bread next time you have a breakfast brunch or ladies luncheon.  This Fresh Strawberry Quick Bread is one of my favorites.  Light and full of strawberries.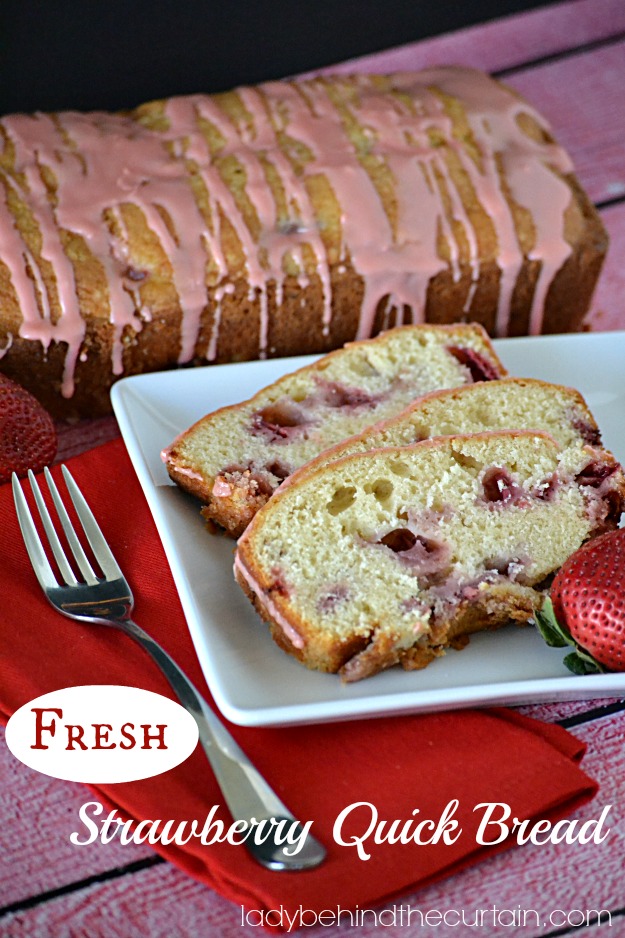 A produce department stocked with fresh big juicy strawberries tells me Summer is almost here!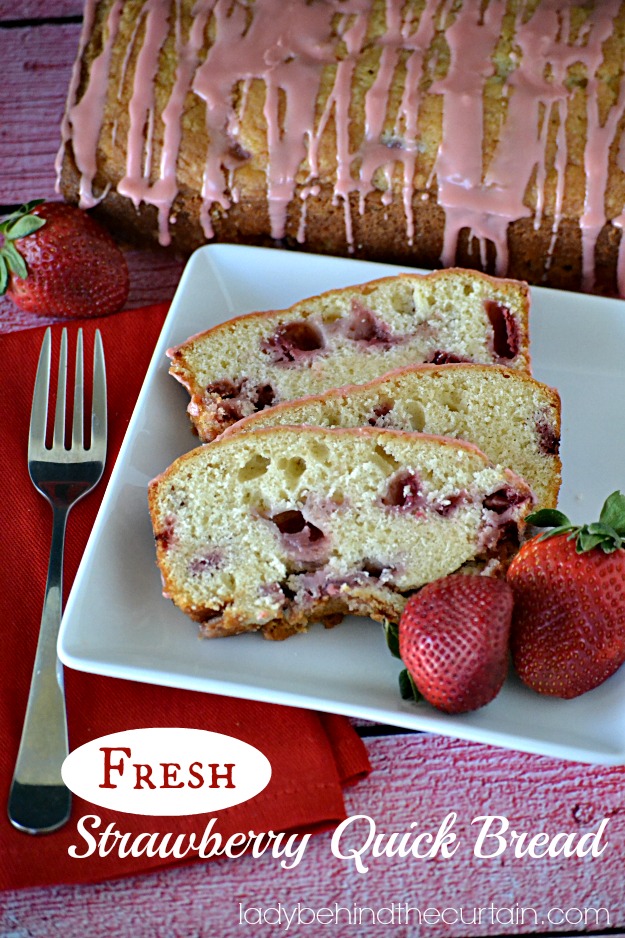 Serve this Fresh Strawberry Quick Bread with a Hash Brown Quiche or an Apple Cheese Penne Pie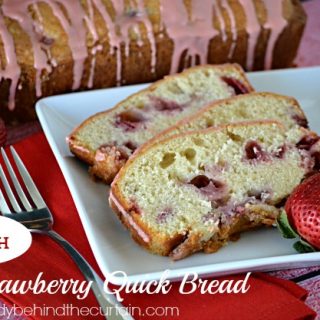 Fresh Strawberry Quick Bread
Total Time:
1 hour
28 minutes
Make extra for your freezer for last minute overnight guests.
Ingredients
1 cup fresh chopped strawberries
1 tablespoon all-purpose flour
1/2 cup butter, softened
1 cup granulated sugar
2 eggs
1 1/2 teaspoons vanilla extract
1 3/4 cups all-purpose flour
1 teaspoon baking powder
1/2 teaspoon salt
1/2 cup milk
For the Glaze:
1/2 cup confectioners' sugar
1 1/2 teaspoons strawberry extract
1 teaspoon water or milk
Instructions
Preheat oven to 350 degrees.
Spray a 9x5 loaf pan with non stick cooking spray.
In a medium bowl combine the chopped strawberries and 1 tablespoon of flour.
In a mixing bowl add the butter, sugar, eggs and vanilla.
Mix until fluffy.
In another medium bowl add the flour, baking powder and salt.
Whisk together.
With the mixer on low add the flour mixture and alternate with the milk.
Mix until batter is smooth.
Fold in strawberries and pour batter into prepared pan.
Bake 50 to 58 minutes or until center is set and a toothpick inserted into the center comes out clean.
Cool in pan 10 to 15 minutes.
Take out of pan and cool completely.
For the Glaze:
In a small bowl mix together the sugar, extract and water until smooth.
Drizzle over cooled bread.
MORE STRAWBERRY RECIPES
1. REFRESHING STRAWBERRY TEA  2. STRAWBERRY MALLOW CAKE ROLL  3. STRAWBERRY CHEESECAKE ICE CREAM  4. CHOCOLATE STRAWBERRY WAFFLE POPS