Mississippi Mud Cheesecake
Mississippi Mud Cheesecake: Everything you love about Mississippi Mud Cake only in cheesecake form… with lots and lots of chocolate, nuts and marshmallows. There are so many layers and textures to this Mississippi Mud Cheesecake! The bottom starts with a mixture of graham cracker crumbs, pecans, sugar and butter. The next layer is a dense dark chocolate brownie baked and then covered with a wonderfully rich chocolate cream cheese filling. And to finish, a glorious fudgy chocolate sauce topping along with pecans and mini marshmallows. What more could a cheesecake lover want….except maybe a BIG fork!
You Might Also Like
A Labor of Love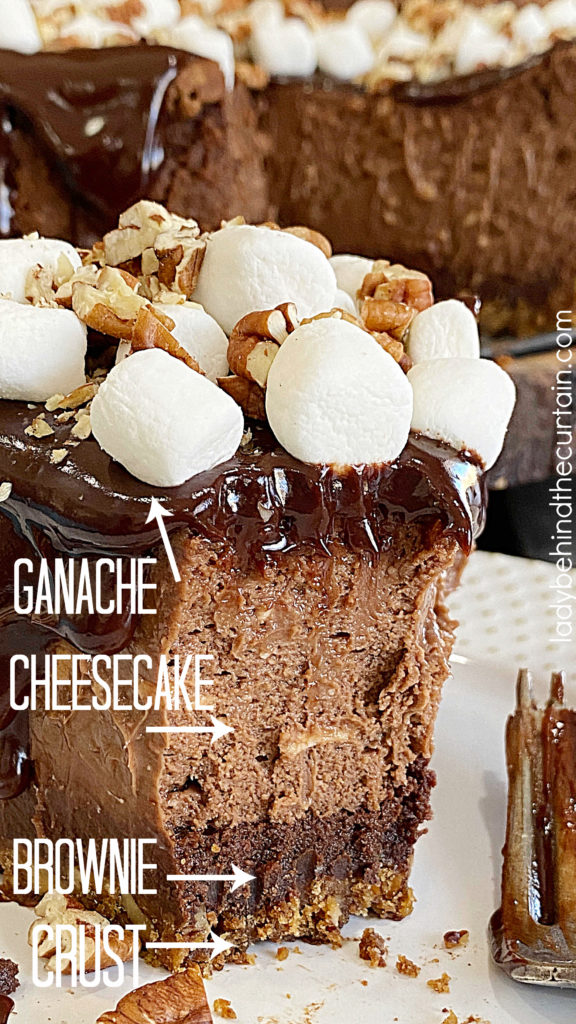 More Cheesecakes with Chocolate
How to Make Mississippi Mud Cheesecake
GRAHAM CRACKER CRUST: Preheat oven to 350°. In a large bowl add the graham cracker crumbs, pecans and sugar. Add melted butter, stirring to combine. Stir in egg whites. Press mixture firmly into the bottom and 1 inch up the sides of a 10½ -inch springfrom pan. Bake 6 minutes, remove pan from the oven and cool on a wire rack 20 minutes.
BROWNIE LAYER: In a medium saucepan, melt chocolate, butter and sugar over low heat, stirring constantly. Remove from heat, whisk in eggs, flour and vanilla until smooth. Pour brownie mixture onto prepare crust. Bake 15 – 20 minutes, let cool 20 minutes on a wire rack.
CHEESECAKE FILLING: In another saucepan, melt chocolate morsels, butter and cocoa over low heat, stirring constantly until smooth. Remove from heat and set aside. Reduce oven temperature to 300°.In a large mixing bowl, beat cream cheese until creamy, gradually add the sugar, beating well. Add eggs one at a time, beating just until combined after each addition. Add sour cream and vanilla, beat until combined and smooth. Fold chocolate mixture into the cream cheese mixture. Pour cheesecake batter over brownie layer. Bake cheesecake for 1½ hours; turn oven off. LEAVE CHEESECAKE IN THE OVEN WITH THE DOOR CLOSED FOR 4 HOURS. Remove cheesecake from the oven, gently run a knife around the edge of pan. Cover and refrigerate at least 8 hours, preferably overnight before releasing the sides of the pan.
GANACHE TOPPING AND GARNISH: In a small saucepan, melt the chocolate, cream, sugar and corn syrup, stirring constantly over low heat until smooth. Remove the sides, pour ganache topping over the top of the cheesecake letting some of the topping drizzle over the edge. Top with marshmallows and pecans.
Can I freeze Cheesecake?
To use the bottom of springform pan: Once the cheesecake is completely cooled and has been in the refrigerator (in the pan) for at least 4 hours preferably overnight. Release the outer rim of the pan, leaving the cheesecake sitting on the bottom of the pan. Wrap the cheesecake with several layers of plastic wrap and a layer of foil.
To use a cardboard bottom: Once the cheesecake has been refrigerated and if completely cooled and firm, use a knife to separate the cheesecake from the pan bottom. Slice it onto a foil wrapped piece of heavy hardboard. Then wrap with several layers of plastic wrap and a layer of foil. (This method scares me)
For a cheesecake with fruit topping: ALWAYS freeze cheesecake WITHOUT the topping. Add the topping before serving
Always thaw a cheesecake overnight in the refrigerator: When partially thawed, transfer if from the cardboard or springform bottom to a serving plate.
HOW TO FREEZE MISSISSIPPI MUD CHEESECAKE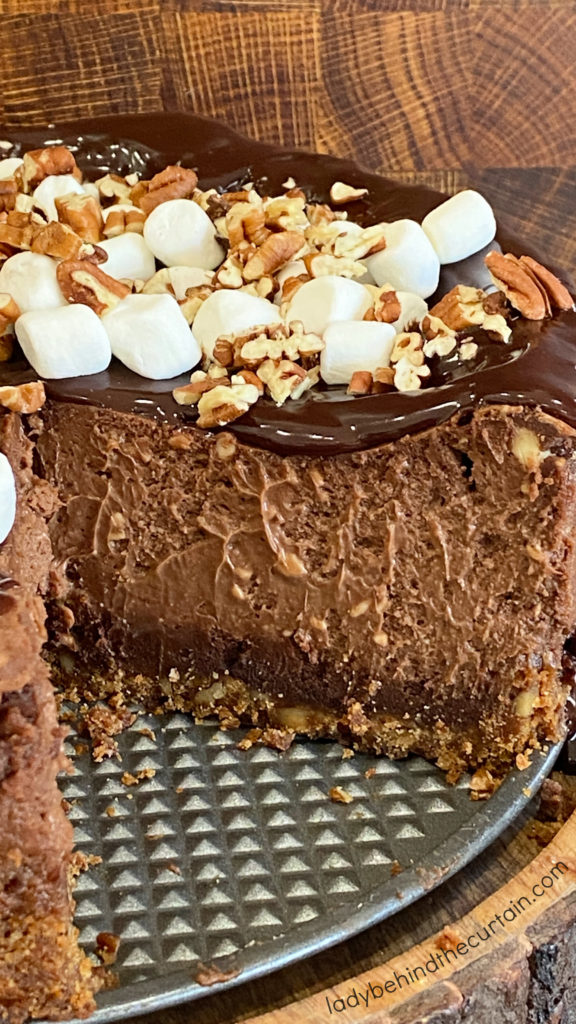 HOW TO SLICE CHEESECAKE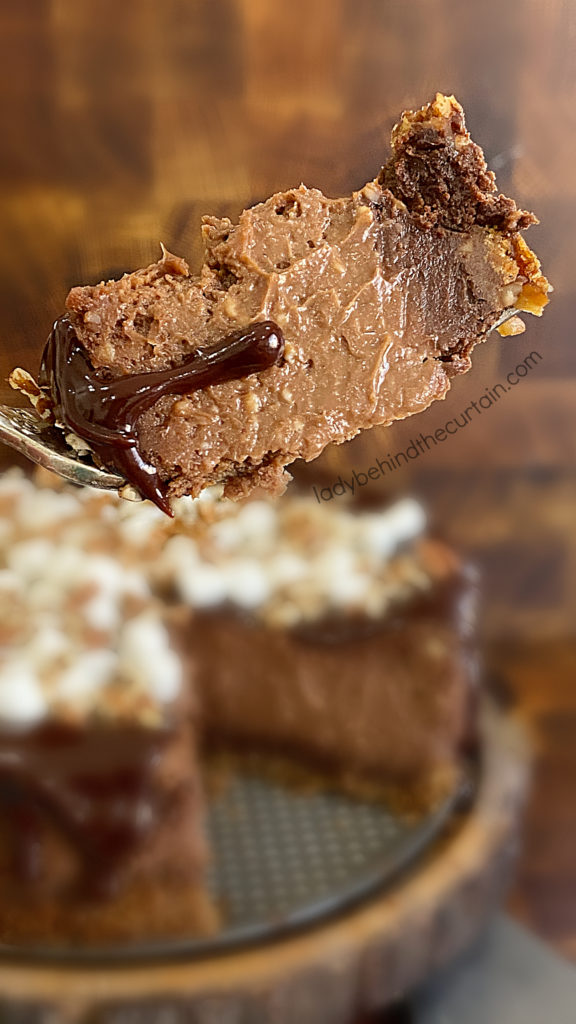 NEVER MISS A POST