Cheesecake Baked Apples | Hollowed out apples, filled with cheesecake and topped with an easy to make caramel sauce.  The perfect dessert after a heavy holiday meal.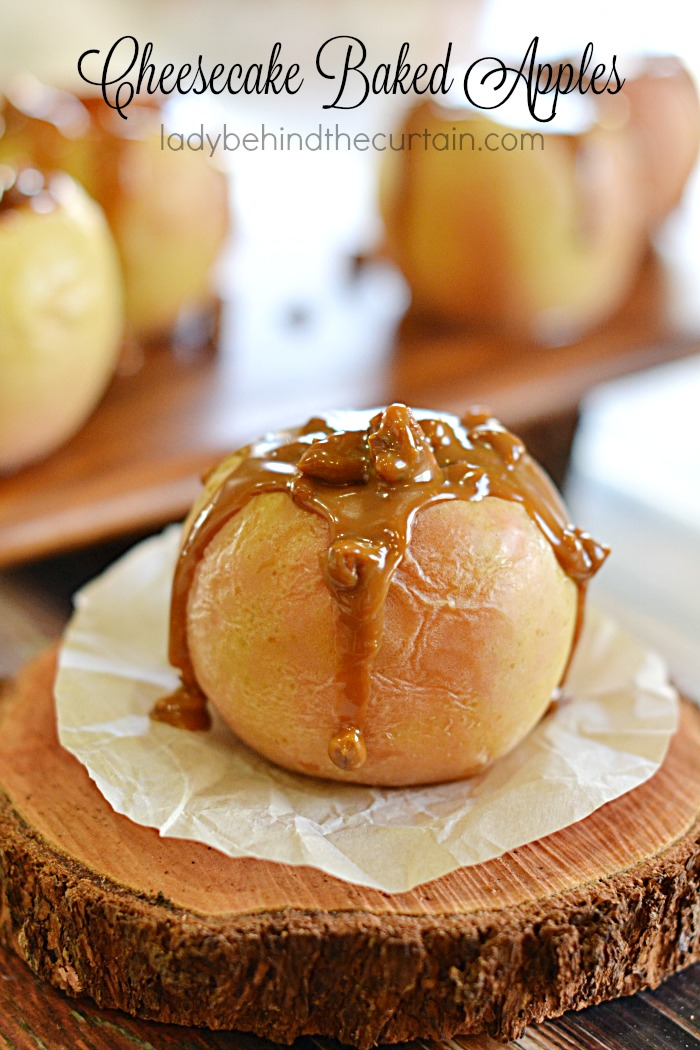 Getting ready for the Holidays and keepin' it light this year for Thanksgiving! I'm serving these delicious stuffed apples.  It's one of those desserts that looks impressive but is super easy to create!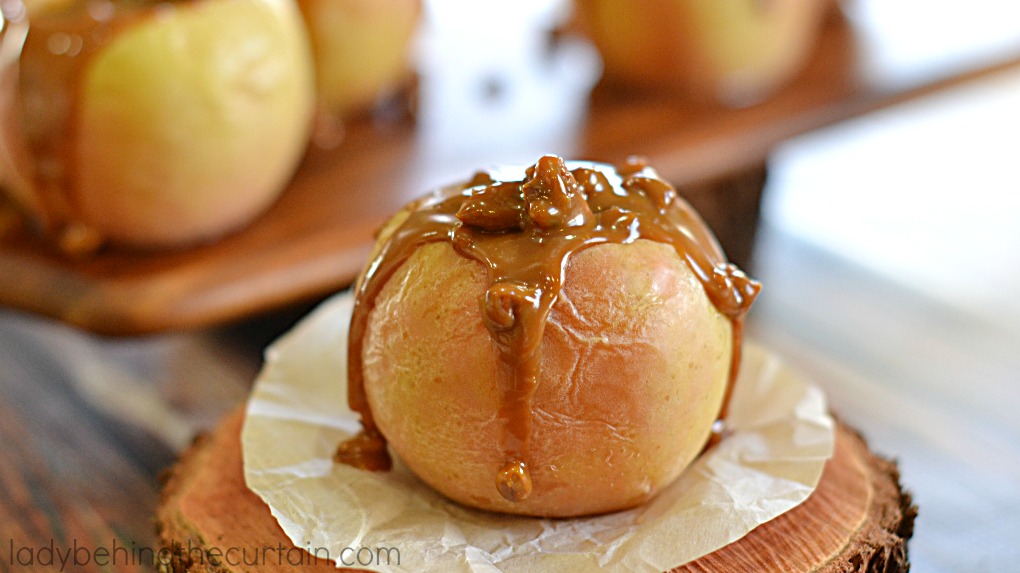 Hollow out 6 Honey Crisp apple.
Use an ice cream scoop and fill each apple about three-fourths full.
The filling should fluff up!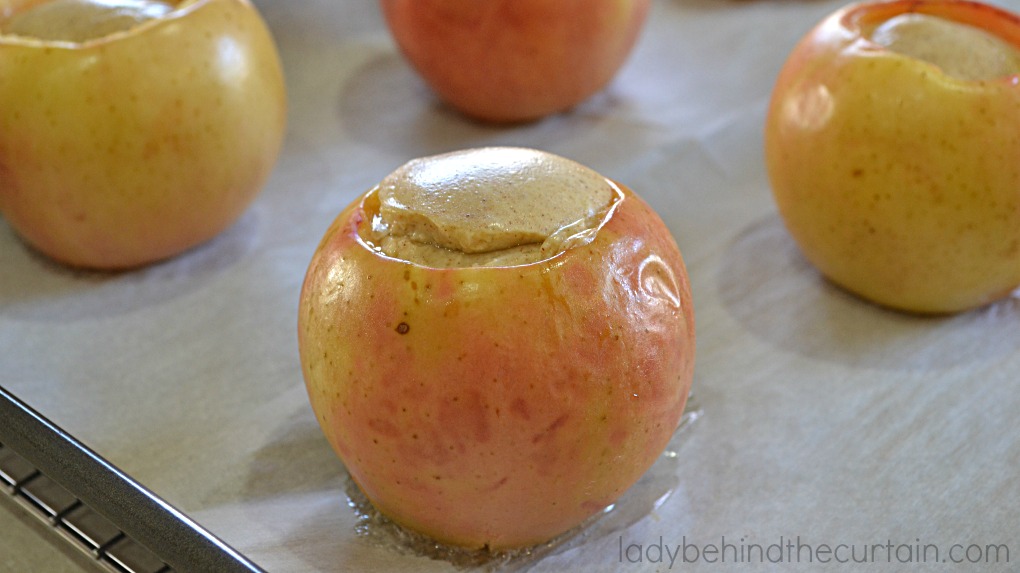 Add a drizzle of the caramel sauce mixed with toasted pecans.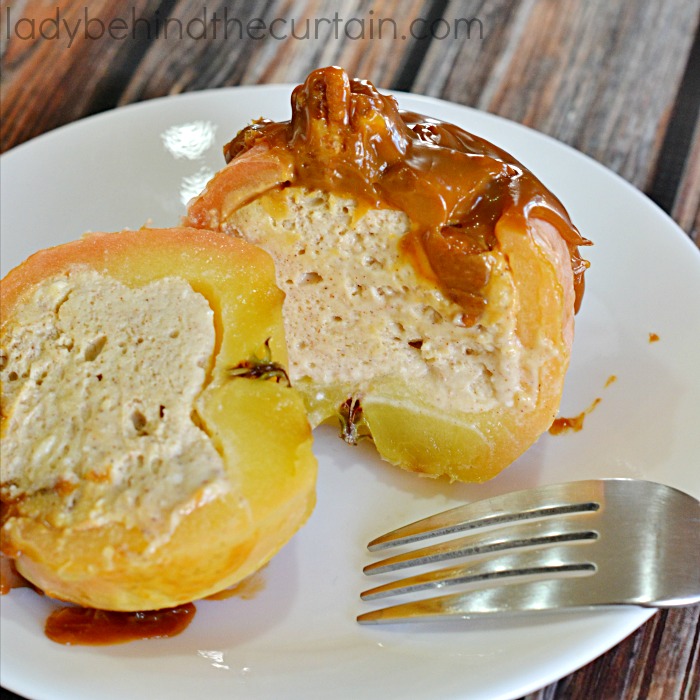 Yield: Serves 6
Cheesecake Baked Apples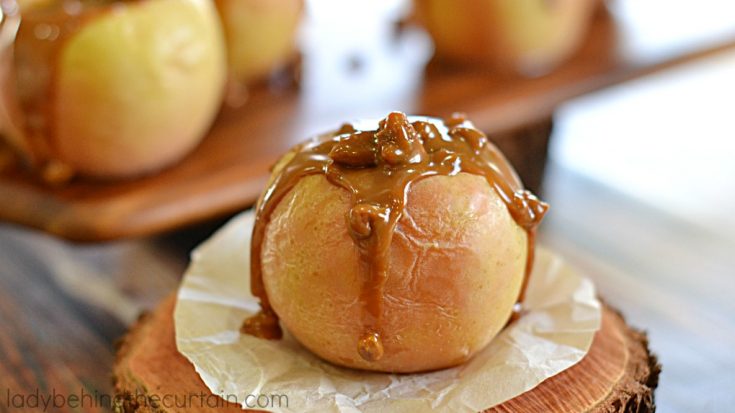 Ingredients
For the Apples and Cheesecake Filling:
6 medium size Honey Crisp apple, hollowed out
1 (8 ounce) cream cheese, softened
1/4 cup granulated sugar
1 teaspoon Apple Pie Spice
1 teaspoon vanilla extract
1 large egg
For the Easy Caramel Sauce:
1 cup Dulce de Leche (by Neslte)
4 tablespoons heavy whipping cream
1/2 cup toasted pecans, coarsely chopped
Instructions
For the Apples and Cheesecake Filling:
Preheat oven to 350 degrees.
Line a baking pan with parchment paper.
Hallow out all 6 apples and place on prepared pan.
In a medium mixing bowl whip the cream cheese until light and fluffy; add the sugar, apple pie spice, vanilla and egg.
Mix until combined and creamy.
Use an ice cream scoop to fill each hollowed apple.
Bake 25 to 30 minutes or until the cheesecake filling is puffed.
Cool on wire rack 30 minutes.
Place in refrigerator 2 hours to cool completely or overnight.
For the Easy Caramel Sauce:
In a small saucepan add the Dulce de Leche and cream.
Heat through DO NOT BOIL; stir in toasted pecans.
Drizzle hot sauce over cooled baked apples.
ENJOY!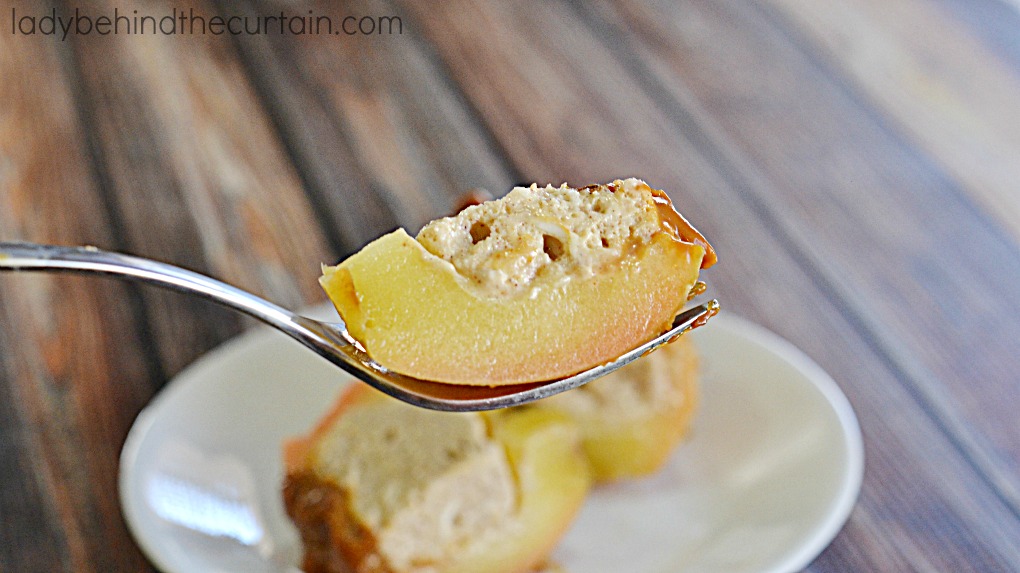 MORE DESSERTS TO IMPRESS!

SOPAIPILLA CHEESECAKE SQUARES  2. APPLE CRUMB CHEESECAKE  3. S'MORE CHEESECAKE