S'more Cheesecake | A rich and creamy decadent chocolate filling topped with a pillow of homemade marshmallow fluff!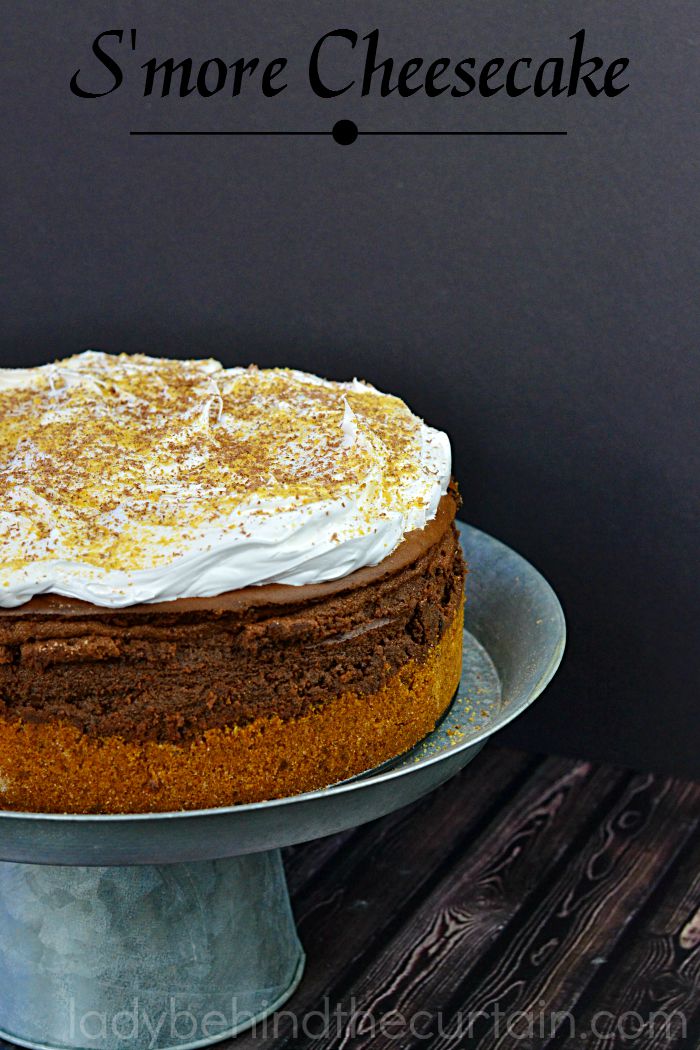 This childhood favorite has been transformed into the best cheesecake I have ever had!  I can't even begin to put into words how wonderful the Swiss Meringue is.  I guess the best way to describe it a creamy pillow of sweet deliciousness that I could eat by the spoonfuls!  S'mores is not just for summer you can serve this one year round because….no campfire required!  You can torch to top of the meringue, I chose to leave it alone.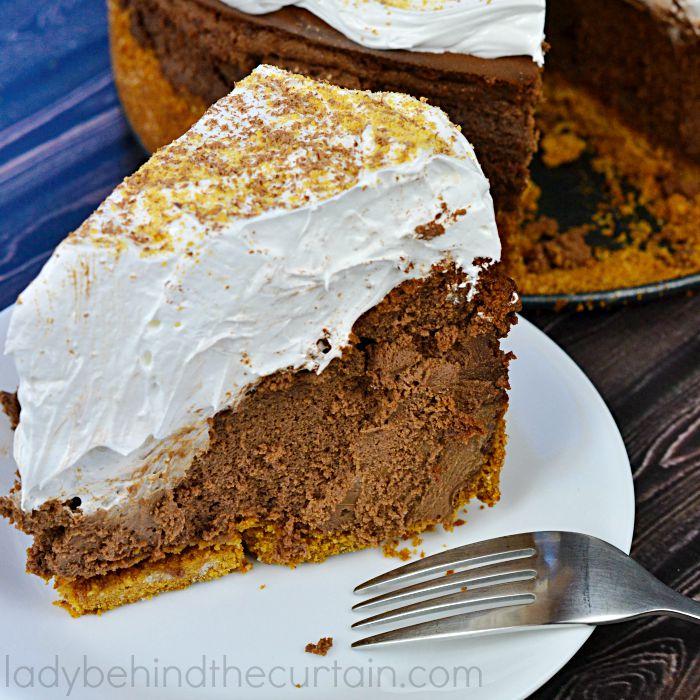 Add this cheesecake to your Cheesecake Pinterest Board.  Don't have a Cheesecake board?  Let me help you build one.
LOOK BELOW FOR A LIVE INTERACTIVE PEEK AT MY CHEESECAKE BOARD!  PIN FROM THE PICTURES BELOW!  TO SEE MORE »»»» CLICK ON THE "SEE ON PINTEREST" BUTTON BELOW.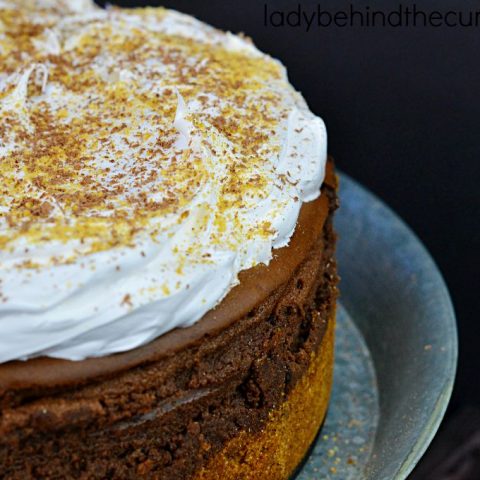 Smore Cheesecake
Total Time:
2 hours
40 minutes
A rich and creamy decadent chocolate filling topped with a pillow of homemade marshmallow fluff!
Ingredients
For the Crust:
2 cups graham cracker crumbs
1/3 cup granulated sugar
6 tablespoons butter, melted
For the Filling
12 ounces semisweet chocolate, chopped
1/4 cup butter
4 (8 ounce) packages cream cheese, softened
1 1/2 cup granulated sugar
3 large eggs
3 large egg yolks
2 tablespoons all-purpose flour
1 tablespoon unsweetened cocoa powder
1 (8 ounce) container sour cream
For the Swiss Meringue:
1 1/2 cups granulated sugar
6 large egg whites
Instructions
For the Crust:
Preheat oven to 350 degrees.
In a medium bowl mix together the graham cracker crumbs, sugar and butter.
Pour into a 10-inch springform pan. NOTE: DO NOT POUR ALL THE BATTER INTO A 9-INCH PAN.
Press firmly into the bottom and up the sides.
Bake 6 to 8 minutes.
For the Filling:
Add the chocolate and butter to a small microwave safe bowl.
Heat until chocolate is melted about 1 1/2 minutes (make sure to stir every 30 seconds).
To a large mixing bowl add the cream cheese and sugar.
Mix until light and fluffy.
Add the eggs and egg yolks one at a time.
Add the flour and cocoa just until combined.
Beat in the melted chocolate and sour cream.
Pour batter over crust.
Place on a cookie sheet lined with parchment paper.
Bake 1 hour; turn oven off and leave cake in ONE ADDITIONAL HOUR.
Remove from oven, place on a cooling rack.
Gently run a knife around the edges to loosen sides. DO NOT RELEASE THE SIDES OF THE PAN AT THIS TIME
NOTE: If the sides of the cheesecake have come up over the edge, knock them back down into the cake.
Cool completely; cover and chill in refrigerator 8 hours.
Remove sides of pan.
For the Swiss Meringue:
Add some water to a pot; fit the top with a glass bowl making sure the bowl does not touch the bottom of the pan or the water. This is called a double boiler.
Bring the water to a simmer.
Combine the sugar and egg whites into the bowl that is fitted on top of the pot.
Whisk constantly until the mixture reaches 140 degrees on a candy thermometer.
Remove from heat and beat on high speed with an electric mixer 10 minutes.
Spread on top of cooled cheesecake.
If desired sprinkle with graham cracker crumbs and chocolate shavings.
MORE CHEESECAKE RECIPES

1. HALLOWEEN CHEESECAKE CONES  2. CARROT CAKE CHEESECAKE  3. PEPPERMINT PATTY MINI CHEESECAKES