Cinnamon Roll Biscuits:  These light and fluffy biscuits take making your own cinnamon rolls to a different level.  That level would be……EASY!  You still get all the flavors you love from a traditional cinnamon roll like raisins and cinnamon but this way to so much easier.  Are you missing your precious  cream cheese frosting?  Not worries I have that covered too with my Cinnamon Cream Cheese Butter (visit my golden harvest muffins for the recipe).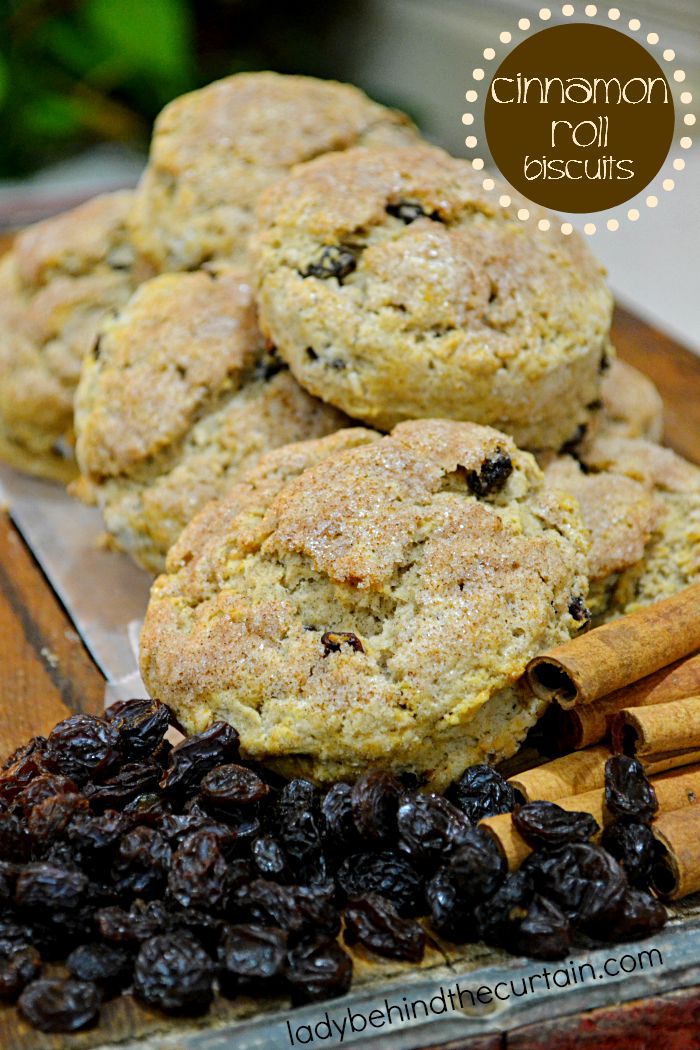 EASY TO MAKE CINNAMON ROLL BISCUITS!
Are you overwhelmed at the idea of making your own cinnamon rolls?  Well, now you can make them in biscuit form!  NO YEAST and you don't have to worry about perfectly rolling them up and slicing.  Not too sweet with a crunchy sugar topping.  I love these easy to make cinnamon roll biscuits.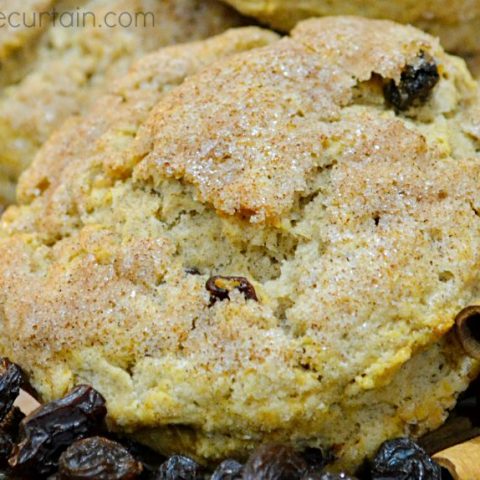 Cinnamon Roll Biscuits
Ingredients
For the Biscuit:
2 cups all-purpose flour
1/2 teaspoon salt
1/2 teaspoon baking soda
3 teaspoons baking powder
3/4 cup sour cream
5 to 6 tablespoons water
3/4 cup raisins
2 teaspoons cinnamon
2 tablespoons granulated sugar
For the Topping:
1 to 2 tablespoons butter, melted
2 tablespoons granulated sugar
1/2 teaspoon cinnamon
Instructions
For the Biscuits:
Preheat oven to 450 degrees.
Spray a cookie sheet with non stick cooking spray.
Mix together flour, salt, baking soda and baking powder.
Add sour cream, water, raisins, cinnamon and sugar.
Mix until all the ingredients are combined.
Dump dough onto a well floured surface.
If dough is too sticky, sprinkle on extra flour and knead.
Roll dough into a 3/4-inch round and using a 2-1/2-inch biscuit cutter, cut dough.
Roll out dough again until all the dough is used.
Place on prepared cookie sheet.
For the Topping:
Melt butter, brush onto the tops of the biscuits.
In a small bowl combine the sugar and cinnamon.
Sprinkle on buttered tops of biscuits.
Bake 12 to 14 minutes or until golden brown.