Coconut Pecan Christmas Cake
Coconut Pecan Christmas Cake | Wow your guests with a deliciously festive cake at your next Christmas Party!  With THREE different looks to choose from!
I make this cake every year for our Christmas party and have been making it for over 20 years.  It is so delicious your guest will never know that it's semi homemade!  That's right this cake starts with a white cake mix and vanilla pudding.  That doesn't matter because you also add lots of coconut and pecans.  Let's not forget about the wonderful cream cheese frosting!
An up close look at the decorations!
I have always decorated this cake to look like a wreath.  I called it "Wreath Cake".  This year I decided to change it up.  So I gathered all my Christmas cupcake picks and created two fun scenes.  These picks can be ordered from most bakery supply places.  I've had the trees for a couple of years, I'm not sure where the silver or decorated ones came from but click HERE for the Pine Tree cupcake picks.  Click HERE for the Santa and Sleigh Cake Topper.  The deer I found at Michaels on the miniature holiday aisle.
Bake the cake and cool completely. Line around the edges of the cake with wax paper.
Frost the outside, top and part way down the center, pat on a thin layer of coconut.
Let's get started creating some fun cakes!
THE LIGHTS:  These are for decorative purposes only.  If you choose to use lights on your cake make sure to take them off before serving the cake.  This is just to add a little of a WOW factor!  They are as always optional.  But…..WOW!  I LOVED THEM!  I used battery operated led bright white teeny bulbs (20) on a white cord.
Sanitize the lights by wiping them with sanitized sheets.  Cover the battery pack either in a sandwich bag or plastic wrap. Place the battery portion of the lights in the center of the cake.
To hold the cord/lights down, open a paper clip and snip one side to form a U shape and press into the cake.  Lightly cover cord and center of the cake with the remaining coconut.  TIP:  Have a little extra on hand just in case you need more.
FORREST SCENE
RESERVE 1/2 OF THE FROSTING!  For height add some frosting to the edge of one side of the cake.
SANTA
RESERVE 3/4 CUP OF THE FROSTING!  For the trees and height add dollops of frosting to the edge of the back side of the cake (about five) and on the right side of the cake add a tall dollop of frosting.  Cover frosting with coconut.  Place Santa on the cake with the first two reindeer on the tall dollop of frosting.
WREATH
Add a few pieces of artificial pine, pine cones and a bow.  You can also use floral picks, ornaments or anything that will make this cake look like a wreath.  I usually decorate this cake without the lights so that the center is open like a wreath.  I decided to leave the lights this time.
Coconut Pecan Christmas Cake
Total Time:
1 hour
30 minutes
Ingredients
For Coconut Pecan Christmas Cake:
1 (15.25 ounce) white cake mix
1 (3.4 ounce) vanilla instant pudding mix
1 1/3 cups water
4 large eggs
1/4 cup oil
1 (14 ounce) bag sweetened coconut, divided
1 cup pecans, chopped
For the Cream Cheese Frosting:
1/3 cup butter, softened
4 ounces cream cheese, softened
5 cups confectioners sugar
2 tablespoons PLUS 1 1/2 teaspoons milk
1/2 teaspoon vanilla extract
For the Topping:
Remaining coconut (from the 14 ounce bag)
Instructions
For the Snowball Cakes:
Preheat oven to 325°.
Spray a 10-inch bundt pan with non stick cooking spray and set aside.
Combine cake mix, pudding mix, water, eggs, and oil.
Cream together until well combined.
Stir 1 1/3 cups of the coconut and nuts.
Pour batter into prepared baking pan.
Bake 1 hour or when a toothpick is inserted it comes out clean.
Place of a wire cooling rack for 15 minutes.
Take out of the pan; place on a wire rack to cool completely.
Place cake on a cake plate; line the edges around the cake with wax paper.
Apply frosting on the sides, top and half way down the center.
Press the remaining coconut into the frosting.
Store the cake in the refrigerator until ready to serve.
For the Cream Cheese Frosting:
Cream together the butter and cream cheese.
Slowly add the confectioner's sugar.
Add the milk and vanilla.
Beat until creamy.
Decorate or leave as is.
MORE IDEAS FOR THIS COCONUT PECAN CAKE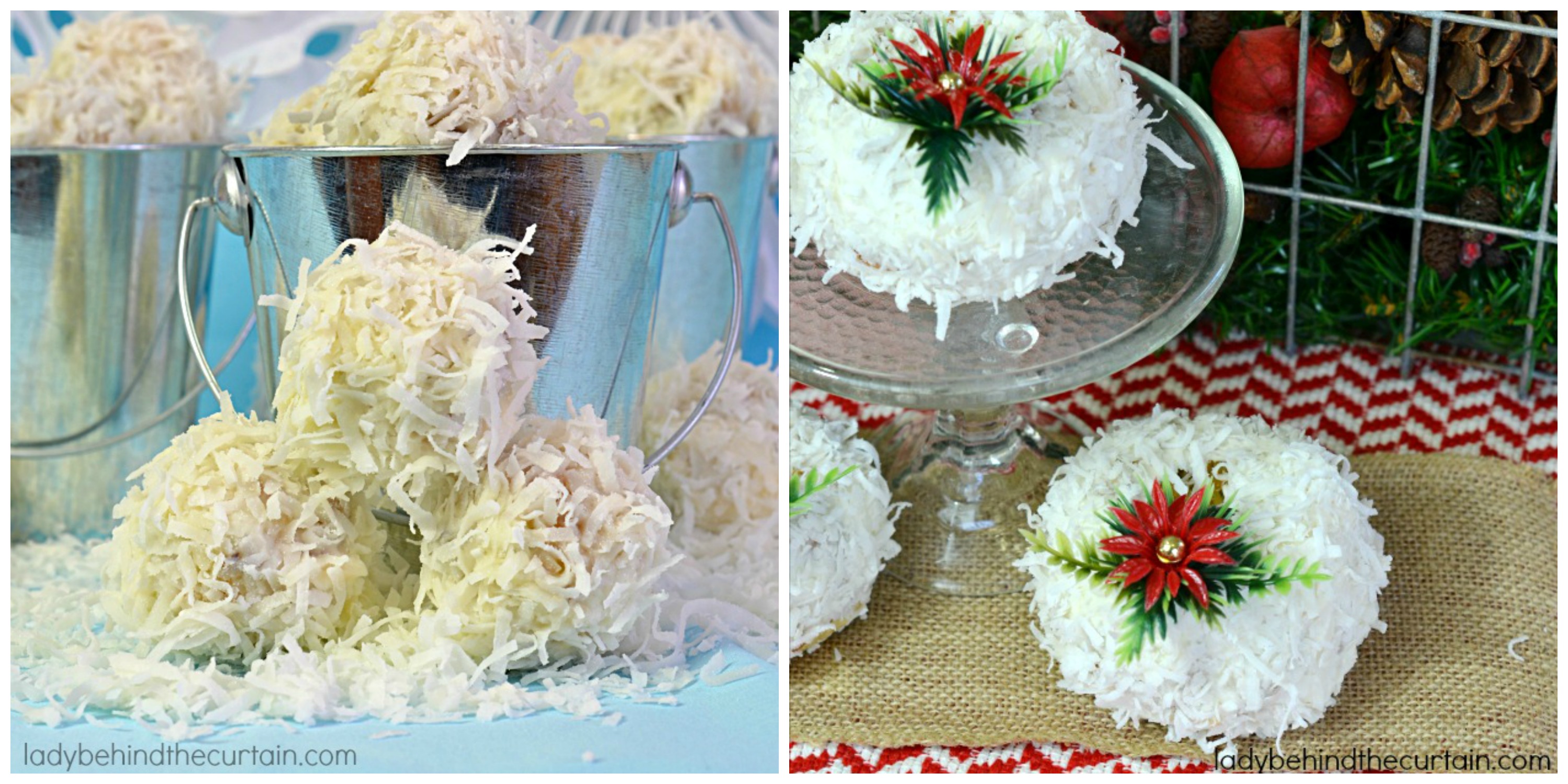 COCONUT PECAN SNOWBALL CAKES 2.  MINI COCONUT PECAN BUNDT CAKES