Easy Homemade Pita Bread | Pita bread is lower in calories than 2 slices of bread and stuffing the pouches with a Caprese Salad, Chicken Salad or Egg Salad makes for a wonderful lunch!  It's a win with only 192 CALORIES for the WHOLE pita!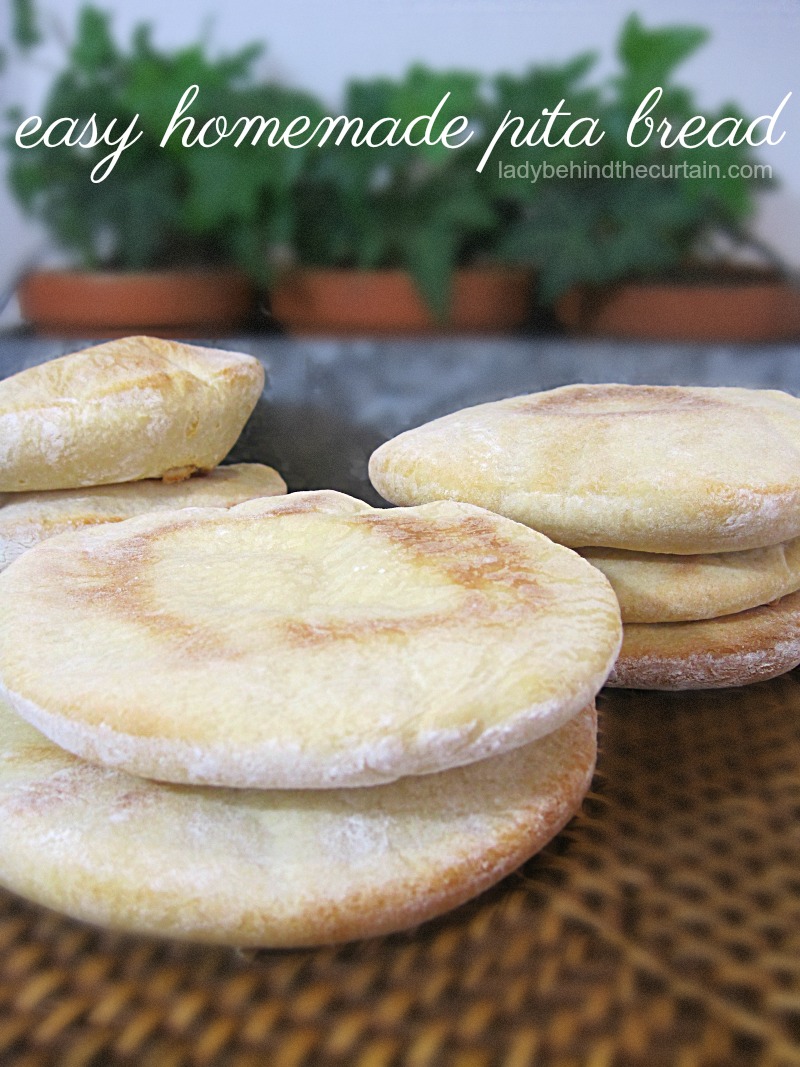 Create a fun and low calorie salad bar for your guests.  Don't forget to add a stack of this Pita Bread!  Of course if eating salad in a bread pouch isn't your thing or you love it but your teens could live without it don't worry I've got you covered.  Simply skip slicing the pita in half and making a pocket.  Leave the pita whole and use it as pizza crust.  This is perfect for when the kids get home from school or practice.  Make extra and store them in the freezer for a quick and delicious pick me up pizza snack.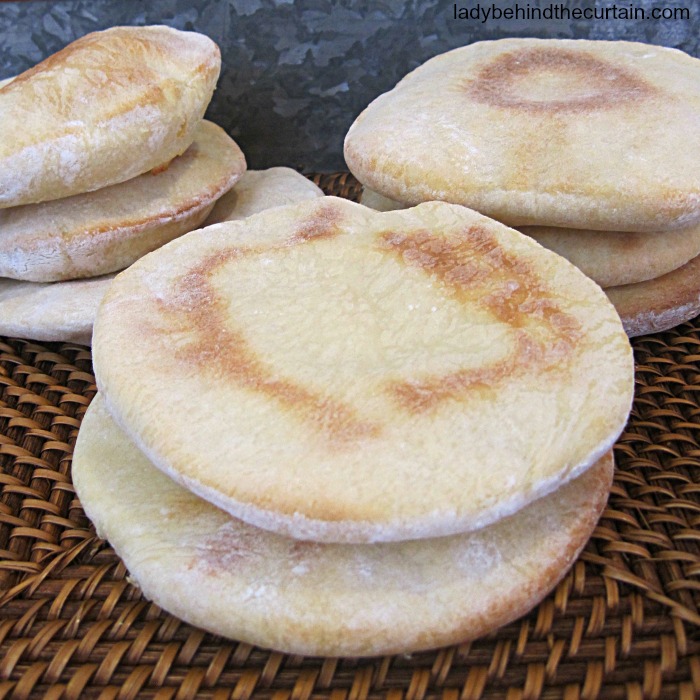 Ingredients
1 package active dry yeast
1 1/2 cups warm water (105 to 115°)
1 tablespoon honey
3 1/3 to 4 cups all purpose flour
1 teaspoon salt
2 tablespoons olive oil
Instructions
In a small bowl combine yeast, 1/2 cup of the warm water, and the honey.  Let stand about 10 minutes or until foamy.
In a large mixing bowl combine 3-1/2 cups flour and the salt; make a small depression in the middle of the mixture.  Stir the remaining 1 cup water and the oil into the yeast mixture.  Slowly pour the yeast mixture into the flour mixture, stirring until dough forms a ball.  TIP: Or do like me and put the flour and salt into my mixing bowl, fit the mixer with the dough hook, pour the yeast mixture in and mix until a ball of dough forms. (much easier this way)
Place dough into a well oiled bowl; cover loosely with plastic wrap.  Let rise in a warm place until double in size (about 1-1/2 to 2 hours).  (I usually set my bowl in the stove top while it's preheating.)
On a floured surface, knead dough for 10 minutes, adding enough flour to keep dough from sticking.  Divide dough into 10 pieces; roll each into a ball.  Cover loosely; let stand 10 minutes.
Preheat oven to 500 degrees.  Position racks at bottom of oven.  On a lightly floured surface, roll out dough balls to 6-inch circles.  Transfer circles to un-greased baking sheets.  Bake for 4 minutes; turn over and bake for 2 minutes more. (They will puff.)  Transfer to wire racks to cool.  Repeat with remaining dough.
Nutrition Information
Amount Per Serving
Calories

0
Total Fat

0g
Saturated Fat

0g
Cholesterol

0mg
Sodium

0mg
Fiber

0g
Sugar

0g
Protein

0g
MORE BREAD RECIPES
PRETZEL HAMBURGER BUNS  2. EASY HAMBURGER BUNS 3. FAN TAN ROLLS
NEVER MISS A POST!
Sign up for my newsletter (two per month) and receive my recipes in your inbox. Easy to see anytime and saved for safe keeping. Click Here and sign up today! —->>>>CURTAIN CALL NEWSLETTER