Peanut Butter Cheesecake Brownies
Peanut Butter Cheesecake Brownies: ATTENTION ALL YOU PEANUT BUTTER LOVERS HAVE I GOT THE DESSERT FOR YOU! These Peanut Butter Cheesecake Brownies are VERY VERY RICH!!! BUT, so YUMMY!!! Layers upon layers of flavor. 2 kinds of chocolate and 3 kinds of peanut butter PLUS a cream cheese filling!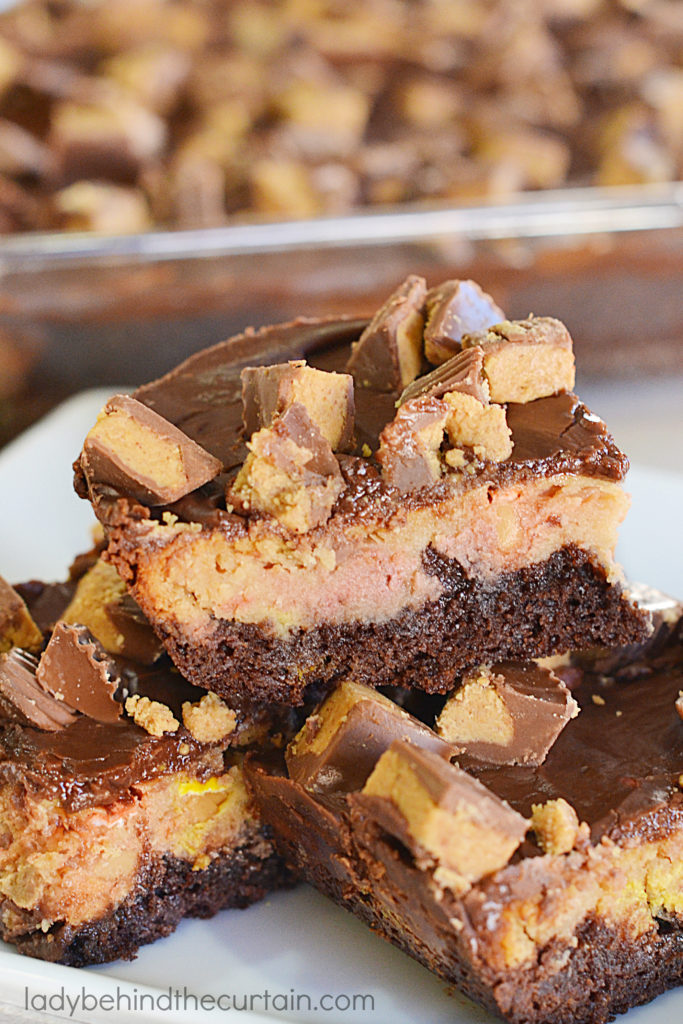 Recipe Notes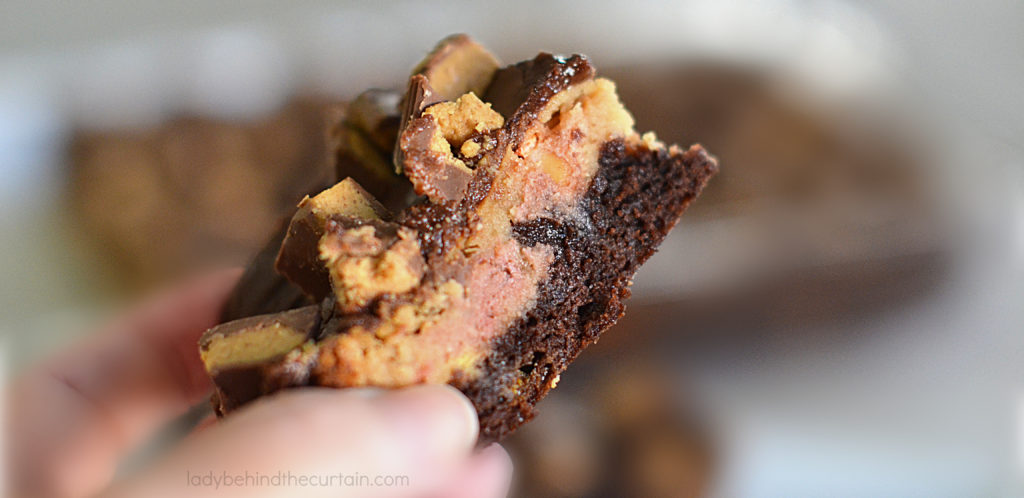 Use a good brownie mix ( my favorite is Ghirardelli)
Prepare the brownie batter, but DO NOT BAKE IT until the cheesecake batter has been spread over the top. The brownie and cheesecake layer batters are baked together at the same time.
The cheesecake layer will look thin at first. As it bakes it will puff up nicely.
Because the Peanut Butter Cheesecake Brownies are super rich they are cut into small pieces. The reason for the 24 servings.
BRING THE RECIPE WITH YOU! This may be easy to make but it does not disappoint on flavor. EVERYONE is going to want this recipe.
How to Make Peanut Butter Cheesecake Brownies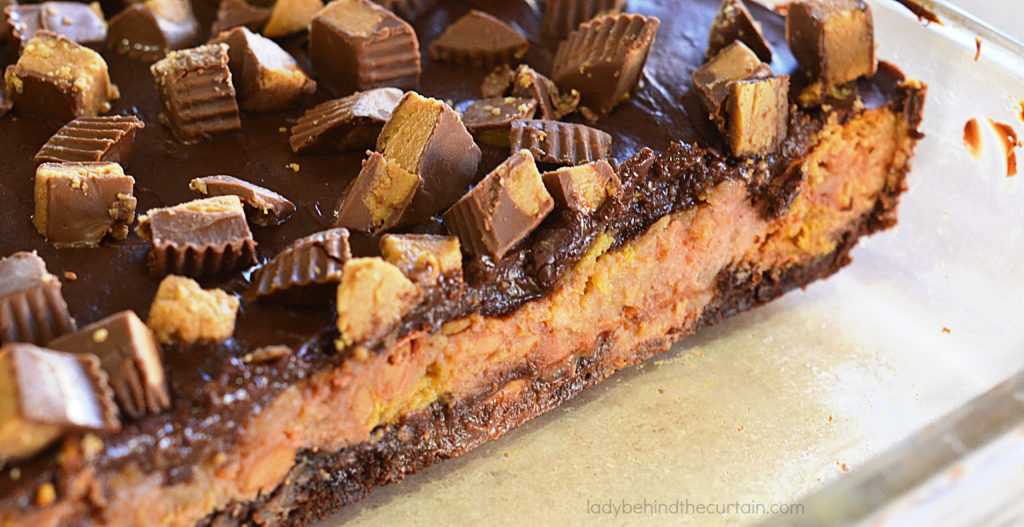 INGREDIENTS

For the Brownie Layer:
1 box chocolate fudge brownie mix (plus ingredients on the box to prepare the brownie mix)
For the Peanut Butter Layer:
1 (8 ounce) cream cheese, softened
1 (14 ounce) sweetened condensed milk
½ cup creamy peanut butter
1 (12 ounce) bag Reese's Pieces candy
For the Chocolate Ganache Layer:
1 (12 ounce or 11.5 ounce) bag milk chocolate chips
3 to 5 tablespoons heavy whipping cream
For the Topping:
12 large Reese's Peanut Butter Cups, chopped

DIRECTIONS
FOR THE BROWNIE LAYER:

Preheat oven to 350°.
Lightly coat a 9 x 13-inch pan with cooking spray.
Prepare the brownie mix according to package directions.
Spread the batter in pan and set aside.

FOR THE PEANUYT BUTTER CHEESECAKE LAYER:

In a large bowl, beat cream cheese until fluffy.

Add condensed milk and peanut butter and beat until smooth.
Stir in the Reese's Pieces candies.
Spoon the mixture over the batter.
Spread evenly.
Bake for 40 minutes or until cheesecake layer is set and edges are golden brown.
Cool for 30 minutes and refrigerate for 30 minutes.

FOR THE CHOCOLATE GANACHE LAYER:

In a small bowl microwave the chocolate chips and whipping cream for 1 minute, or until chips are melted. TIP: If the chocolate seems a little grainy, add more cream. START with THREE TABLESPOONS. If more is needed add ONE TABLESPOON at a time. Until chocolate is creamy.
Spread over cheesecake layer.

FOR THE TOPPING:

Sprinkle Reese's Peanut Butter Cup pieces over top.

Store covered in the refrigerator until completely cooled.
Cut into small squares.
MORE RECIPES WITH PEANUT BUTTER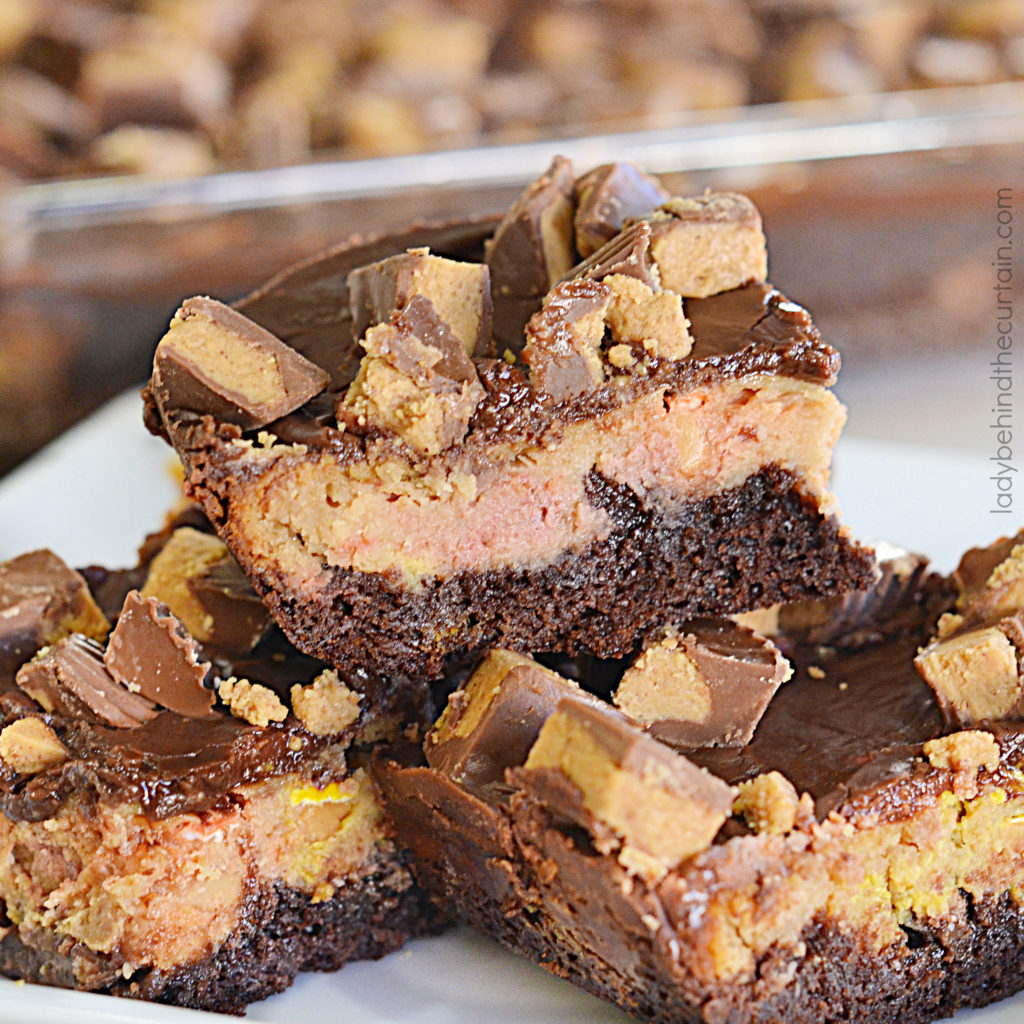 NEVER MISS A POST