Pretzel Hamburger Buns |  Make your own Pretzel Hamburger Buns just like restaurant style buns but better.  Nothings better than a homemade bun and these buns do not disappoint.   Whenever there's a pretzel hamburger bun on a menu I always order it.  Now I can have them at home too!
These pretzel hamburger buns were so easy to make.  BE BRAVE!  Don't let making bread scare you.  It really is quite easy and well worth it.  These pretzel hamburger buns are so tender and add another layer of flavor to your burger.  Come on you can do it.  Try it.  I promise you won't be disappointed.
Transform a simple burger into a masterpiece by adding a homemade pretzel hamburger bun!  Or choose from some of my favorite burger recipes.  LOADED CHILI CHEESEBURGERS, FIRECRACKER BURGERS AND PHILLY CHEESE BURGER.
Form into balls.
Cover and let rise to double.
Simmer in boiling water.
Score.
Bake!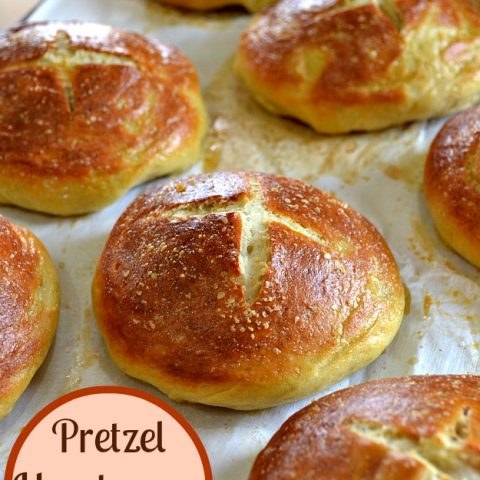 Pretzel Hamburger Buns
Yield:
8 Pretzel Hamburger Buns
Total Time:
2 hours
20 minutes
Once you try making bread you'll be hooked!
Ingredients
I-1/2 cup warm water (110 degrees)
2-1/4 teaspoons or 1/4 ounce active dry yeast
2 teaspoons granulated sugar
4-1/4 cups all-purpose or bread flour
2 teaspoons salt
4 tablespoons butter, melted
1/4 cup baking soda
1 egg, lightly beaten
salt for sprinkling (pretzel or kosher)
Instructions
In the bowl of your stand up mixer fitted with the dough hook, add the water, yeast and sugar.
Stir and let rest for 5 - 10 minutes or until foamy.
Add the flour, salt and melted butter.
Mix until well combined and forms a ball.
Transfer to a medium bowl sprayed with non stick cooking spray, cover with plastic wrap and allow to rise in a warm place for 1 hour or until doubled in size.
Line a cookie sheet with parchment paper and set aside.
Pull dough out of bowl onto a lightly floured surface and divide into 8 equal portions (about 4.2 ounces each).
Form each portion into and ball by first pinching the top to the bottom and then rolling in the palm of your hand.
Place on prepared cookie sheet seam down in a staggered position.
Cover with towel allow to rest in a warm place for 30 minutes or until they rise and double.
Preheat oven to 425 degrees and place oven rack in the middle position.
In a large saucepan, bring 2 quarts of water to a low boil.
Remove from heat and slowly add the baking soda.
Return to heat and continue with a steady boil.
Place 2 - 3 of the rolls at a time in the poaching liquid, seam side down.
Poach for 30 seconds and then carefully turn the roll over and poach for another 30 seconds.
Remove with a slotted spoon to the same prepared sheet pan, seam side down.
Repeat with the remaining rolls.
Using a pastry brush, brush each roll with the beaten egg, making sure to coat all sides completely and then sprinkle each roll with salt.
Using a sharp straight edged knife, cut a "X" shape in the top of each roll.
Bake for 15 to 20 minutes.
MORE HOMEMADE PRETZEL RECIPES
PIZZA DOUGH PRETZEL BITES  2. SOFT BEER PRETZELS  3. PRETZEL NUGGETS
NEVER MISS A POST!
Sign up for my newsletter and receive my recipes in your inbox. Easy to see anytime and saved for safe keeping. Click Here and sign up today! —->>>>CURTAIN CALL NEWSLETTER