Fresh Southern Peach Tea | Summer means nice fresh big juicy peaches and iced tea!  Combine the two for a delicious refreshing drink.  This version of Southern Sweet Tea is not super sweet.  It has a hint of sweetness from the simple syrup and a light peach taste.  Made with real fresh peaches.  NO artificial colors or flavors added.  Just simple wholesome ingredients.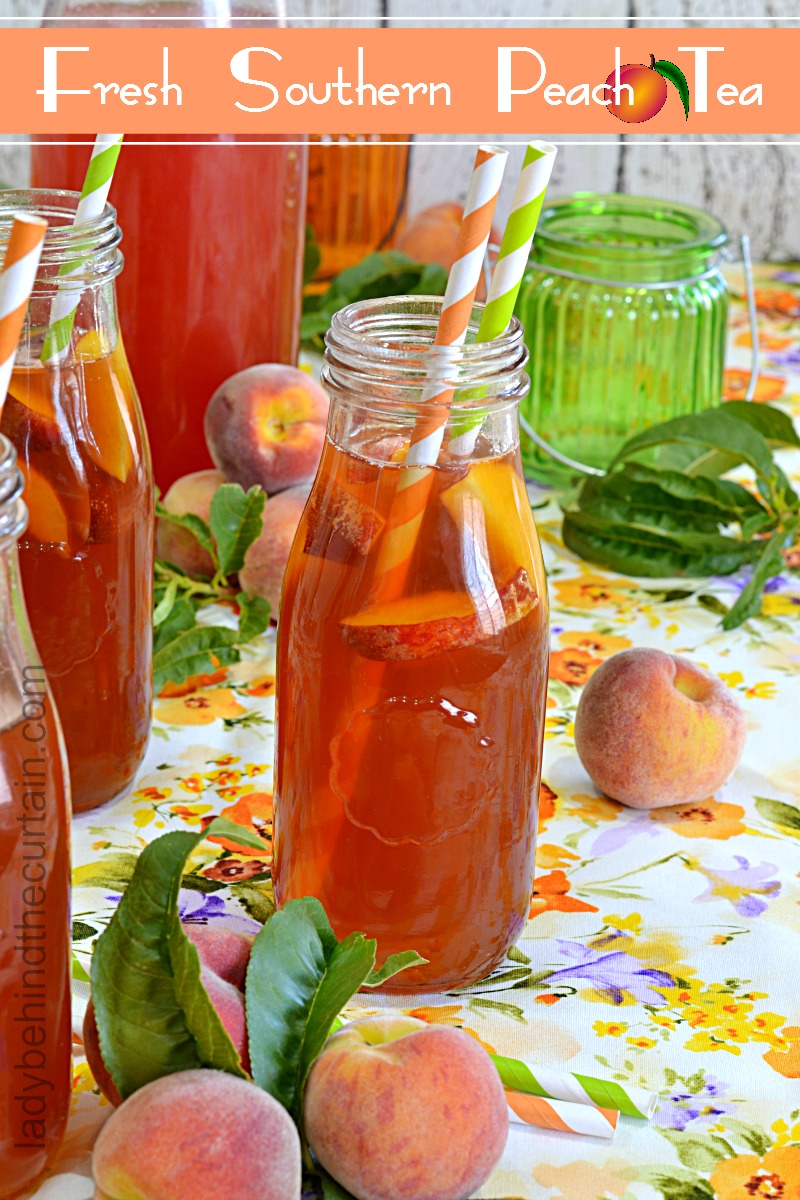 This is one of my favorite drinks and perfect for barbecue season and hot summer days!  This recipe is so easy to make and a great way to use up some of your extra peaches.  If you have a peach tree like I do you'll never be able to eat all the peaches before they start to go bad.  Make several batches of the fresh peach flavored simple syrup and store it in a tightly covered container in the refrigerator.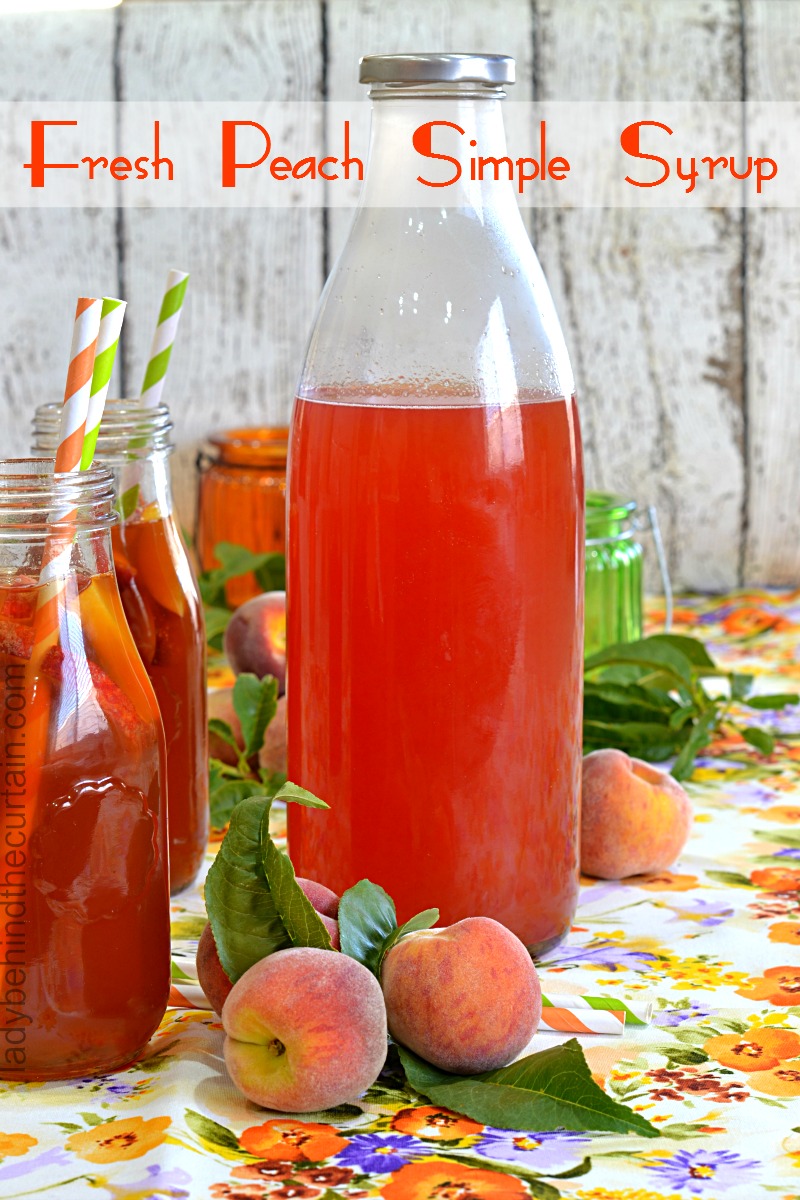 Instead of blending the peaches into a thick consistency, boil them and smash the peach juice into the simple syrup and strain out the pulp.  No one likes a thick iced tea!  If you're craving Fresh Southern Peach Tea and it's not peach season you can also use frozen peaches. The color of the syrup will be different becasue frozen peaches do not have the peel on them.  The peel is what gives this wonderful syrup it's peachy color.  I would stay away from canned peaches.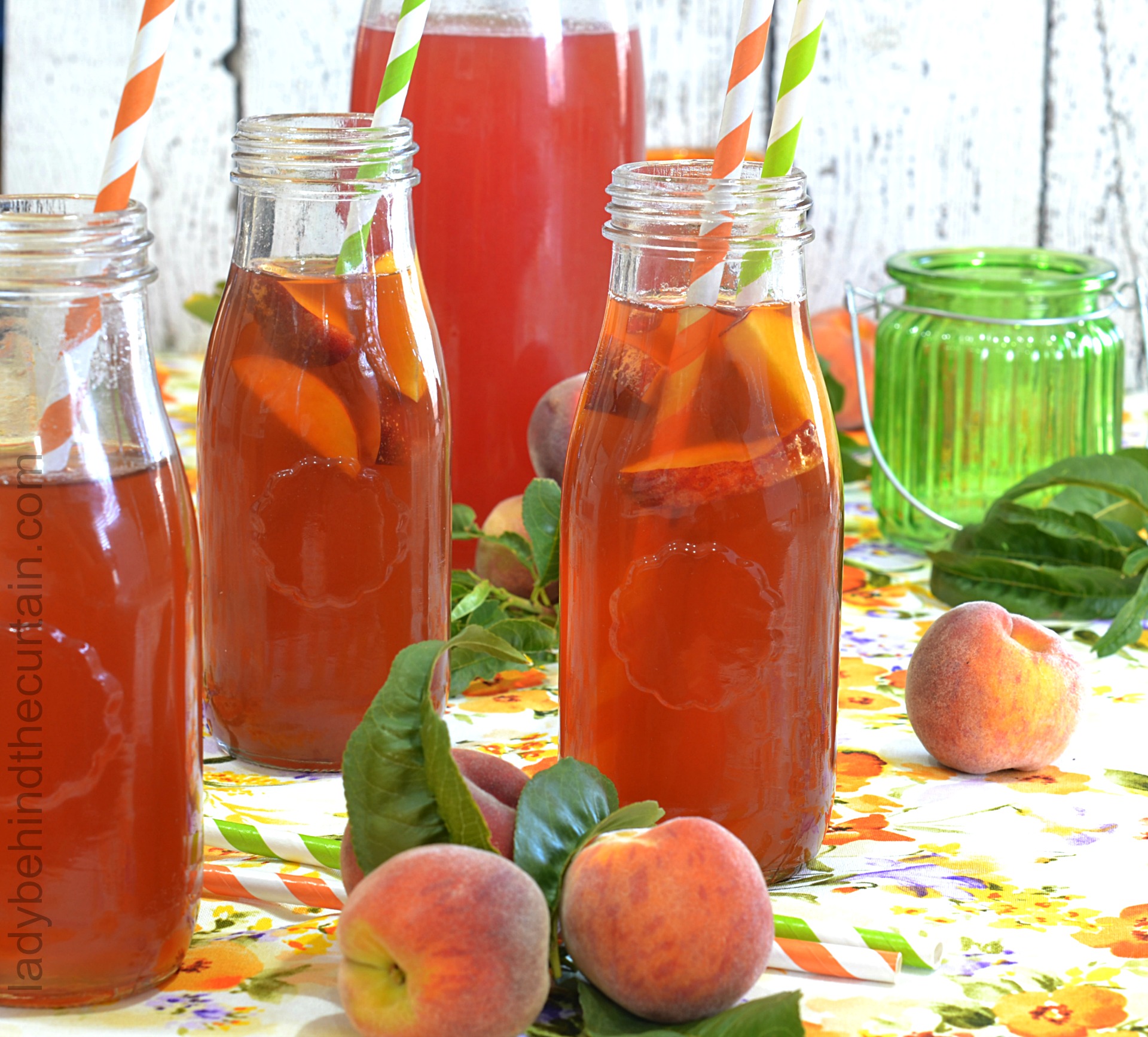 Do you frequently order the Peach Tea at Olive Garden?  THIS TEA IS BETTER!  Unlike the peach tea from Olive Garden (which has peach flavored syrup) this tea actually has peaches in it!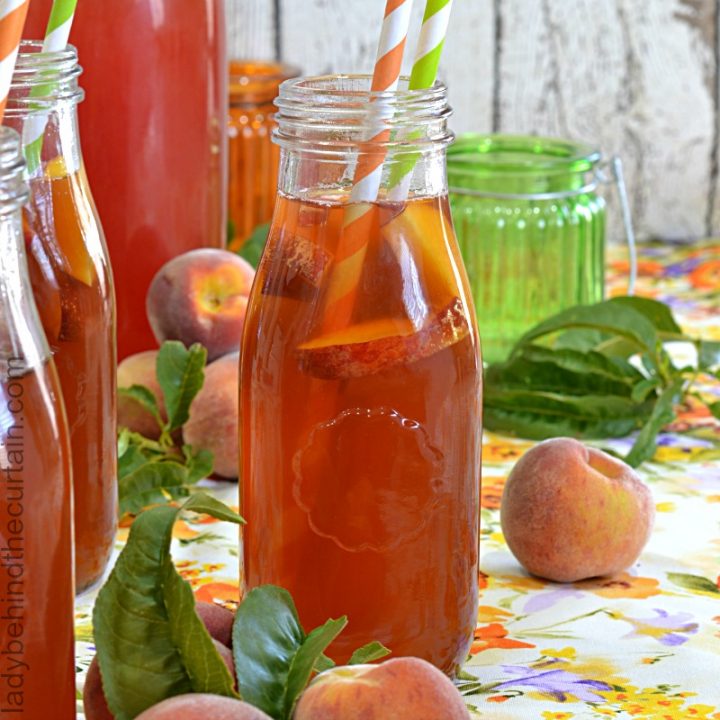 Fresh Southern Peach Tea
Ingredients
For the Peach Simple Syrup:
12 ounces of ripe peaches, sliced (DO NOT PEEL)
1 cup granulated sugar
1 cup filtered water
For the Black Tea:
1 large bag Tazo black tea
4 cups filtered boiling water
4 cups filtered cold water
Instructions
For the Peach Simple Syrup:
In a medium saucepan, add the peach slices, sugar and water.
Bring to a boil; take off the burner.
Use a potato smasher and smash the peach slices.
Cover and let steep 30 minutes.
Smash the peaches one more time; use a fine mesh strainer lined with cheesecloth and press the syrup through.
Store in a container with a tight fitting lid in the refrigerator for up to a week.
For the Black Tea:
Drop a tea bag into the bottom of a 2 quart pitcher; pour boiling water over tea bag, cover and let steep 30 minutes.
Remove tea bag, pour cold water in the pitcher with the hot water; add all the peach simple syrup.
Stir to combine.
Serve over ice.
MORE FRESH TEA RECIPES
APPLE CINNAMON ICED TEA  2. REFRESHING STRAWBERRY TEA  3. BLUEBERRY TEA
NEVER MISS A POST!
Sign up for my newsletter (two per month) and receive my recipes in your inbox. Easy to see anytime and saved for safe keeping. Click Here and sign up today! —->>>>CURTAIN CALL NEWSLETTER