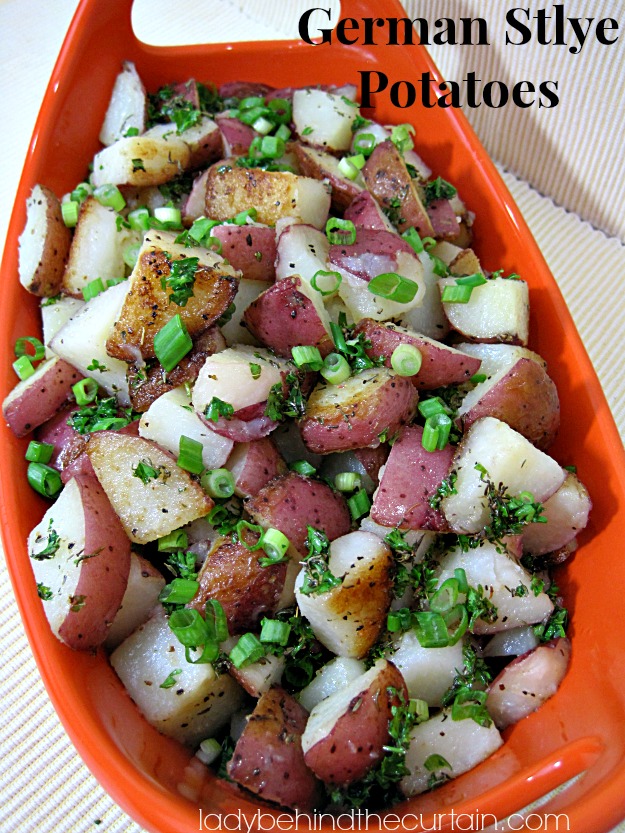 What makes the perfect side dish?  Taste and convenience.  These German style potatoes dish fits BOTH of those categories.  TASTE:  The herbs with the white balsamic vinegar really adds zip to these other wise bland potatoes. LOVED IT!  CONVENIENCE:  The day before your dinner party chop and boil the potatoes to fork tender and store in the refrigerator until ready to prepare.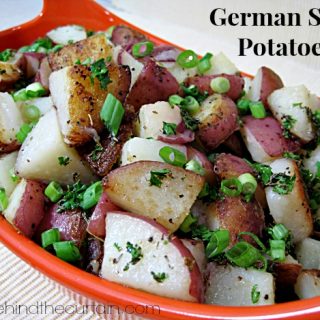 German Style Potatoes
Ingredients
6 cups water
3-1/4 teaspoons salt, divided
1-1/2 pounds medium-size red-skinned potatoes, unpeeled and chopped into roughly 1-inch pieces
5 tablespoons olive oil, divided
3 tablespoons white balsamic vinegar
1 tablespoon chopped fresh thyme
1 tablespoon chopped fresh parsley
1 large yellow onion, diced
1 tablespoon minced garlic
1/2 teaspoon black pepper
Garnish: chopped green onion
Instructions
In a Dutch oven, combine water, 2 teaspoons salt, and potatoes.
Bring to boil and cook until just fork tender.
CONVENIENCE: Place in refrigerator until ready to make.
If serving right away. In a small bowl or jar combine 2 tablespoons olive oil, vinegar, thyme and parsley; set aside. In a large skillet heat remaining 3 tablespoons olive oil.
Add onion and garlic; cook for 3-4 minutes, stirring frequently.
Add potatoes, remaining 1-1/4 teaspoon salt, and pepper.
Cook until golden brown.
Add vinaigrette to potatoes, stirring to coat.
Remove from heat.
Garnish with chopped green onion.
Notes
his recipe was adapted from the Southern Lady September/October 2012 issue.