Halloween Vanilla Swiss Cake Roll
Halloween Vanilla Swiss Cake Roll |  It may not be spooky but it sure is cute!  Perfect for celebrating the Halloween season with family and friends.  A wonderful vanilla sponge cake rolled around a delicious creamy no bake cheesecake filling!  Your guests will be impressed when you pull out this showcase of a cake!  It might look hard but cake rolls are super easy to make.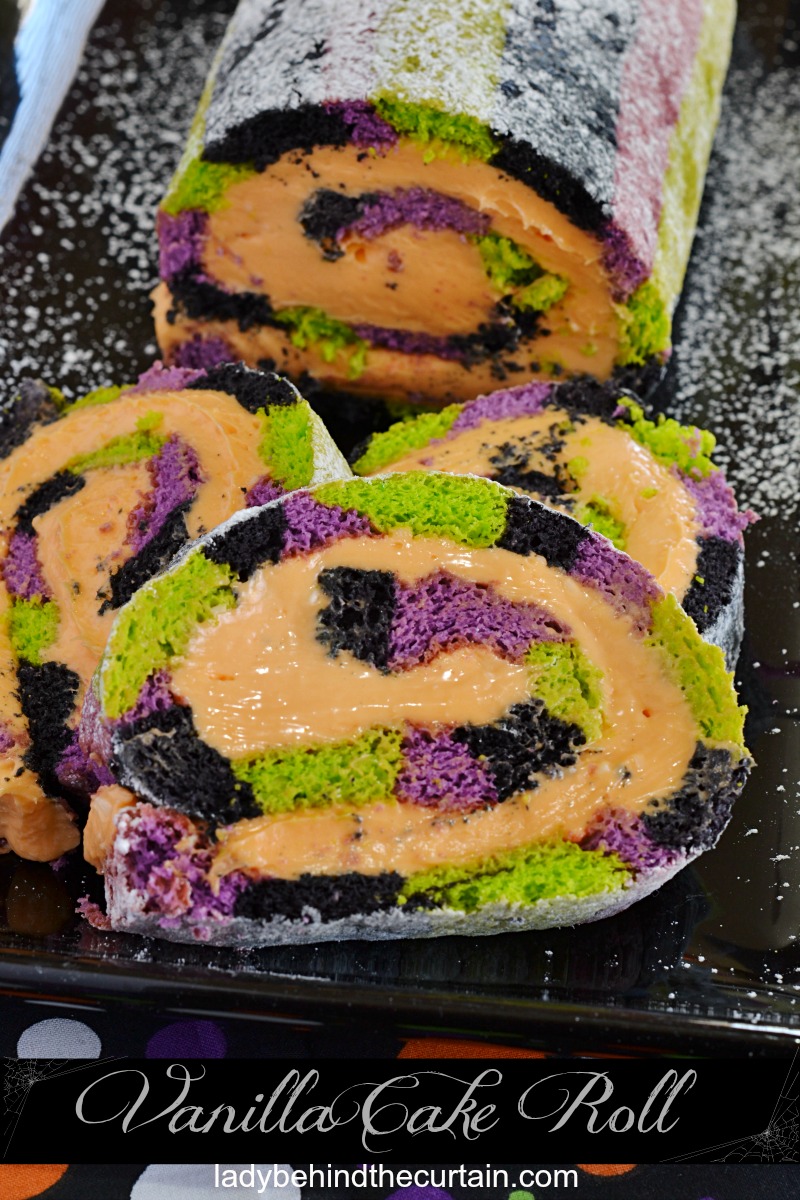 If you're feeling a little unsure of how to make this cake don't worry I have a step by step video to help you along.  NOTE:  The video is on how to make a cake roll not this specific cake roll but I'm confident that after watching the video you'll have no problem re creating this masterpiece of a cake!
Once you make the batter, divide it into three batches.  Add purple gel food coloring to one batch, green gel food coloring to another and black to the last.  Spoon batter into piping bags, snip the end.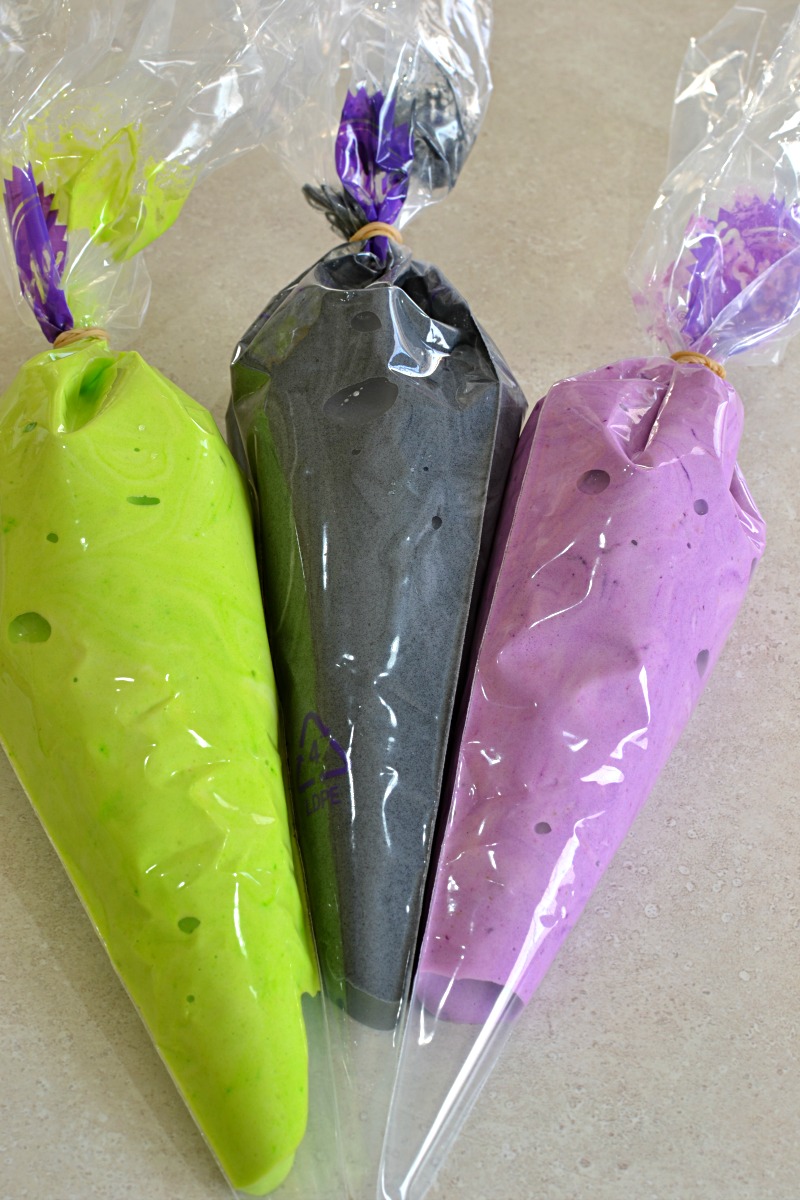 Pipe in a strip fashion on prepared baking pan.  NOTE:  In order to get the stripped look, make sure to pipe from the short end of the pan..
Halloween Vanilla Swiss Cake Roll
Ingredients
For the Cake
4 large eggs, separated
2/3 cup all-purpose flour
1 teaspoon baking powder
1/4 teaspoon salt
3/4 cup granulated sugar, divided
1/2 teaspoon vanilla extract
gel food coloring: purple, green and black
For the Filling
1 (8 ounce) cream cheese, softened
2 tablespoons unsalted butter, softened
1 cup congectioners sugar
3/4 teaspoon vanilla extract
optional gel food color: orange
additional confectioners' sugar, for sprinkling
Instructions
For the Cake:
Preheat oven to 375°.  Spray a 15x10-inch baking pan with non stick cooking spray, line with parchment paper and spray the paper; set aside.
In a medium bowl sift together the flour, baking powder and salt.
In a large mixing bowl; beat egg yolks until slightly thickened.  Gradually add 1/4 cup sugar, beating until thick and lemon colored (about 3 minutes). Beat in vanilla.  Add dry ingredients and mix well; set aside.
In a mixing bowl beat egg whites on medium speed until soft peaks form (about 3 minutes).  Gradually beat in remaining 1/2 cup sugar on high until stiff glossy peak form (about 3 minutes) and the sugar is dissolved.
Fold a fourth of the egg whites into the batter; fold in remaining whites.  Gently separate batter into three bowls.  Add purple gel food coloring to one, green gel food coloring to another and black gel food coloring to the last bowl.  Gently combine until all the food coloring is incorporated.  Spoon into three piping bags.  Snip the end; pipe in a strip fashion one color at a time until all the batter has been used.  Bake 10 to 12 minutes or until cake springs back when lightly touched.  Cool for 5 minutes.
Turn cake onto a kitchen towel dusted with confectioners' sugar.  Gently peel off parchment paper.  Roll up cake in the towel, starting with a short side.  Cool completely on a wire rack.
Unroll and spread on filling.  Roll the cake back up tightly wrap in plastic wrap and freeze for 2 hours.  This help set the filling and makes slicing easy.  Sprinkle confectioners' sugar over top of cake.
NOTE:  This cake freezes beautifully!  Tightly wrap in plastic wrap and foil.  Freeze up to 3 months.
For the Filling:
In a small bowl, beat the cream cheese, butter, confectioners' sugar, vanilla and orange gel food coloring until smooth.  Evenly spread to within 1/2 inch of edges.
Nutrition Information
Amount Per Serving
Calories

0
Total Fat

0g
Saturated Fat

0g
Cholesterol

0mg
Sodium

0mg
Fiber

0g
Sugar

0g
Protein

0g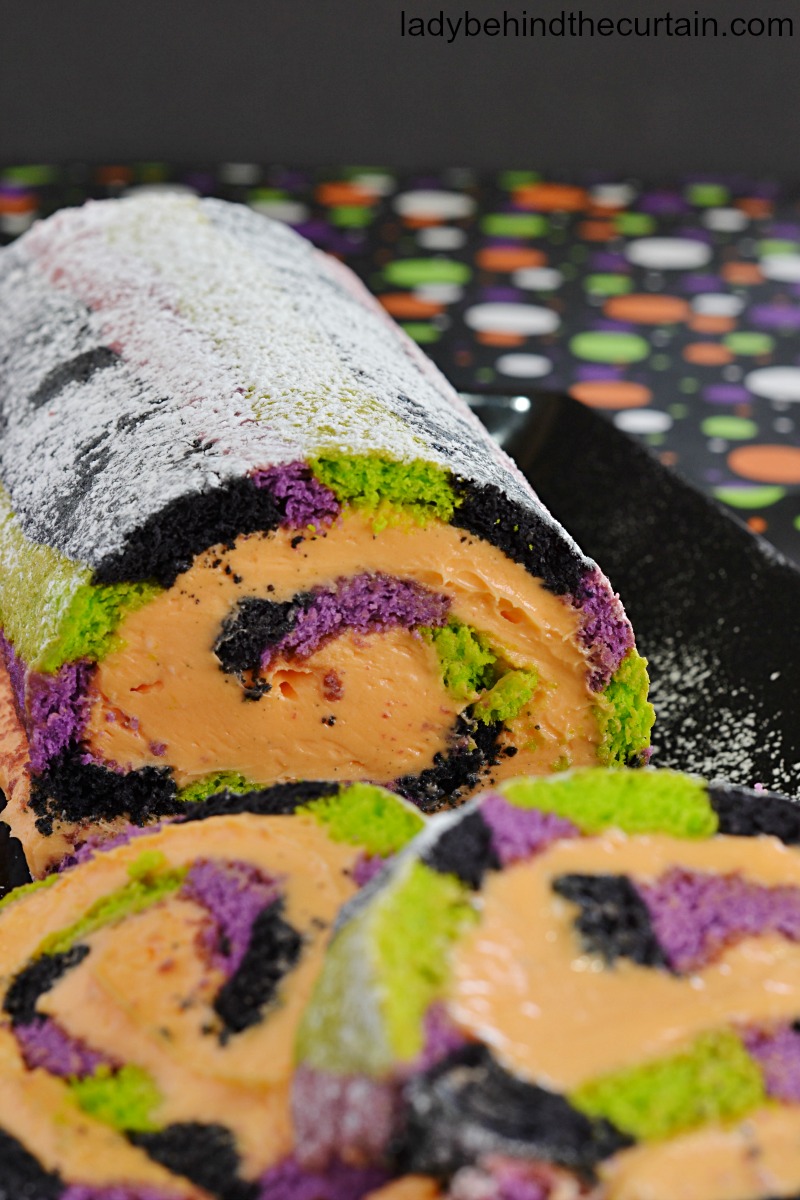 MORE HALLOWEEN DESSERT RECIPES
WITCHES BREW HALLOWEEN BUTTER COOKIES  2. PUMPKIN SPICE PUDDING HALLOWEEN CUPCAKES  3. HALLOWEEN VAMPIRE PRETZELS
NEVER MISS A POST!
Sign up for my newsletter (two per month) and receive my recipes in your inbox. Easy to see anytime and saved for safe keeping. Click Here and sign up today! —->>>>CURTAIN CALL NEWSLETTER