Witches Brew Halloween Butter Cookies
Witches Brew Halloween Butter Cookies | Fun Halloween cookies that literally melt in your mouth! These Witches Brew Halloween Butter Cookies may look hard to make but they're not! Follow my easy step by step instructions and you can dazzle your guests with delicious butter cookies at your next Halloween Party! These swirl cookies are perfect for a witch themed party or Hocus Pocus!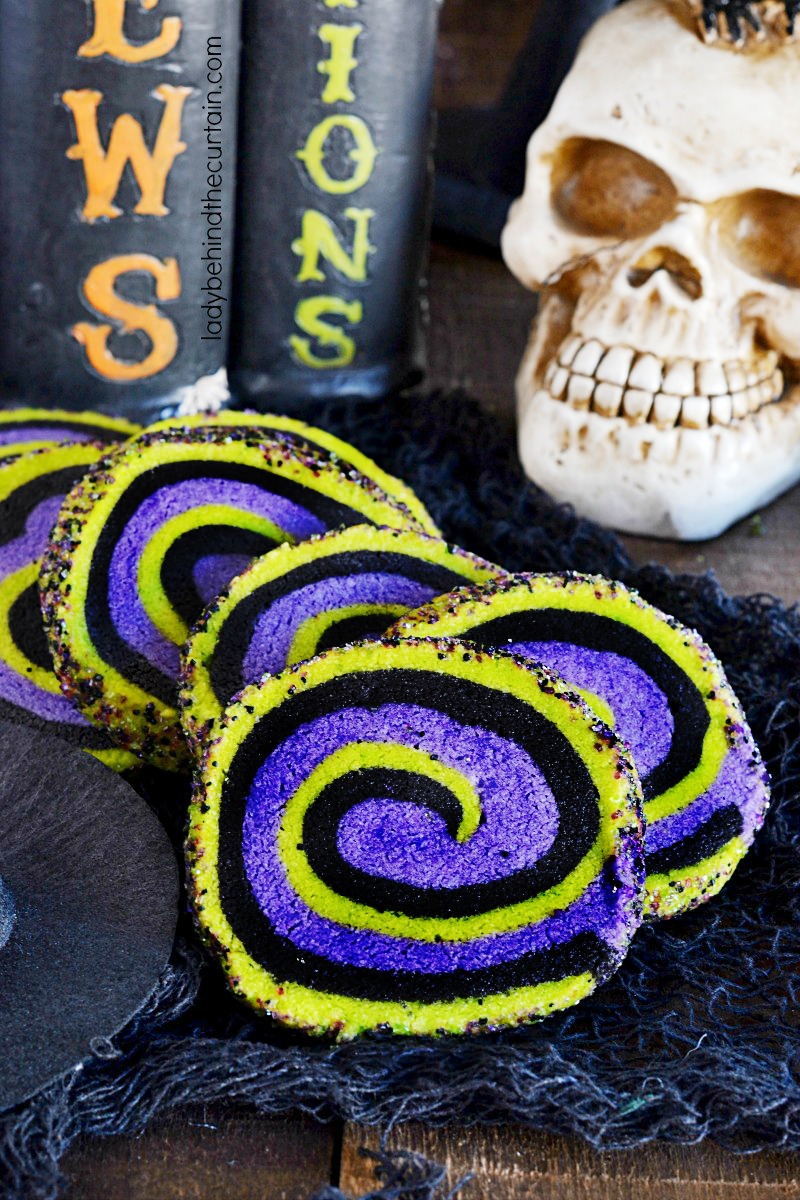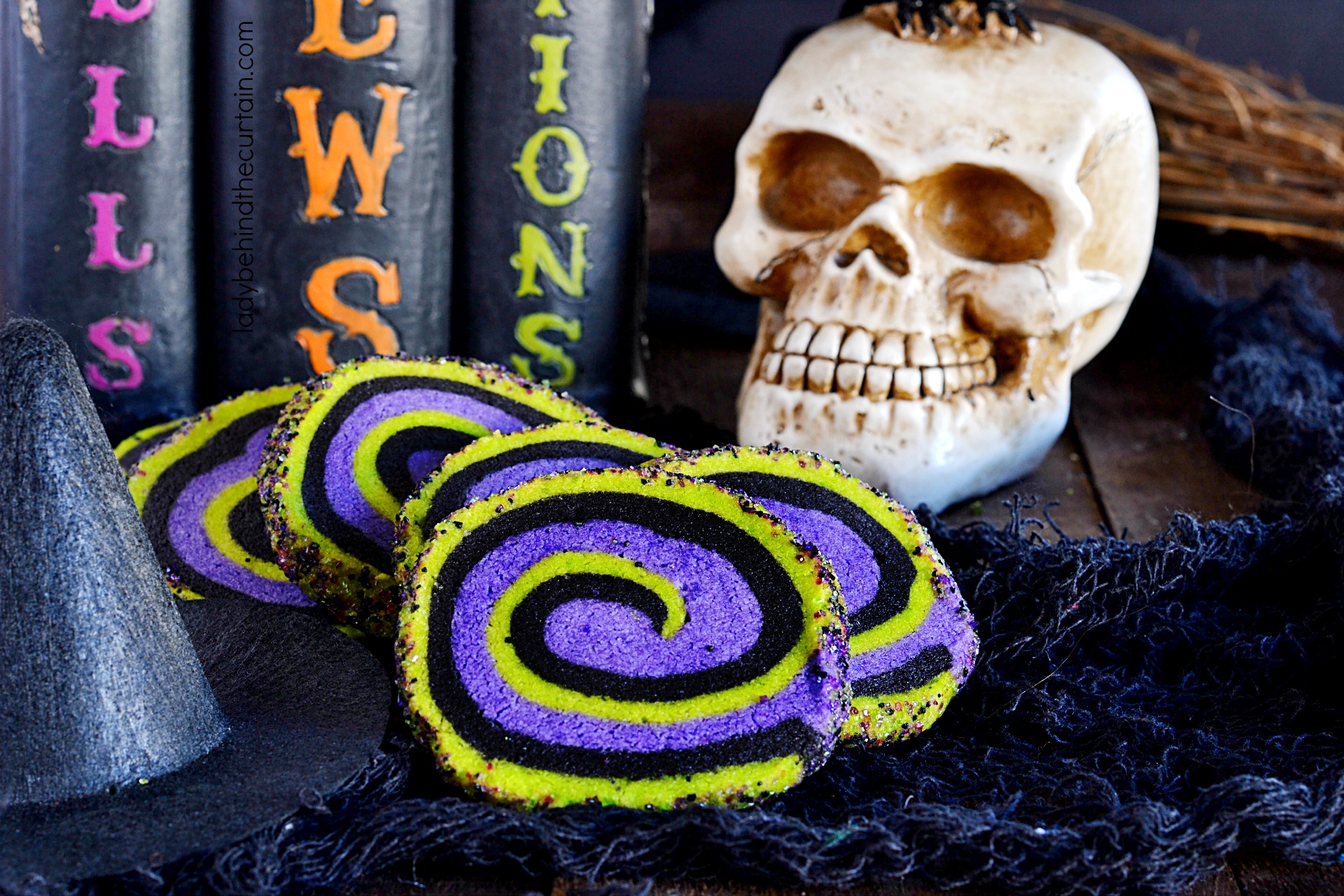 LET'S MAKE SOME WITCHES BREW HALLOWEEN BUTTER COOKIES!
Witches Brew Halloween Butter Cookies
Ingredients
2 cups plus 6 tablespoons all purpose flour, divided
1/2 teaspoon baking powder
1/4 teaspoon salt
2/3 cup powdered sugar
1/4 cup granulated sugar
1-1/4 cups butter, softened
1-1/2 teaspoons vanilla extract
food coloring (optional) green, yellow, purple, black
sprinkles (optional) 3 tablespoons of each color
Instructions
In a large mixing bowl combine the 2 cups of flour, baking powder, salt and sugars.
Mix briefly.
Add the butter in pieces, mix until the mixture has the consistency of cornmeal.
Add the vanilla and mix just until a ball forms.
Divide into 3 - 8 ounce balls.
Add food coloring of your choice and 2 tablespoons of flour to each ball.
Roll out each portion of dough between sheets of wax paper into a rectangle about 11 x 8-1/2-inches.
Peel wax paper and lay layers on top of each other in color order.
Leave the wax paper at the bottom of the bottom layer to help with the rolling process.
Roll into a jelly roll.
Refrigerate for 2 hours.
Place sprinkles into a 9x13 pan, roll the log until completely covered.
Preheat oven to 325 degrees.
Slice the log into 1/4 inch thick cookies and bake on parchment lined baking sheets for 15 to 17 minutes, until the cookies are no longer shiny on top and the bottoms are golden.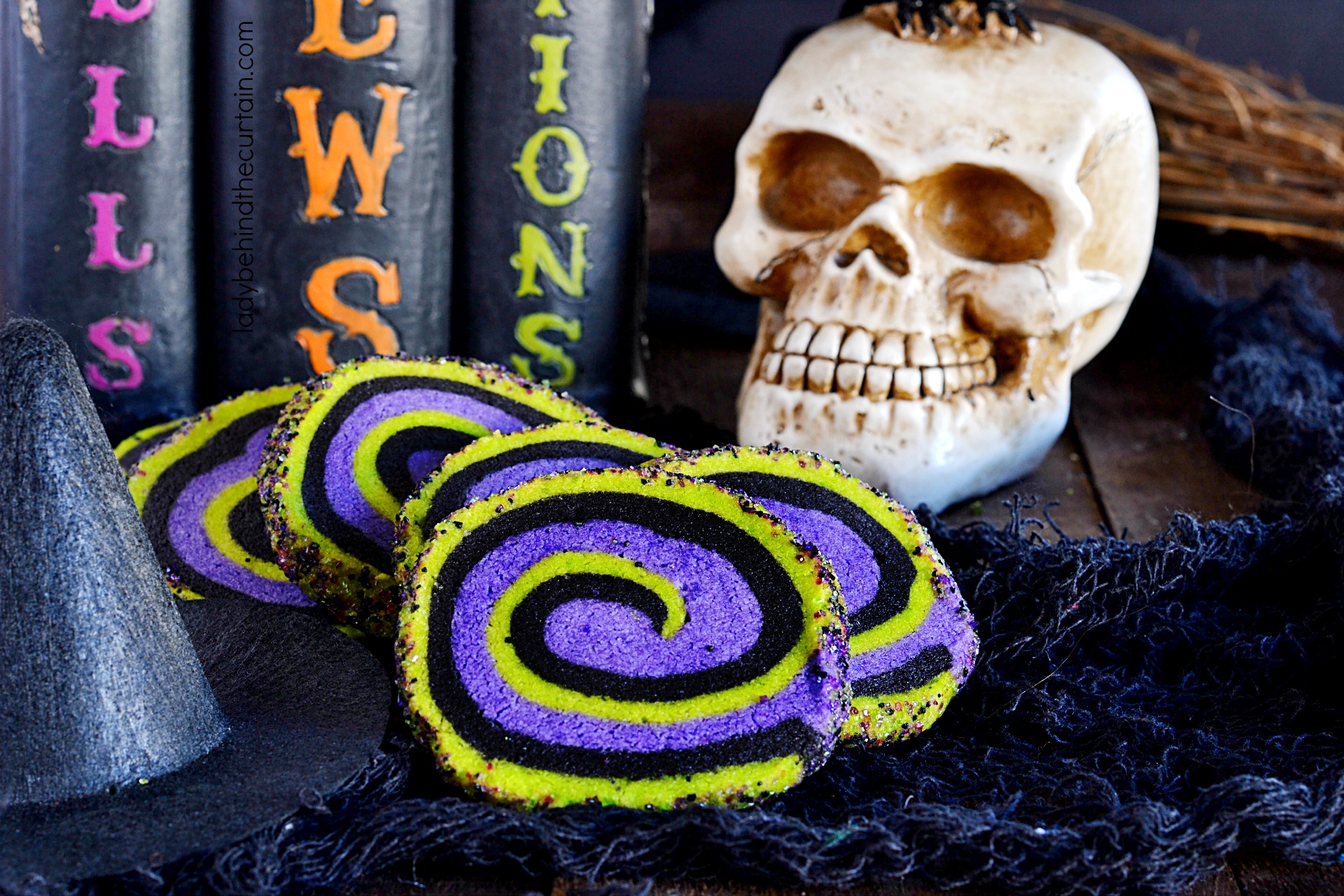 MORE HALLOWEEN WITCH THEMED PARTY TREATS
NEVER MISS A POST
MORE HALLOWEEN BUTTER COOKIE RECIPES YOU MIGHT LIKE. HALLOWEEN WITCH FINGER BUTTER COOKIES and BOO HALLOWEEN COOKIES