Pumpkin Spice Pudding Halloween Cupcakes
These Pumpkin Spice Pudding Halloween Cupcakes are so good you're going to want to make them for other occasions other than a Halloween Party.  Stock up on the Pumpkin Spice Pudding mix when it hits the store shelves.  These cupcakes would also work with a bat, owl or spider pick.  I bought my cat picks from Bake It Pretty.  For other occasions I would add this Cinnamon Cream Cheese Frosting.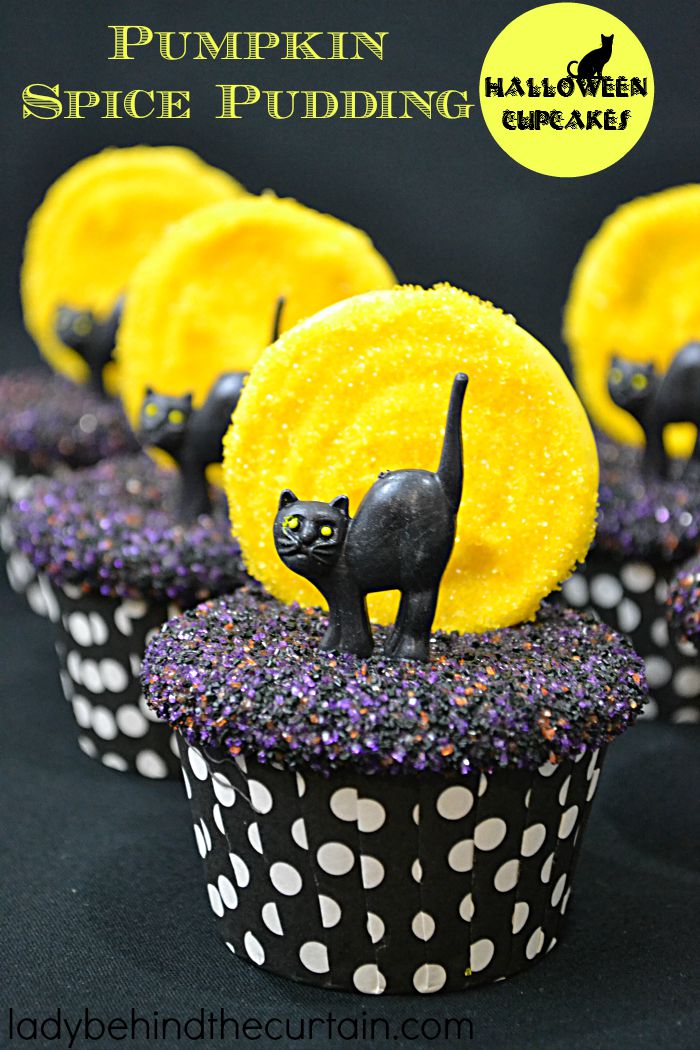 Add these Pumpkin Spice Pudding Halloween Cupcakes to your Halloween Pinterest board.  Don't have a Halloween board?  Let me help you build one.  Visit my LBC Halloween board for awesome Halloween party ideas.
To make the moon draw a circle on parchment paper (I used a cookie cutter).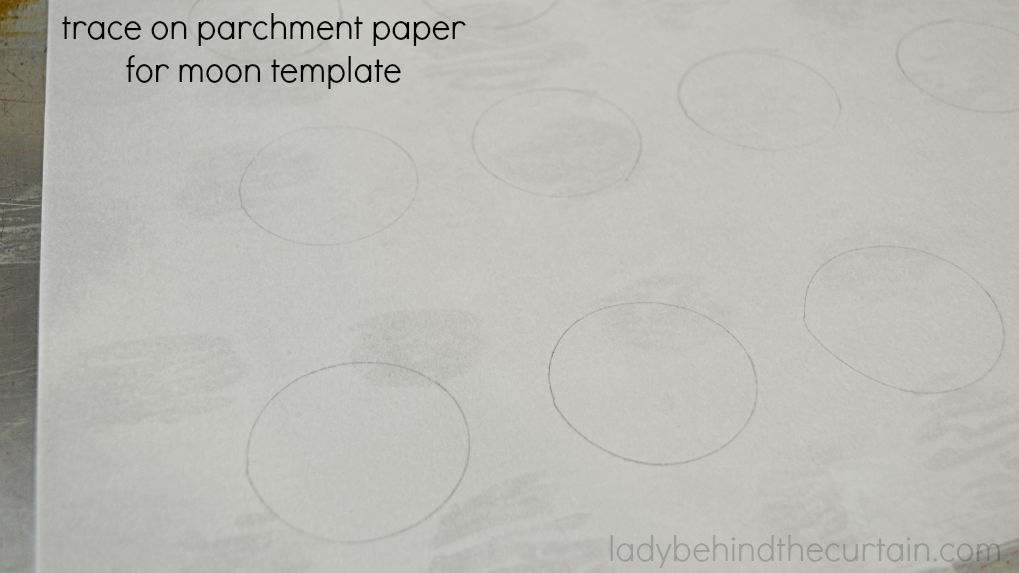 Add melted yellow candy and yellow sprinkles.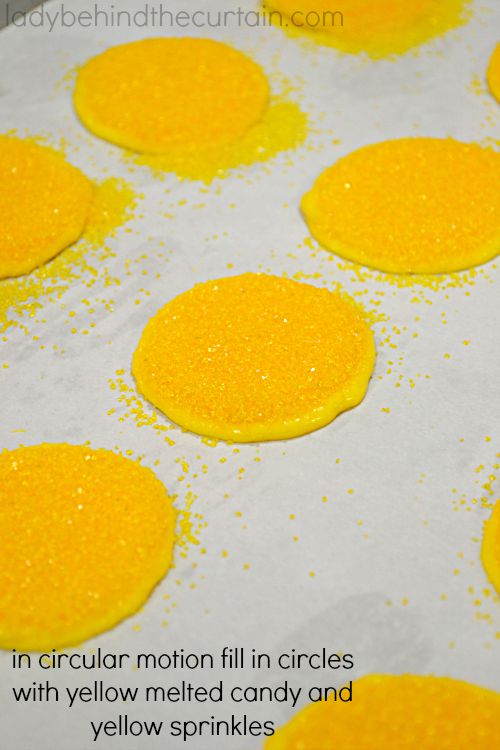 Adhere a lollipop stick with more melted candy.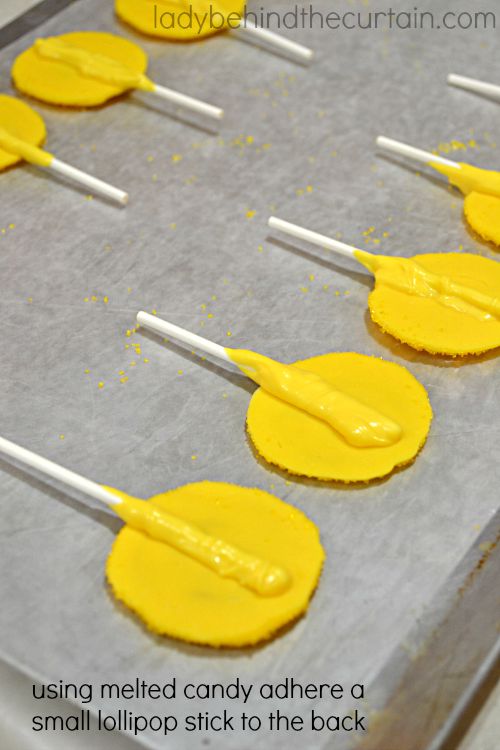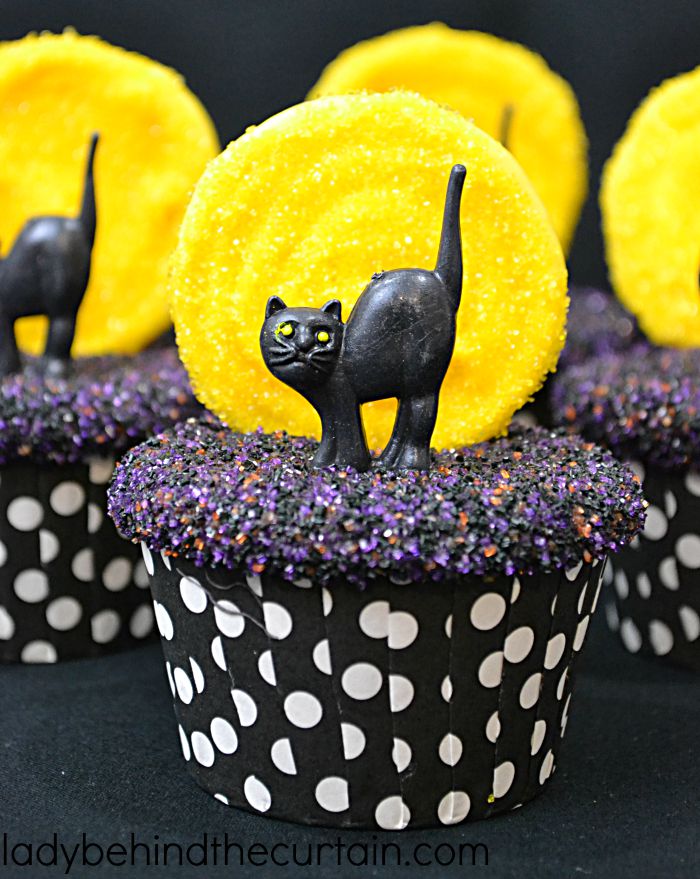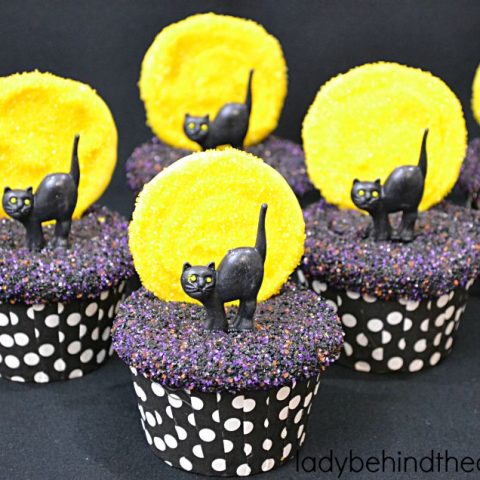 Pumpkin Spice Pudding Halloween Cupcakes
Total Time:
1 hour
25 minutes
Ingredients
3 cups all-purpose flour
3-1/2 teaspoons baking powder
2 cups granulated sugar
1 - 3.4 ounce pumpkin spice pudding mix
3/4 cup vegetable oil
3 large eggs
1 cup apple cider
Optional: black and yellow candy melts, sprinkles, small lollipop sticks cupcake picks
Instructions
For the Cupcakes:
Preheat oven to 350 degrees.
Line 24 cupcake wells with cupcake liners and set aside.
In a mixing bowl add the flour, baking powder, sugar and pudding mix.
Whisk together.
Add the oil, eggs and cider.
Mix on medium 2 minutes or until well combined and creamy.
Fill cupcake liners 3/4 full.
Bake 25 minutes or until a toothpick inserted into the center comes out clean.
Cool on wire rack.
For the Moons:
Measure your pick to determine how big your moon should be. I used a biscuit cutter.
Trace circles on a piece of parchment paper.
Turn over and tape to a cookie sheet.
Melt yellow candy melts. Either put the melted candy in a squirt bottle on a zip top bag with the corner cut off.
Trace around the line first and then fill in. ( to help cover the unevenness of the candy I added yellow sugar sprinkles.
Put in freezer for 10 minutes.
Once the moons are hard shake off any excess sugar sprinkles.
Place back on the covered cookie sheet.
Turn the moons over.
Dip small lollipop sticks in more yellow melted candy and lay in the center on the back side of the moon.
Put back in freezer for 10 minutes.
Finished Cupcakes:
Melt black candy melts.
Dip cooled cupcakes in the melted candy and then directly into the colored sugar sprinkles.
Immediately add the moon and then the cat pick.
MORE GREAT HALLOWEEN RECIPES
1.  LIME MONSTER CUPCAKES  2.  BANANA PECAN CUPCAKES  3.  BLACK VELVET FUDGE POPS  4.  HALLOWEEN CEREAL BARS