How to Make Easy Caramel Sheet Cake
How to Make Easy Caramel Sheet Cake | This light and fluffy Southern Heirloom white cake has one surprising ingredient…coconut milk!  You can't taste the coconut milk.  It just adds the light and fluffy texture of the cake.  To me the star of the show is the Caramel Frosting!  Oh my, what a delicious frosting!  It was really hard not to grab a spoon and dig in!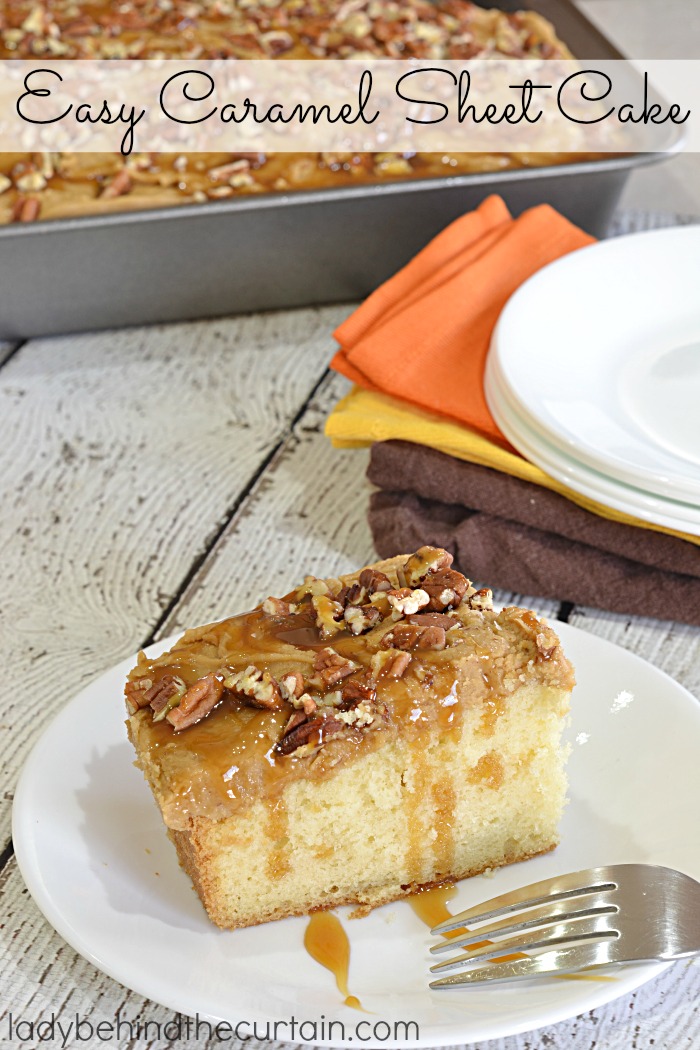 I remember my Mom would always take this cake to our church potlucks.  One time she brought something different.  All I can say is that was the ONLY time she did that.  HA!  For the best results I highly recommend pouring the frosting on while it's hot.  The frosting will thicken as it cools.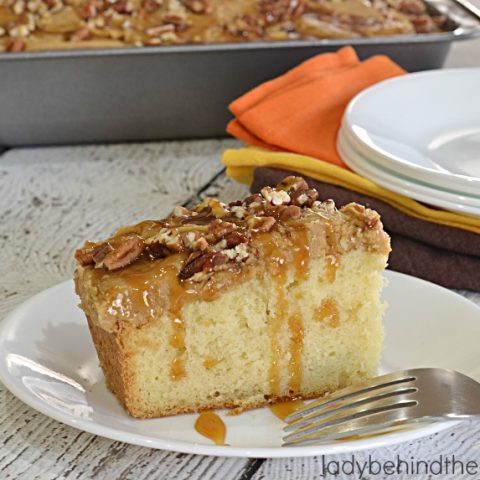 How to Make Easy Caramel Sheet Cake
Ingredients
For the Cake:
3 cups cake flour
1 teaspoon baking powder
1 teaspoon baking soda
1/2 teaspoon salt
1 cup unsalted butter, softened
1 1/2 cups granulated sugar
4 large eggs, separated
1 1/4 cups unsweetened coconut milk
1 teaspoon vanilla extract
For the Caramel Frosting:
3 cups confectioner's sugar
3/4 cup unsalted butter
1 1/2 cups dark brown sugar, packed
5 tablespoons milk
1 1/2 teaspoons vanilla extract
1/2 teaspoon salt
Instructions
For the Cake:
Preheat oven to 350°; spray a 9x13-inch baking pan with non stick baking spray.
In a medium bowl whisk together the flour, baking powder, baking soda and salt.
In a large mixing bowl, beat together the butter and sugar until fluffy (about 3 minutes).
Making sure to stop and scrap down the sides.
Add egg yolks; beat well until combined.
In a small bowl whisk together the coconut milk and vanilla.
With the mixer on low, add the flour mixture to the butter mixture, alternately with the coconut milk mixture; beat until combined.
In a clean mixing bowl add the egg whites; beat with mixer on high just until stiff peaks form.
Gently fold into the cake batter.
Gently spread batter into prepared pan.
Bake 25 to 30 minutes or until a toothpick inserted into the center comes out clean.
Let Cool completely on a wire rack.
For the Caramel Frosting:
Pour confectioners' sugar into a large mixing bowl.
In a medium saucepan, place the butter; cook until melted.
Stir in the brown sugar; cook 1 minute, stirring constantly.
Remove from heat; stir in the milk; return to the heat and bring to a boil, simmer 1 minute, stirring constantly.
Carefully pour hot mixture over confectioners' sugar; add vanilla and salt; beat until smooth.
Pour over cake; spread using the back on the spoon or an off set spatula in a back and forth motion.
Garnish with pecans and a drizzle of caramel.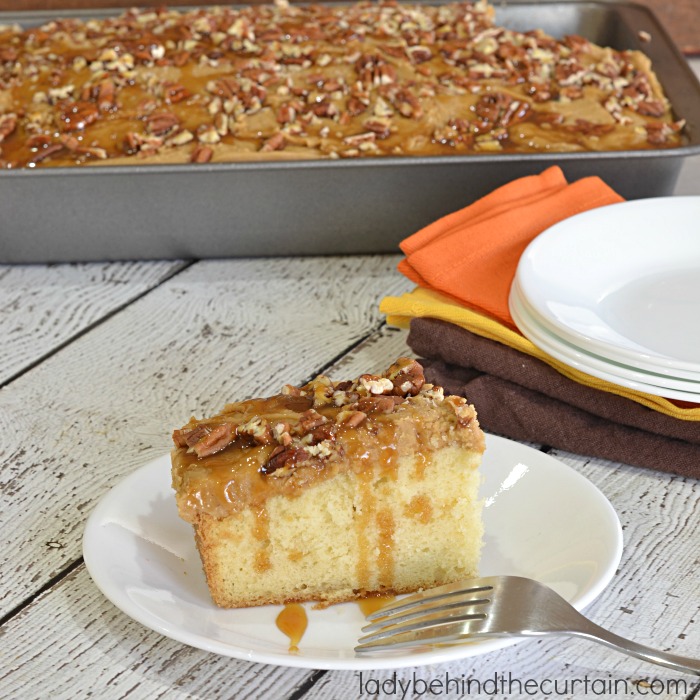 MORE CAKE RECIPES

LEMON POPPY SEE ANGEL CAKE  2. STRAWBERRY CAKE 3. CARAMEL APPLE POUND CAKE