Lemon Poppy Seed Angel Cake
Lemon Poppy Seed Angel Cake |  A light airy cake full of lemon flavor with lots of poppy seeds.  The perfect dessert after a heavy meal.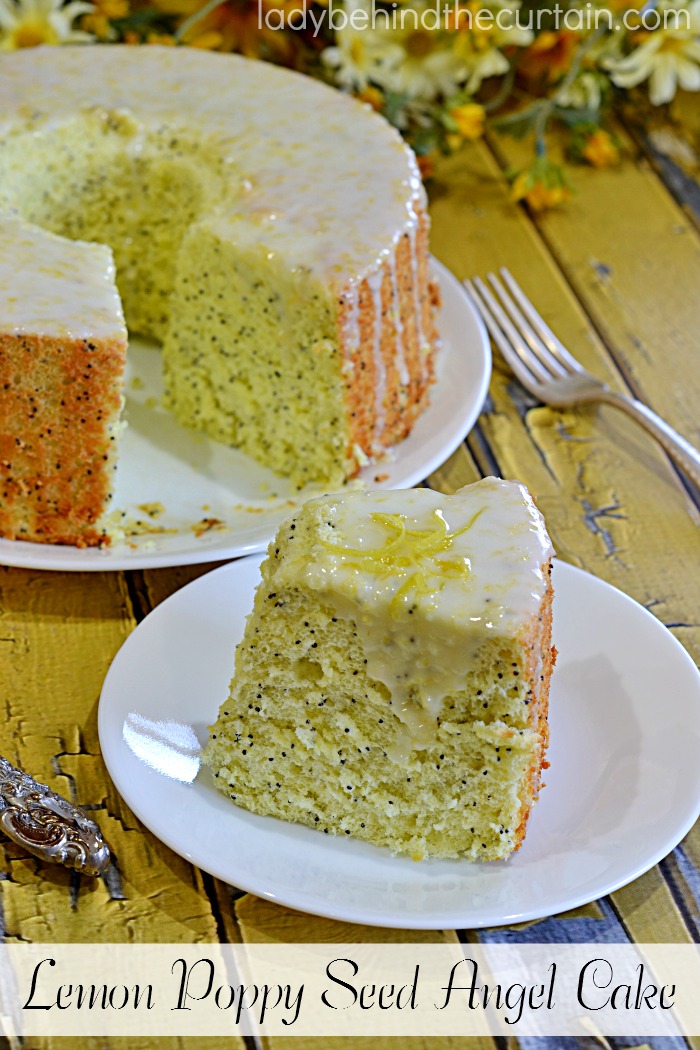 This light cake is your ticket to enjoying a sweet dessert without the guilt!  With only 129 calories per slice!  A great way to stay on track without depriving yourself of dessert.  This cake is made primarily of egg whites which gives it the nice light and fluffy texture and with only 1 cup of flour that really cuts back on the calories.  You'll also be happy to know that a slice only has ONE gram of fat!  So eat away and enjoy DESSERT!
Lemon Poppy Seed Angel Cake
Ingredients
For the Lemon Angel Cake:
12 egg whites
1 teaspoon cream of tartar
1 cup granulated sugar, divided
2 tablespoons poppy seeds
1 teaspoon lemon zest
2 teaspoons lemon juice
1/2 teaspoon vanilla extract
Optional: few drops of yellow gel food coloring
For the Lemon Glaze:
1 cup confectioners' sugar
2 teaspoons lemon zest
2 tablespoons lemon juice
Instructions
For the Lemon Angel Cake:
Preheat oven to 350°.
Place egg whites in a large mixing bowl; let it sit on the counter for 30 minutes.
Add cream of tarter to the egg whites; beat on high until frothy.
Reduce speed and slowly add 1/2 cup sugar.
Increase speed and beat egg whites until soft peaks (tips curl).
Add the poppy seeds, lemon zest, lemon juice, vanilla and food coloring.
Beat for 2 more minutes.
Sift together the flour and remaining 1/2 cup sugar.
Gently fold in flour mixture one-fourth at a time until all the flour mixture is incorporated into the egg mixture.
Pour batter into a ungreased 10-inch tube pan.
Bake 30 to 35 minutes or until the top of the cake is lightly golden and springs badk when lightly touched.
Immediately invert cake in pan onto a cooling rack (DO NOT REMOVE CAKE FROM PAN); cool completely.
Run a butter knife around the outside and inside edges; remove cake from pan.
Just before serving pour lemon glaze over cake.
For the Lemon Glaze:
In a medium bowl add the sugar, lemon zest and lemon juice; stir until combined and smooth.
When ready to serve, drizzle over the top and let run down the sides of the cake.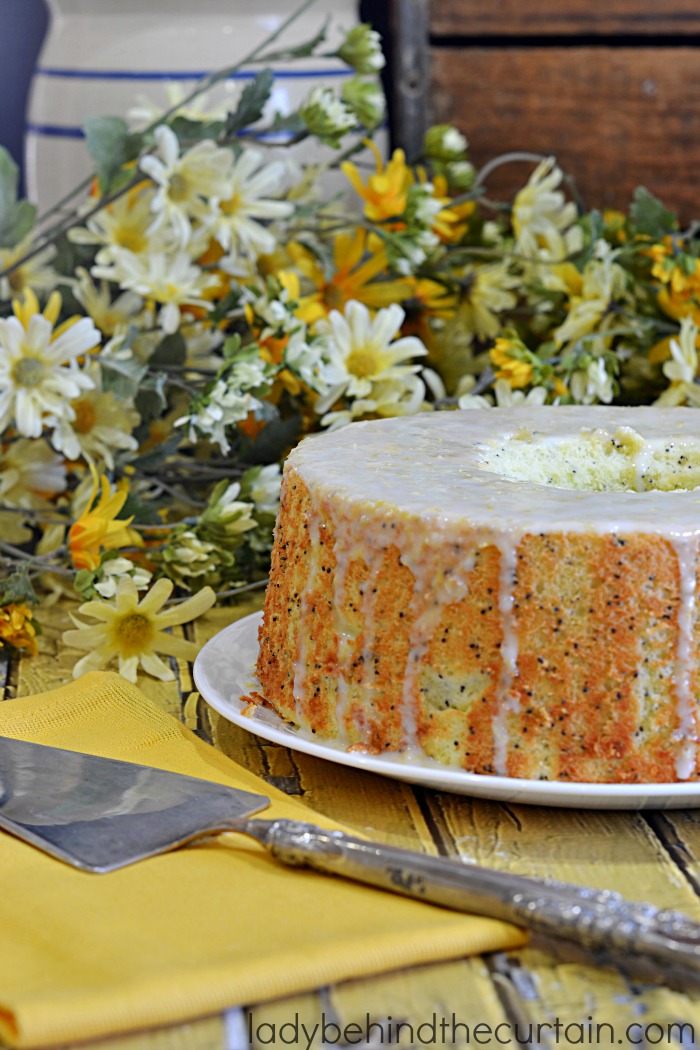 MORE CAKE RECIPES

OLD FASHIONED COCONUT SHEET CAKE  2. SUPER MOIST CARROT CAKE  3. MOCHA DEVIL'S FOOD CAKE