Caramel Apple Pound Cake | A tender cake with TWO  layers of of sweet brown sugar apples, topped with a cream cheese frosting drizzle, caramel and a sprinkling of pecans.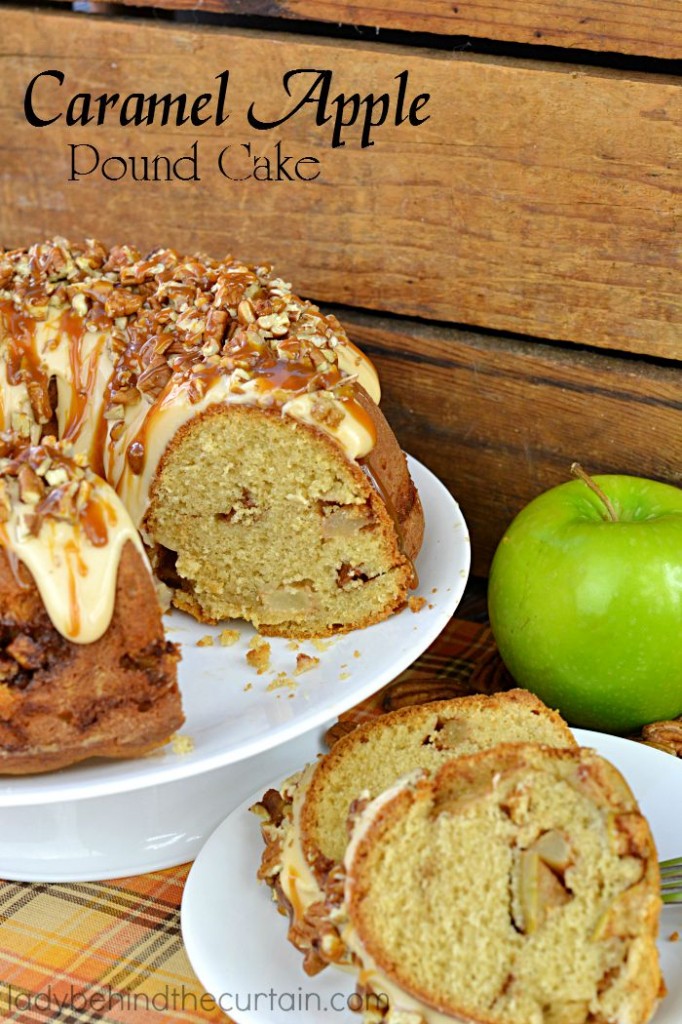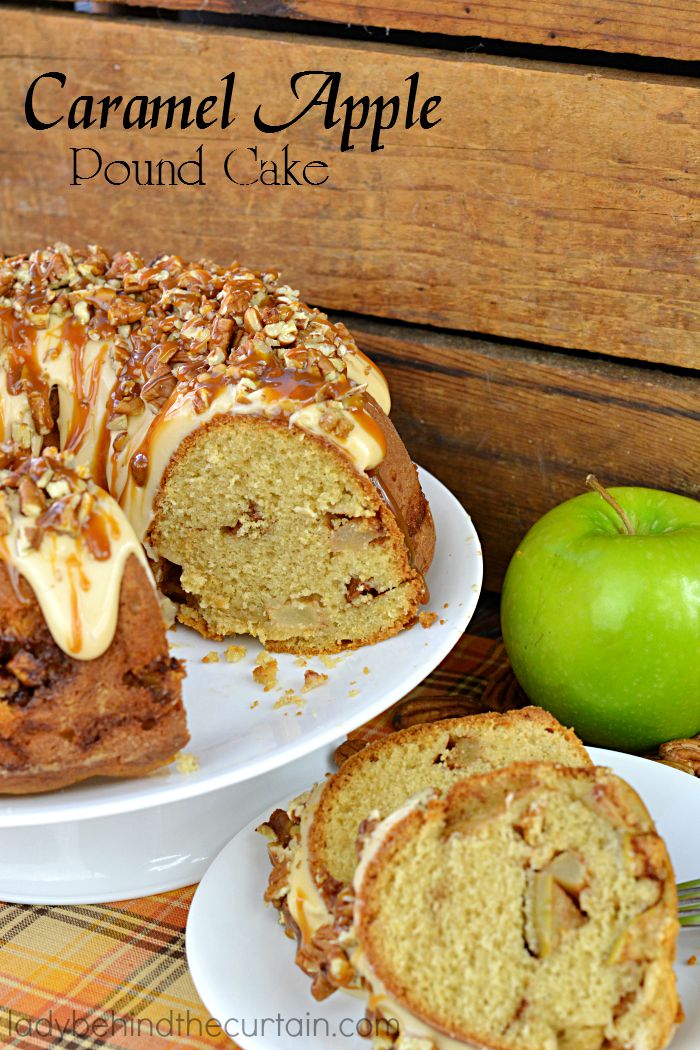 Fall is such a fun time of year!  Carnivals, Fall Festivals and Halloween!    Celebrate Fall in style with this all things fall dessert.  I would say this is the ADULT version of eating a caramel apple but if you love Caramel Apples you can try my Candy Corn Caramel Apples.  This recipe calls for Apple Pie Spice.  I couldn't find any at my local grocery store so I decided to make my own.  To make your own click on my Apple Pie Spice recipe.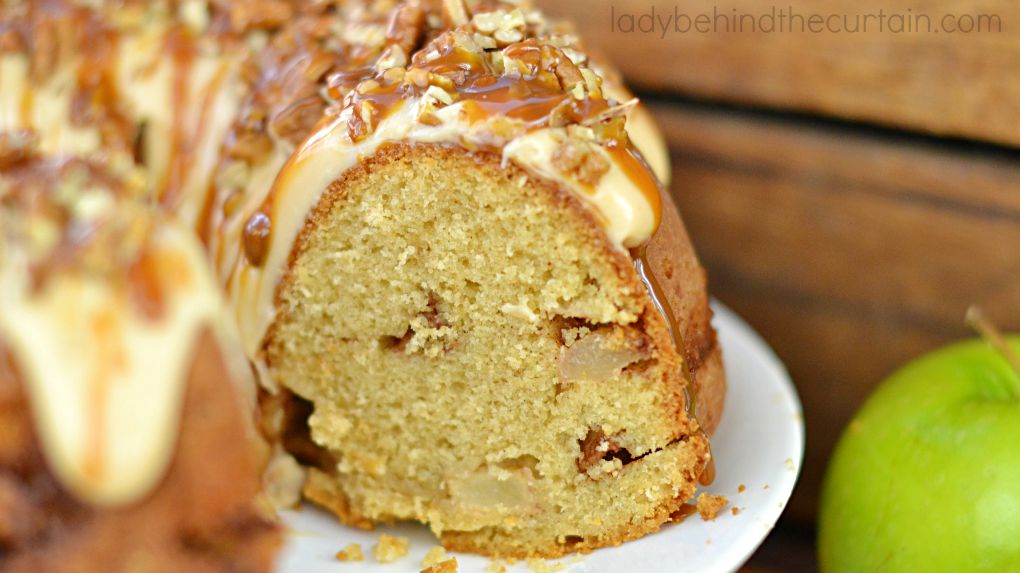 Ingredients
For the Pound Cake Batter:

1 cup granulated sugar
1 cup light brown sugar, packed
1 1/2 cups butter, melted
4 large eggs
1 teaspoon vanilla extract
3 cups all-purpose flour
2 teaspoons baking powder
1 teaspoon Apple Pie Spice
1 teaspoon salt

For the Apple Filling:

3 cups granny smith apples, chopped (about 1 1/2 large apples)
1/4 cup light brown sugar, packed
2 teaspoons ground cinnamon

For the Cream Cheese Frosting Drizzle:

1 (8 ounce) package cream cheese, softened
2 cup confectioners' sugar
1/4 milk
1/4 cup hot caramel topping (NOT HEATED)

For the Garnish:

2/3 cup pecans, chopped
hot caramel topping
Instructions
For the Pound Cake Batter:

Preheat oven to 350 degrees.
Spray or butter the at 10-inch bundt pan

PLUS

flour or use nonstick spray with flour.
In a large mixing bowl, beat sugar, brown sugar and butter until combined.
Add the eggs one at a time mixing well between each egg.
Beat in vanilla.
In a medium bowl, combine flour, baking powder, apple pie spice, and salt.
Gradually add flour mixture to sugar mixture, beating until combined.
Spoon one third of the batter into prepared pan and one half apples.

TIP: Use an off set spatula; spread batter completely over apples.

Repeat layers; top with remaining batter.

Make sure to spread the batter to the edges.

Bake for 50 minutes to 1 hour or until a wooden pick inserted into the center comes out clean.
Let cool in pan for 10 minutes.
Remove from pan, and let cool completely on a wire rack.
Top with cream cheese frosting drizzle, pecans and caramel.

For the Apple Filling:

In a medium bowl stir to combine apples, brown sugar and cinnamon.

For the Cream Cheese Frosting Drizzle:

In a mixing bowl combine cream cheese and confectioners' sugar until smooth.
Beat in milk and caramel topping.
https://www.ladybehindthecurtain.com/caramel-apple-pound-cake/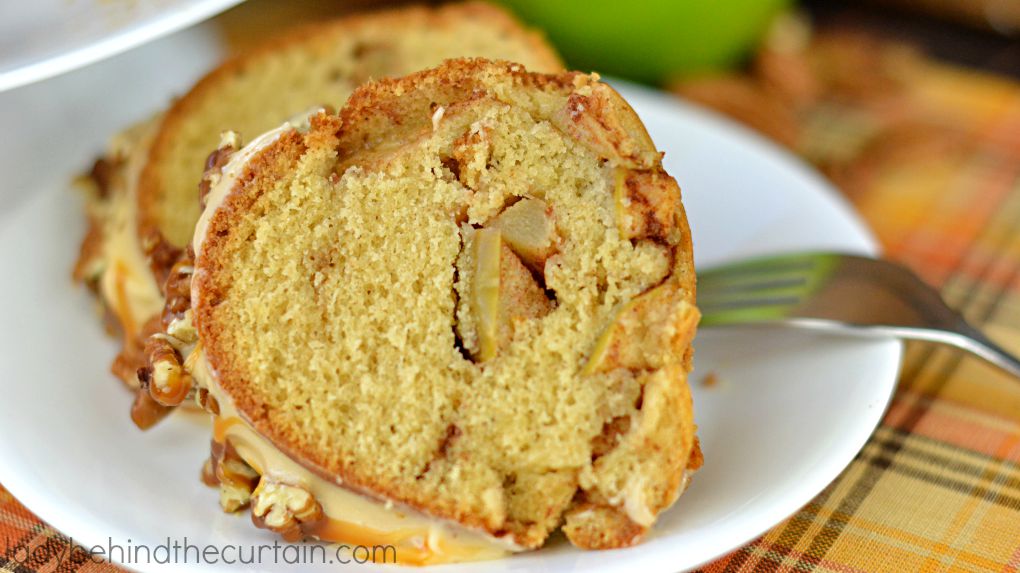 MORE CARAMEL APPLE DESSERTS

1. MINI CARAMEL APPLE CUPCAKES  2. CARAMEL APPLE CINNAMON ROLLS  3. CINNAMON ROLL TOPPED CARAMEL APPLE COBBLER