Italian Roast Beef Sandwiches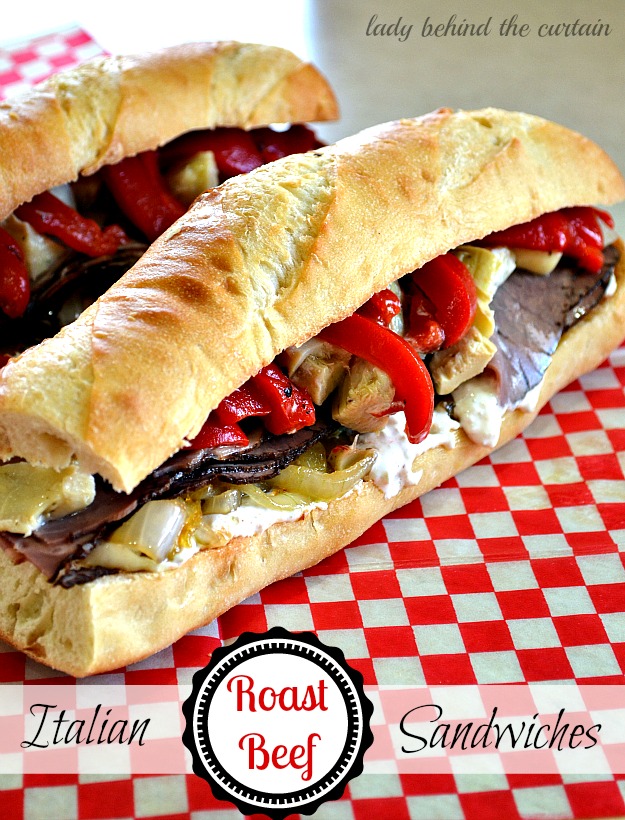 Marinated artichokes, caramelized onions and green olives add loads of flavor to these Italian roast beef sandwiches.  Have some of the delicious sandwich spread leftover?  Serve it on bagels!
Italian Roast Beef Sandwich
Yield:
Makes 12 Sandwiches
Serve this sandwich on Game Day!
Ingredients
2 large onions, sliced
2 tablespoons oil
6 ounces cream cheese, softened
3/4 cup ricotta cheese
3/4 cup pimiento-stuffed olives
2 garlic cloves, peeled
2 French bread baguettes
1 pound sliced deli roast beef
2 jars (7-1/2 ounces each) roasted sweet red peppers, drained and julienned
2 jars (7-1/2 ounces each) marinated artichoke crowns drained and chopped
Instructions
In a large skillet, cook onions in oil over low heat for 15-20 minutes or until golden brown, stirring occasionally.
Meanwhile, place the cream cheese, ricotta cheese, olives and garlic in a food processor.
Cover and process until blended.
OPTION: Toast bread under the broiler for an added extra crunch.
Spread over baguettes.
Layer bread bottoms with roast beef, peppers, artichokes, and caramelized onions; replace tops. Cut each into six slices.
Notes
This recipe is from the Taste of Home magazine August/September 2010 issue.