Decadent Brownie Pie:  A moist brownie made in a springform pan and drizzled with caramel for the perfect potluck dessert.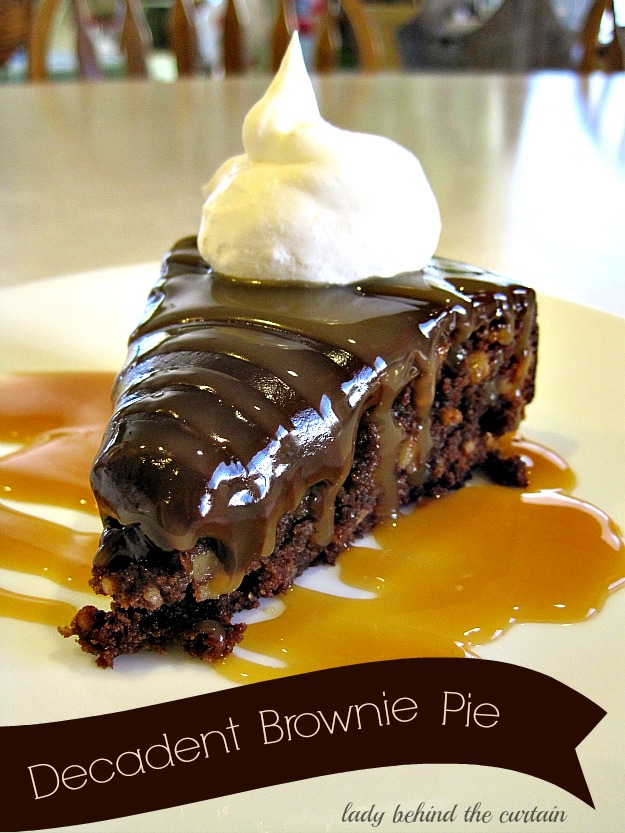 Here's something a little different to do with a brownie, put it in a spring-form pan instead of a 9×13 pan.  You can dress it up with different toppings. Sprinkle with chopped mint candy either peppermint for the holidays or chopped Andes chocolate covered mints; top with fresh berries (strawberries or raspberries) or drizzle with caramel sauce.  I promise that whatever topping you choose you will love how rich the chocolate flavor is in this Decadent Brownie Pie.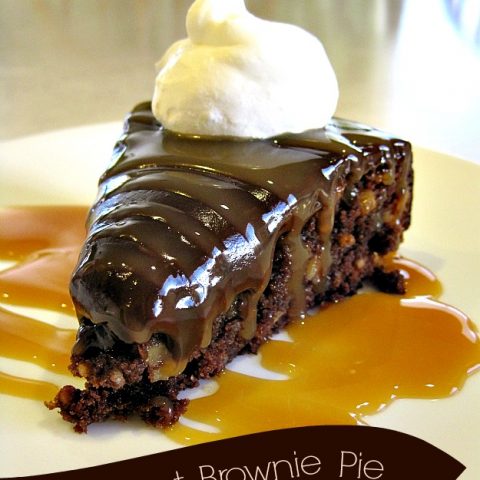 Decadent Brownie Pie
Total Time:
1 hour
30 minutes
Ingredients
For the Brownies:
2/3 cup butter, softened
1 1/4 cups sugar
1/2 cup light corn syrup
2 eggs
1 1/4 cups all-purpose flour
1/2 cup baking cocoa
1/2 teaspoon salt
3 tablespoons milk
2 cups walnuts, chopped
For the Ganache:
1 cup whipping cream
8 squares ( 1 ounce each) semisweet chocolate, chopped
Instructions
For the Brownies:
In a mixing bowl, cream butter and sugar.
Add corn syrup; mix well.
Add eggs, one at a time, beating well after each addition.
Combine the flour, cocoa and salt; add to creamed mixture alternately with milk.
Fold in walnuts.
Spread into a greased 10-in. spring-form pan.
Bake at 325 degrees for 55-60 minutes or until a toothpick inserted 1 in. from the side of pan comes out clean.
Cool on a wire rack.
For the Ganache:
In a saucepan, bring cream to a simmer.
Remove from heat; stir in chocolate until melted.
Cool completely.
Remove sides of spring-form pan.
Place a wire rack over waxed paper; set brownie on rack.
Pour ganache over the brownie; spread over top and let drip down the sides.
Let stand until set.
Cut into wedges; garnish with desired toppings.
Store in the refrigerator.
MORE BROWNIE RECIPES
1. CHEWY PEANUT BRITTLE BROWNIES  2. CHERRY CABERNET BROWNIES  3. COMPANY BROWNIES