This Super Moist Carrot Cake recipe is full of freshly grated carrots, pineapple, coconut, pecans and for extra moistness buttermilk! Wonderfully moist and perfectly spiced, this cake is 100% made from scratch right down to the delicious spoon licking creamy cream cheese frosting!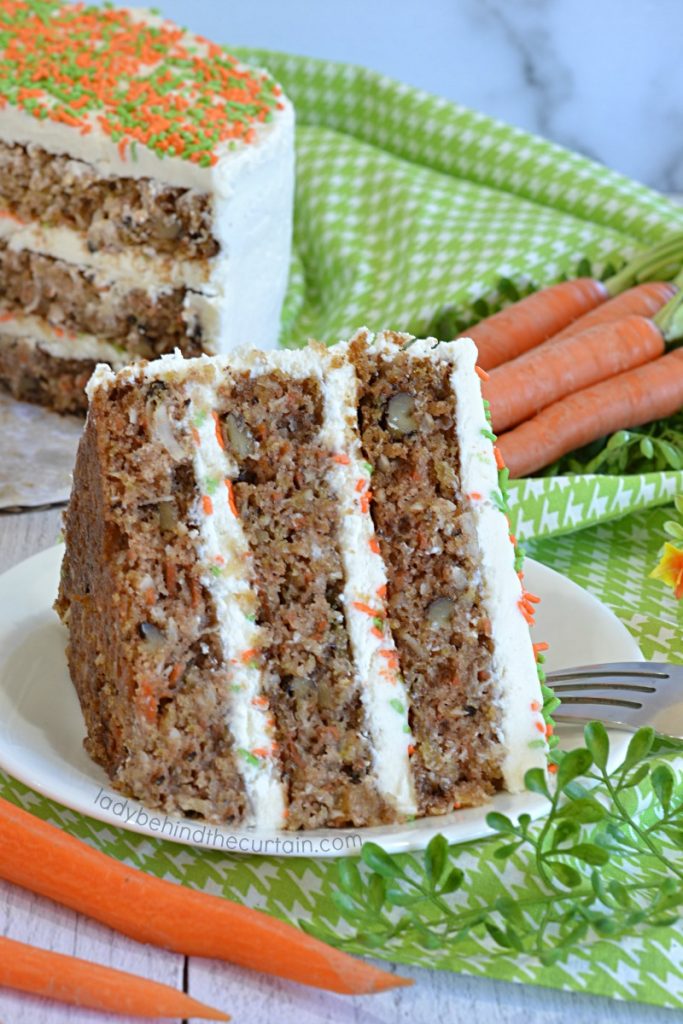 About the ingredients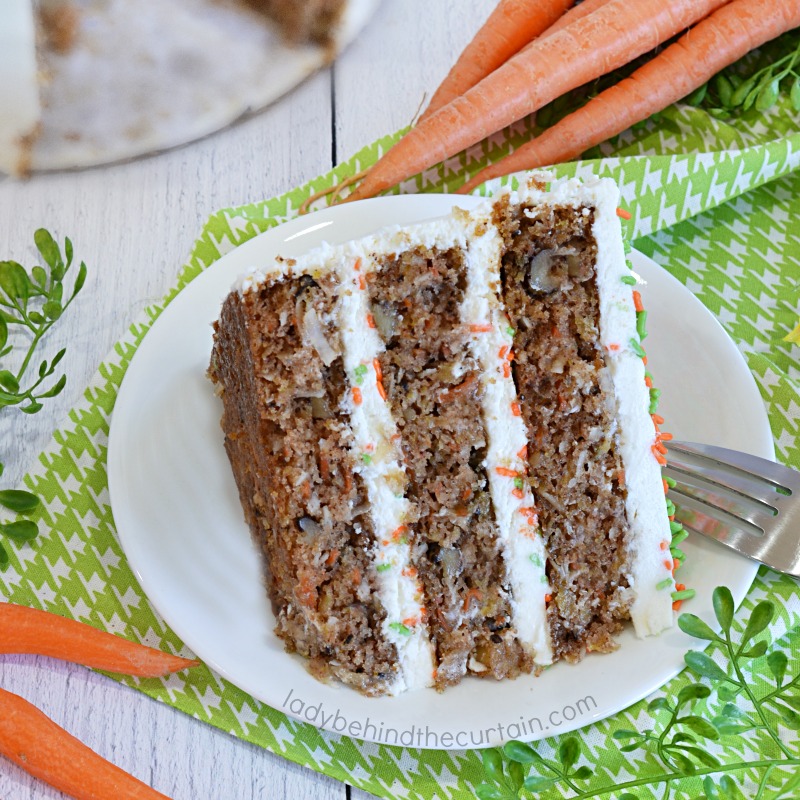 CARROTS: You can shred your own carrots but I have found that using shredded carrots from the produce department at my grocery store works and tastes the same.
PINEAPPLE: Fresh vs Canned-whenever you can use any fresh fruit that should always be the first choice. However make sure that if you choose to use fresh pineapple that it is ripe and sweet (canned pineapple is sweet). Finely, chop and drain (like you would for the canned).
What Makes a Moist Cake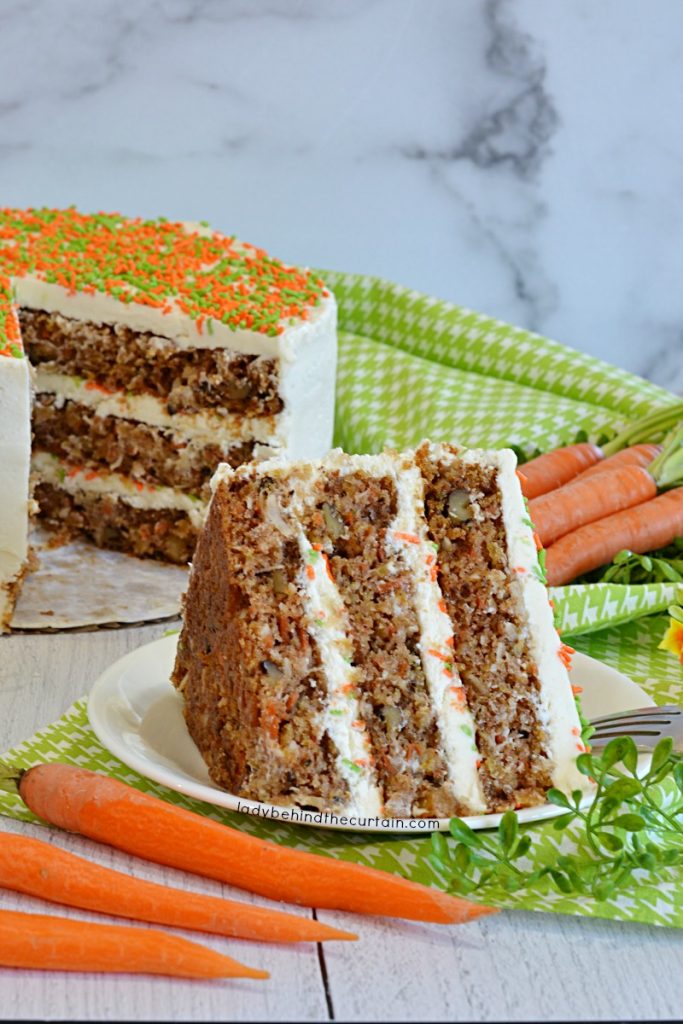 Skip the crumb coat with these easy time saving tips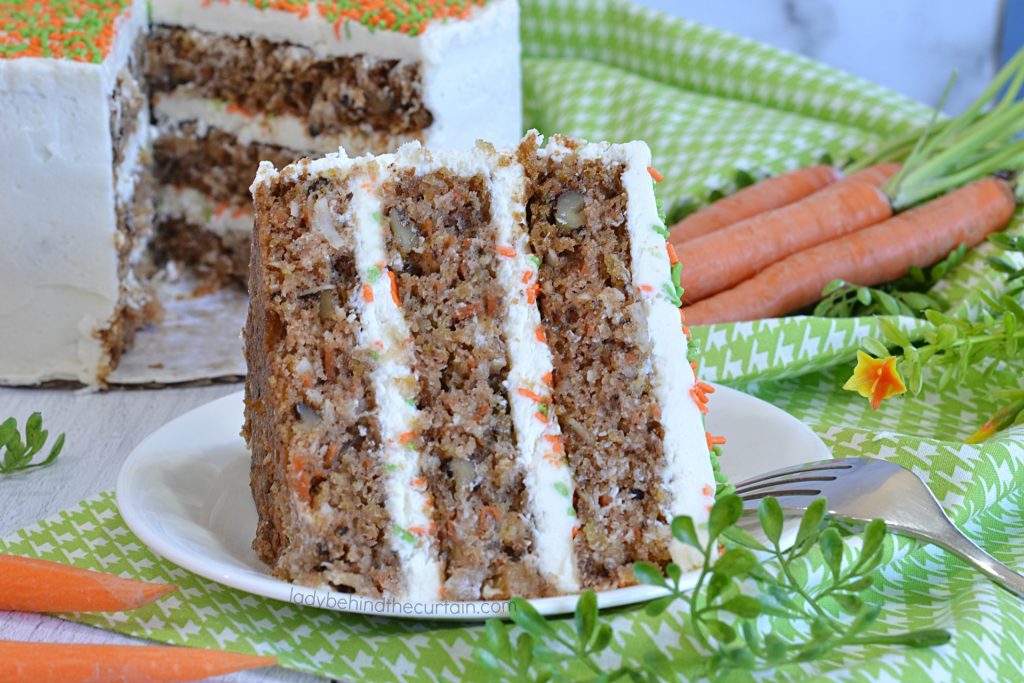 Make the cake a day or more in advance
Freeze layers, wrap each layer in plastic wrap and foil
Label cake layers
Frost the cake while it's still frozen-this makes handling the cake a lot easier and in most cases without crumbs
MORE CARROT CAKE CREATIONS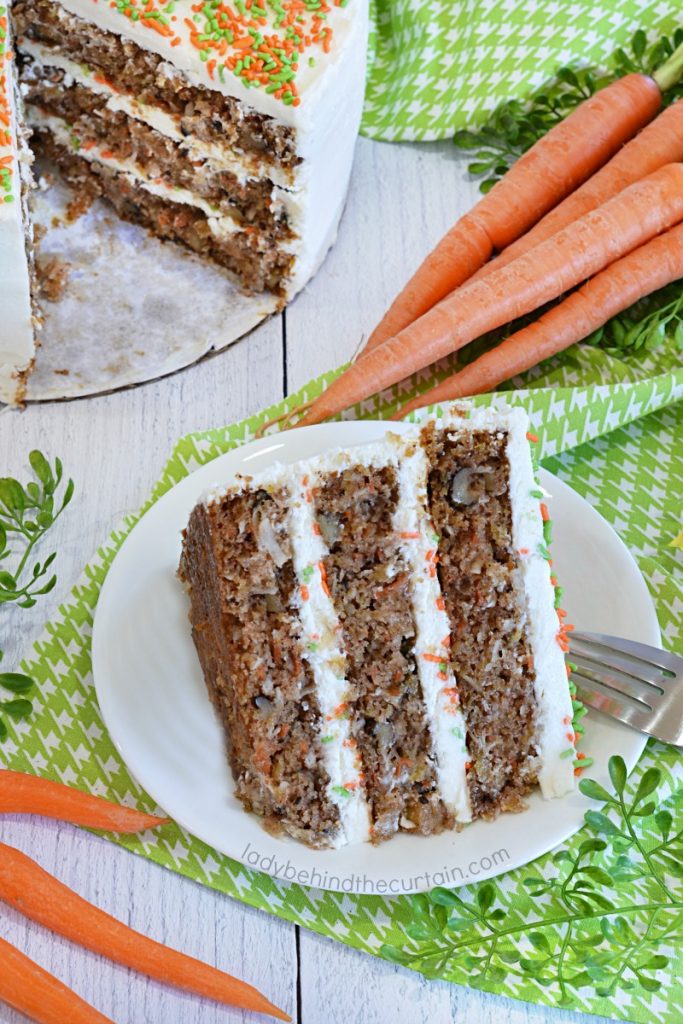 Super Moist Carrot Cake Recipe
This delicious cake is full of freshly grated carrots, pineapple, coconut, pecans and for extra moistness buttermilk! 
Ingredients
For the Carrot Cake:
2 cups all-purpose flour
2 teaspoons baking soda
1/2 teaspoon salt
2 teaspoons ground cinnamon
3 large eggs
2 cups granulated sugar
3/4 cup vegetable oil
3/4 cup buttermilk
2 teaspoon vanilla extract
2 cups grated carrots
1 (8 ounce) can crushed pineapple, drained
1 1/4 cups flaked coconut
1 cup pecans or walnuts, chopped
For the Cream Cheese Frosting:
Instructions
For the Super Moist Carrot Cake Recipe:
Line 3 (9-inch) cake pans with parchment paper and spray with nonstick cooking spray.
Preheat oven to 350°.
In a medium bowl whisk together the flour, baking soda, salt and cinnamon; set aside.
In a large mixing bowl beat together the eggs, sugar, oil, buttermilk and vanilla.
Gradually add the flour mixture to the egg mixture until blended.
Fold in the carrots, pineapple, coconut and nuts.
Pour batter evenly (about 2 cups each) into the prepared pans.
Bake 25 to 30 minutes or until a wooden toothpick inserted into the center comes out clean.
Cool in pan 15 minutes, turn onto cooling racks to cool completely.
Lay a cake layer on a cake stand, frost, top with the second cake layer and frosting, add the last cake layer and frost the entire cake.
Add optional sprinkles.
For the Cream Cheese Frosting:

Cream Cheese Frosting→BASIC CREAM CHEESE FROSTING
NEVER MISS A POST