Super Moist Carrot Cake Recipe
This Super Moist Carrot Cake Recipe has everything you know to be in a carrot cake.  Full of freshly grated carrots, pineapple, coconut, pecans and for extra moistness buttermilk!  We can't forget about the delicious creamy cream cheese frosting!  The perfect Easter dessert!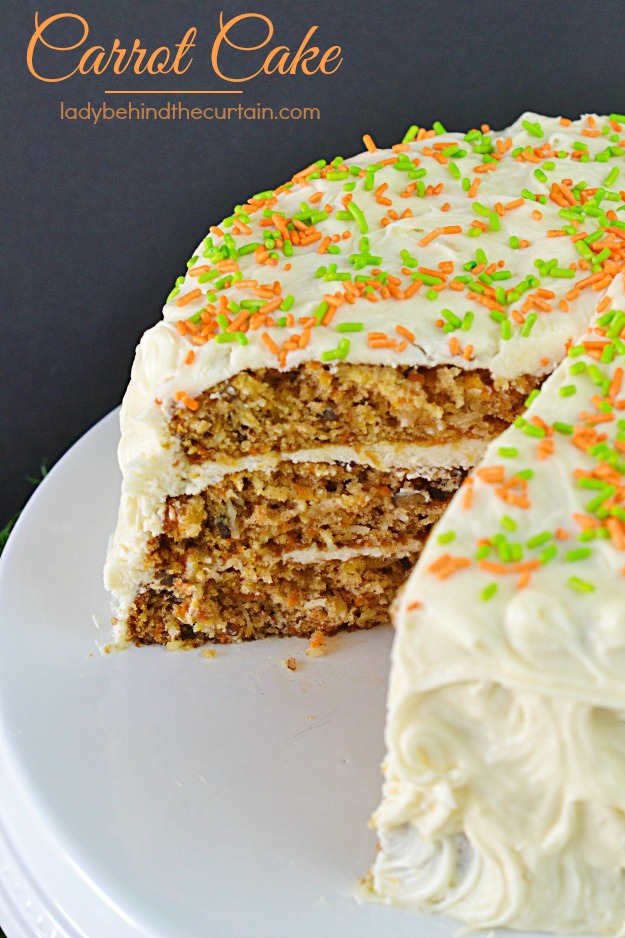 Place this cake on your Easter dessert table and watch your guests eyes light up with the first bite!  Sometimes there are those "special" days when you want to make something from scratch and Easter is one of them.  Even though this cake is made from scratch it is still super easy.  Another option would be my Pineapple Carrot Cupcakes.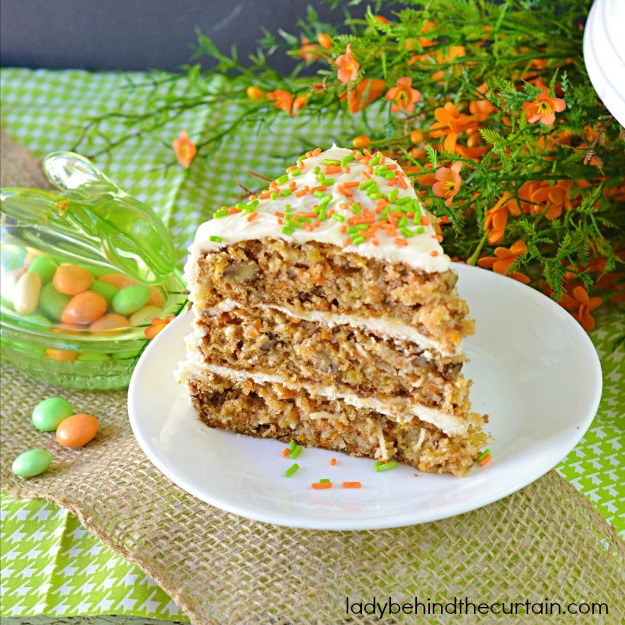 Super Moist Carrot Cake Recipe
Ingredients
For the Carrot Cake:

2 cups all-purpose flour
2 teaspoons baking soda
1/2 teaspoon salt
2 teaspoons ground cinnamon
3 large eggs
2 cups granulated sugar
3/4 cup vegetable oil
3/4 cup buttermilk
2 teaspoon vanilla extract
2 cups grated carrots
1 (8 ounce) can crushed pineapple, drained
1 1/4 cups flaked coconut
1 cup pecans or walnuts, chopped

For the Cream Cheese Frosting:

3/4 cup butter, softened
11 ounces cream cheese, softened
2 teaspoons vanilla extract
6 cup confectioners' sugar

Optional: sprinkles
Instructions
For the Carrot Cake:

Line 3 (9-inch) cake pans with parchment paper and spray with nonstick cooking spray.
Preheat oven to 350 degrees.
In a medium bowl whisk together the flour, baking soda, salt and cinnamon; set aside.
In a large mixing bowl beat together the eggs, sugar, oil, buttermilk and vanilla.
Gradually add the flour mixture to the egg mixture until blended.
Fold in the carrots, pineapple, coconut and nuts.
Pour batter evenly (about 2 cups each) into the prepared pans.
Bake 25 to 30 minutes or until a wooden toothpick inserted into the center comes out clean.
Cool in pan 15 minutes, turn onto cooling racks to cool completely.
Lay a cake layer on a cake stand, frost, top with the second cake layer and frosting, add the last cake layer and frost the entire cake.
Add optional sprinkles.

For the Cream Cheese Frosting:

Cream together the butter, cream cheese and vanilla; beat until light and fluffy.
Add confectioners' sugar 1 cup at a time.

TIP: If frosting is too thick add milk

1 tablespoon

at a time until the right consistency is reached.
https://www.ladybehindthecurtain.com/super-moist-carrot-cake-recipe/
MORE CARROT CAKE RECIPES
1. CARROT CAKE CHEESECAKE  2. CARROT CAKE CINNAMON ROLLS  3. MINI CARROT CAKES