Light Apple Cinnamon Muffins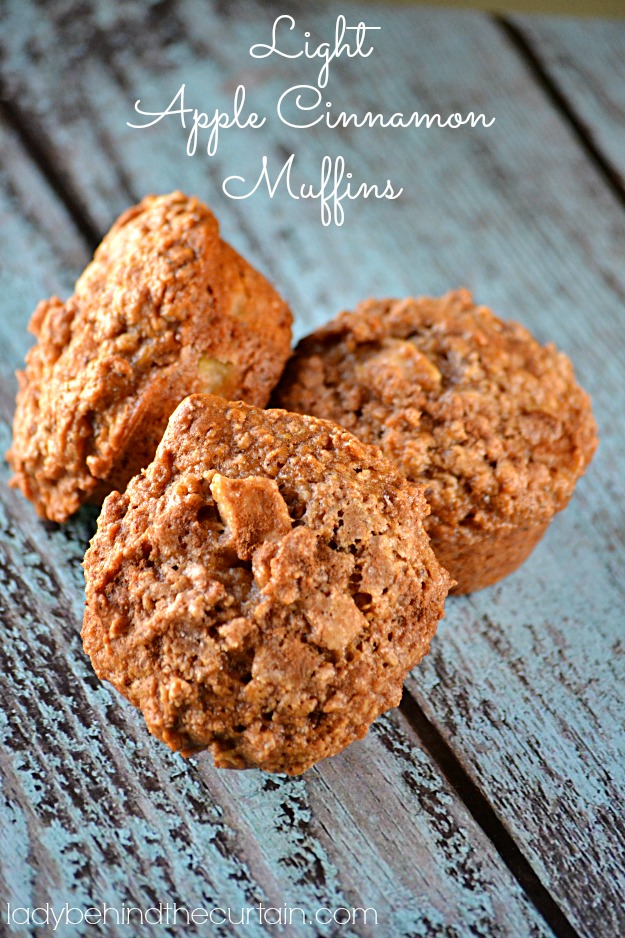 Full of flavor, large in size but low on calories.  That best describes these Light Apple Cinnamon Muffins.  At only 189 calories you can have a muffin and lose weight too!  This recipe is from the wonderful LooneySpoons Collection Cookbook.  Here is my review on the cookbook along with links to other recipes I have made from this cookbook.
Light Apple Cinnamon Muffins
Ingredients
1-1/2 cups quick cooking rolled oats (not instant)
1-1/2 cups boiling water
1 cup all-purpose flour
1/2 cup whole wheat flour
3/4 cup brown sugar (not packed)
2 teaspoons baking powder
1 teaspoon baking soda
Optional: 1 tablespoon chia seeds and 1 tablespoon whole flax seeds.
1 teaspoon ground cinnamon
1/2 teaspoon salt
1/4 cup honey
1/4 cup unsweetened applesauce
1 egg
3 tablespoons butter, melted
1 teaspoon vanilla
1-1/2 cups apples, peeled, cored and finely chopped (2 medium)
cinnamon sugar to sprinkle on top (optional)
Instructions
Preheat oven to 350 degrees.
Spray a 12 cup muffin tin with cooking spray and set aside.
Pour boiling water over oats in a medium bowl.
Stir and let stand for 20 minutes.
Combine both flours, sugar, baking powder, baking soda, chia seeds, flax seeds, cinnamon, and salt in a large bowl. Set aside.
In a small bowl, whisk together honey, applesauce, egg, butter and vanilla.
Add applesauce mixture to oats and stir until smooth.
Add oat mixture to flour mixture and stir until dry ingredients are moistened.
Fold in chopped apples.
Divide batter among 12 muffin cups.
Sprinkle each muffin lightly with cinnamon sugar, if desired.
Bake for 20 minutes, or until a tooth pick inserted in center of muffin come out clean.
Remove from pan and let cool.
Notes
https://www.ladybehindthecurtain.com/light-apple-cinnamon-muffins/