Light Sauteed Cabbage and Apples
If you're looking for something new to serve as a side dish this Light Sauteed Cabbage and Apples is perfect!  I was getting so tired of the same old vegetable side dish so I decided to try something new.  I've always loved sauteed cabbage.  Of course that was when I "sauteed" (fried) it in bacon drippings.  HA!  Yep, that's some good eats or OKIE FOOD!  Awww….those were the days when I didn't have to worry about eating bacon.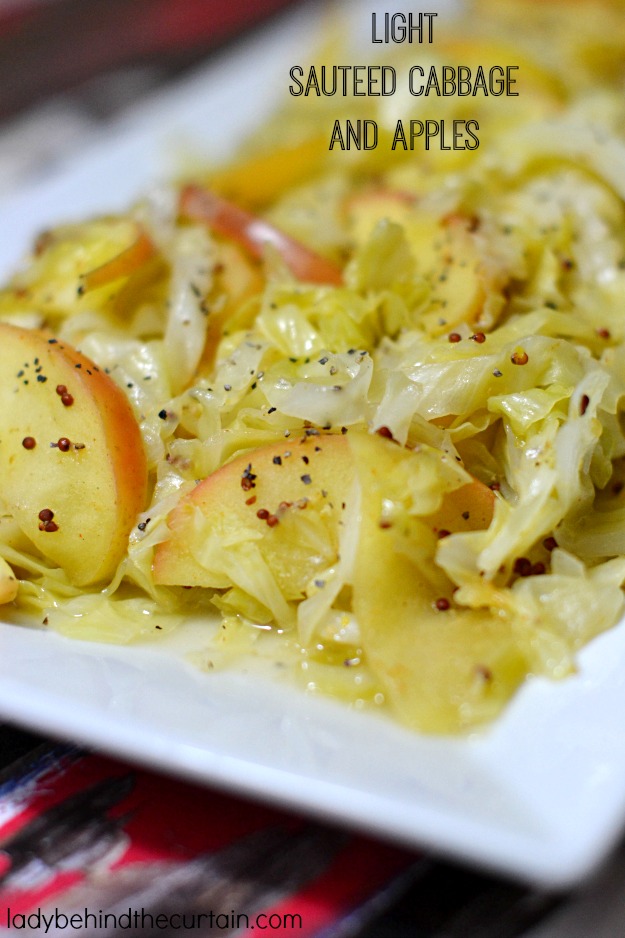 By adding apple cider, mustard and a splash of vinegar I've created a flavorful dish without adding tons of calories.  Making sauteed cabbage my way comes in at only 85 calories for ONE WHOLE CUP!  Serve this Light Sauteed Cabbage and Apples with my Pork Chops with Spicy Apple Mustard Sauce.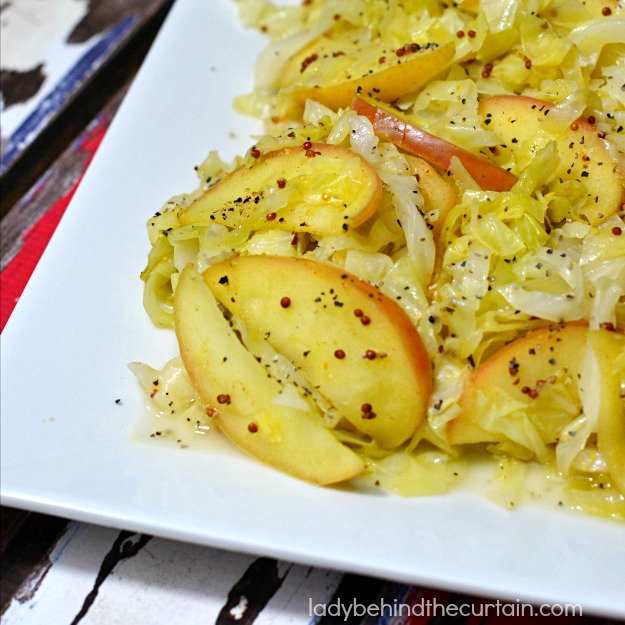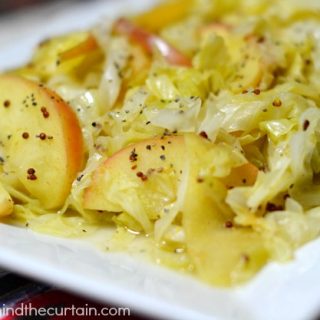 Light Sauteed Cabbage and Apples
Ingredients
1 tablespoon butter
2 teaspoons vegetable oil
1 large head of green cabbage (about 8 to 10 cups), sliced
1 1/2 cups apple cider
1 1/2 tablespoons whole grain mustard
1/2 teaspoon salt
1/4 teaspoon black pepper
1 large apple (I used Fuji), sliced
1 1/2 tablespoons cider vinegar
Instructions
Heat a large skillet.
Add the butter, oil and cabbage.
Add the cabbage, apple cider, mustard, salt and pepper.
Toss, cover and cook 5 minutes.
Uncover, add apple slices and cook an additional 8 minutes or until cabbage wilts, stirring occasionally.
Stir in the cider vinegar.
Nutrition Information
Serving Size

1 Cup
Amount Per Serving
Calories

85
MORE LIGHT RECIPES

1. LIGHT BLUEBERRY BANANA MUFFINS  2. CHIMICHURRI QUINOA AND CORN PATTIES  3. BAKED COCONUT SHRIMP