Mini Payday Cheesecakes:  The perfect small bite for game night.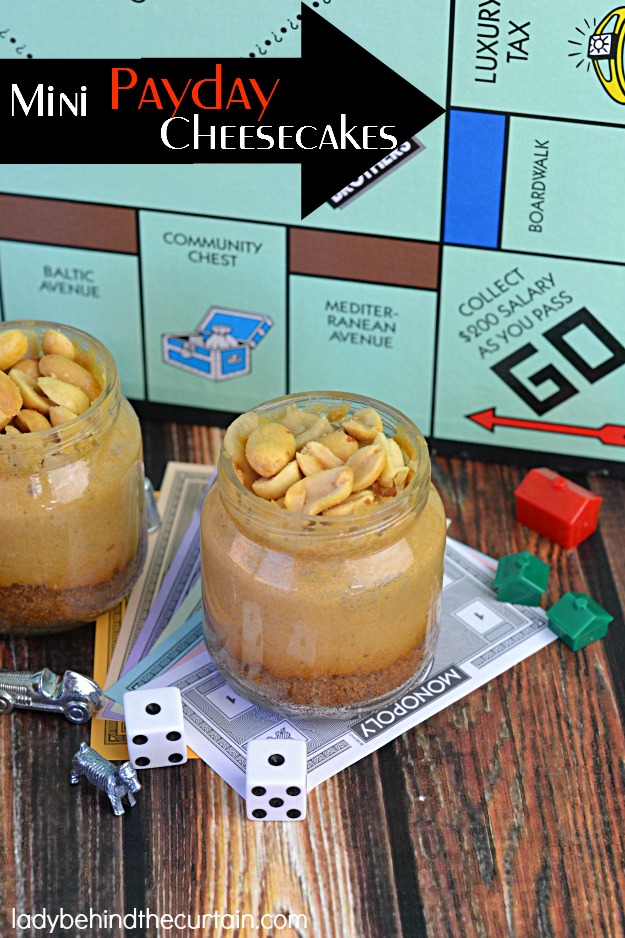 These creamy cheesecakes are baked in 4 ounce baby food jars.  You can also bake them in cupcake liners.
The payday candy bar is my favorite candy bar and cheesecake is my favorite dessert.  So I decided to combine the two to create the best cheesecake EVER!  Starting with the Nutter Butter Cookie crumb crust; use a dowel or something flat to press into the bottom of the jar.  Now, I ask you….how can you go wrong with that?  🙂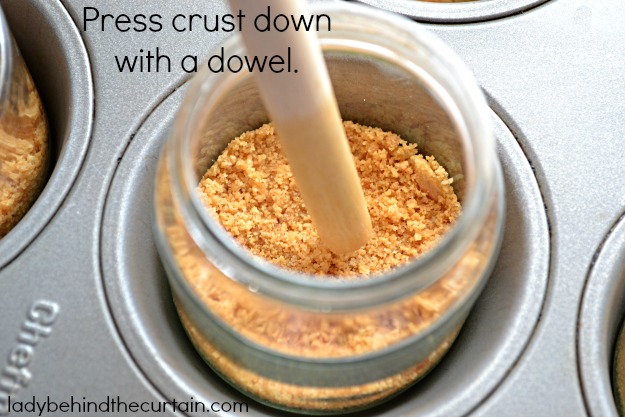 The filling…..oh yes the filling!  It's made with brown sugar and a can of Nestle dulce de leche caramel.  The perfect caramel filling.  Warning though if you eat some of the filling by the spoonfuls you will not have enough to fill you jars.  No…..I don't speak from experience.  😉
The batter will rise above the rim of the jars.  Just take a spoon and knock it down back into the jar.  NOTE:  At this point the cheesecakes will look ugly….don't worry you will be topping them with a delicious caramel sauce and peanuts.  🙂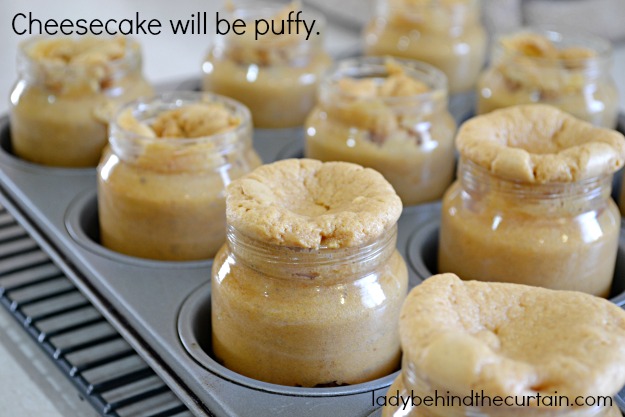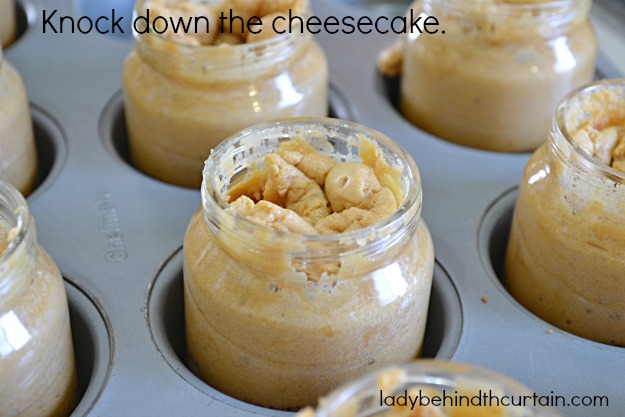 If that wasn't enough there is also a caramel glaze that goes on top of the creamy delicious Mini Payday Cheesecakes.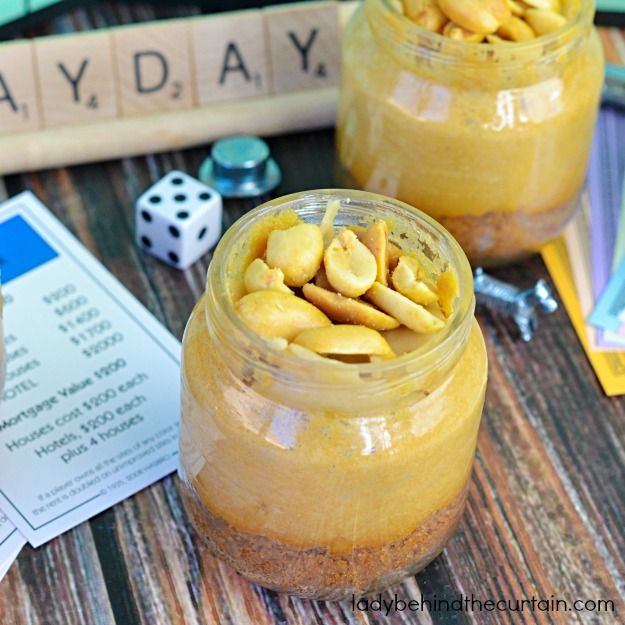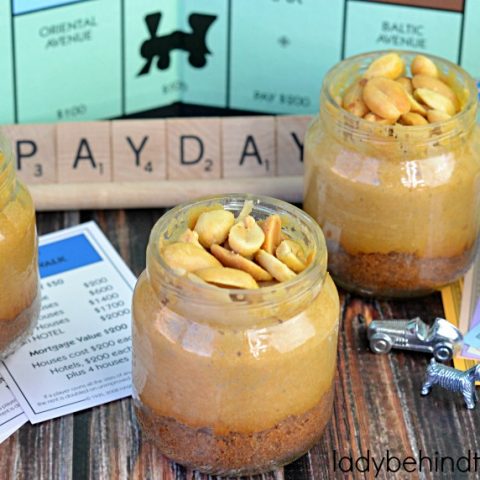 Mini Payday Cheesecakes
Yield:
Makes 24 (4 ounce jars)
When you combine two of your favorite treats you end up with an incredible dessert!
Ingredients
For the Crust:
1 (16 ounce) package nutter butter cookies (with filling)
1/4 cup butter, melted
For the Filling:
3 (8 ounce) packages cream cheese, softened
1 cup light brown sugar, packed
1 tablespoon vanilla extract
1 (13.4 ounce) can nestle dulce de leche caramel
1 cup sour cream
4 large eggs
1/4 cup all-purpose flour
2/3 cup heavy whipping cream
For the Caramel Topping:
1/2 cup butter
1 cup light brown sugar, packed
1/4 cup heavy whipping cream
1 cup confectioners' sugar
2/3 cup cocktail peanuts
Instructions
Preheat oven to 350 degrees.
For the Crust:
Process cookies (with filling) in TWO batches in a food processor until they are crumbs.
TIP: Only process half the package at a time, taking out the first batch and starting with a fresh batch of cookies.
Add all the cookie crumbs back to the food processor.
While the processor is on drizzle in melted butter.
Spoon TWO LEVEL tablespoons of crust into each jar.
Use a dowel or something with a flat end and press down the crust.
For the Filling:
In a large mixing bowl; whip the cream cheese until light and fluffy.
Add the brown sugar, vanilla, dulce de leche caramel and sour cream; mix until combined.
Add eggs one at a time until blended.
Beat in flour.
Slowly beat in heavy whipping cream.
Pour or spoon in 1/3 cup filling batter.
Bake 25 to 30 minutes.
NOTE: Batter will bubble up over rim of jars. Once out of the oven use a spoon and knock the cheesecake back down into the inside of the jar.
Cool completely before adding the caramel topping.
For the Caramel Topping:
Bring the butter and brown sugar to a boil; turn down heat to low and continue boiling 2 minutes.
Stir in cream, bring back up to a boil; remove form heat.
While still hot mix in with a hand mixer the confectioners' sugar.
Spoon the caramel over the cold mini cheesecakes and top with peanuts.
Store in the refrigerator until ready to serve.
MORE CHEESECAKE RECIPES

1. SNICKERDOODLE COOKIE DOUGH MINI CHEESECAKES  2. PEPPERMINT PATTY MINI CHEESECAKES  3. MINI CHEESECAKES