Mini Cheesecakes |  These delightful treats will dress up any dessert table.  The perfect size for a dinner party when you are serving a heavy main coarse.  Also perfect grouped with other desserts.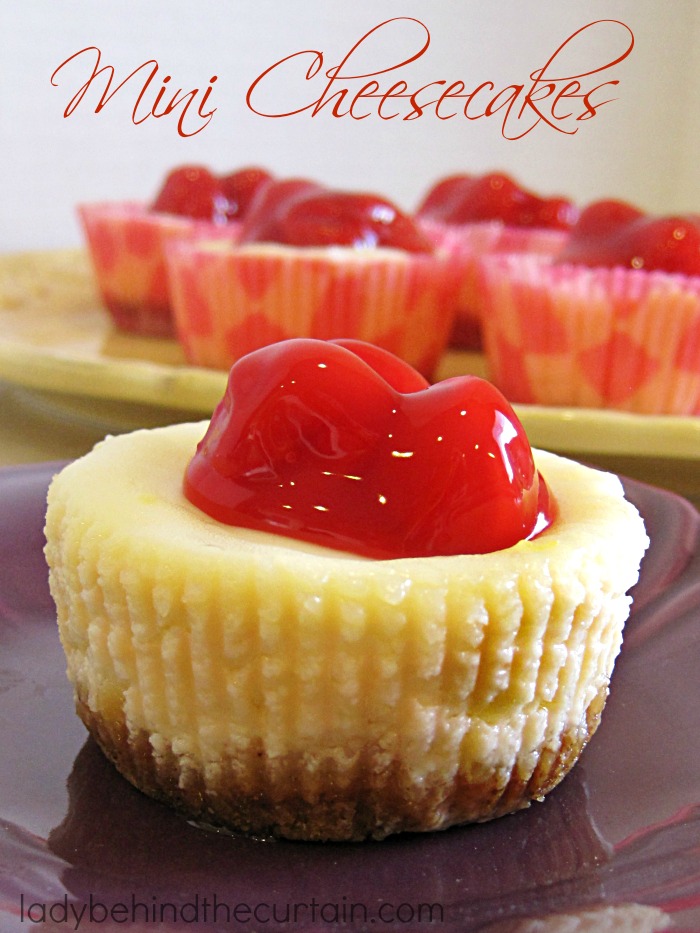 These mini cheesecakes have cherry pie filling on top but you can choose any topping; fresh, canned or frozen.  There are four levels to these little gems.  The crust, filling, glaze and the fruit topping.  Serve a delicious dessert at a moments notice!  I always have a batch already baked in the freezer just waiting for topping.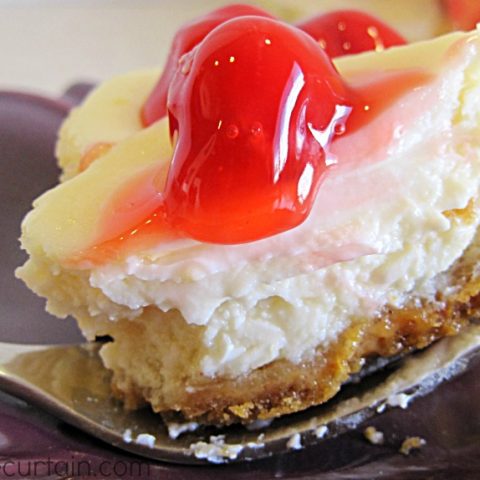 Mini Cheesecakes
Yield:
20 Mini Cheesecakes
Top these little gems with different fruit toppings.
Ingredients
For the Crust:
1-1/3 cups graham cracker crumbs
2 tablespoons granulated sugar
4 tablespoons butter, melted
1/4 teaspoon cinnamon
For the Filling:
1 - 8 ounce cream cheese, room temperature
24 ounce sour cream
2/3 cup granulated sugar
2 eggs
3 teaspoons vanilla
For the Glaze:
1 - 16 ounce sour cream
4 tablespoons granulated sugar
1 teaspoon grated lemon peel
1/2 teaspoon vanilla
For the Topping:
1 can of fruit pie filling
Instructions
For the Crust:
Line 20 muffin cups with cupcake liners.
Combine graham cracker crumbs, sugar and cinnamon.
Melt butter and add to graham cracker mixture..
Spoon a rounded tablespoon into 20 cupcake liners, press firmly.
For the Filling:
Beat cream cheese until creamy.
Add sour cream, eggs, sugar and vanilla until well blended.
Spoon 1/4 cup filling.
Bake at 325 degrees 15-20 minutes or until tops are set.
Increase oven to 400 degrees.
Make glaze.
For the Glaze:
Mix together all ingredients.
Once oven heats to 400 degrees top the cheese cakes with 1 tablespoon of glaze.
Bake 5 minutes.
Cool on the counter 1 hour.
Leave cheese cakes in muffin cups and cool completely in refrigerator.
HINT: Put the glaze on all the cupcakes, then go back and using the back of your tablespoon spread out the glaze. The heat from the cupcakes has heated the glaze enough to make it easier to spread.
Top with any fruit pie filling.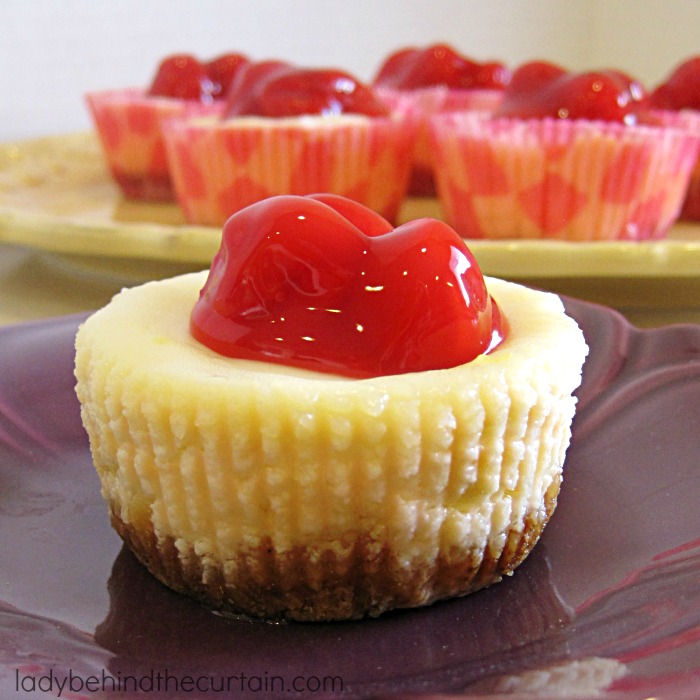 MORE MINI TREATS
SEMI HOMEMADE MINI CARAMEL APPLE PIES  2. MINI PAYDAY CHEESECAKES  3. COLORFUL MINI HUMMINGBIRD CUPCAKES