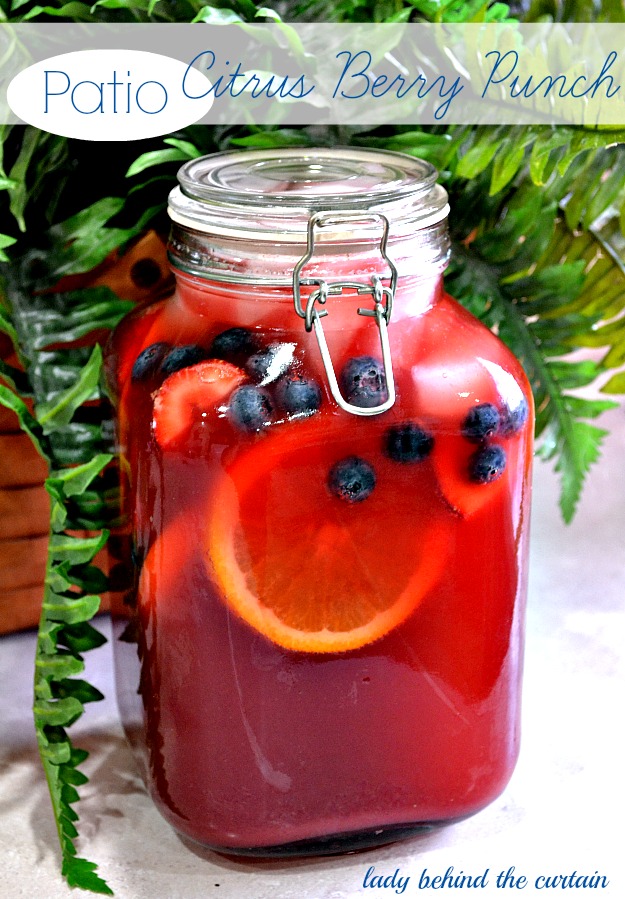 Some punch recipes can be expensive to make.  This patio Citrus Berry Punch is not only inexpensive but also easy to make.  Dress this punch up with fresh or frozen fruit.
Create your own Recipe Box and save your favorite Lady Behind The Curtain recipes.  Make a Meal Plan with your favorite recipes and ZipList will automatically add the ingredients to a Shopping List.
The perfect special occasion punch!
Ingredients
6 ounce frozen citrus juice blend concentrate, thawed
6 ounces frozen berry juice blend concentrate, thawed
2 liter bottle ginger ale, chilled
ice cubes
orange slices, sliced strawberries, blueberries (optional)
Instructions
In a large container combine citrus juice concentrate and berry juice concentrate.
Slowly pour ginger ale down the side of the container.
Add ice cubes and , if desired, fresh fruit.
https://www.ladybehindthecurtain.com/patio-citrus-berry-punch/